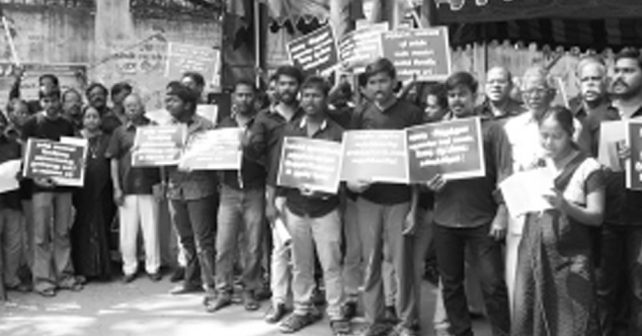 Agitation Launched by the Student Wing of Dravidar Kazhagam, condemning the circumstances leading to the suicide of Rohith Vemula
Nationwide agitations especially of the students of the Colleges and Universities are spreading like fire, condemning the oppressive forces which caused the suicide of the research student of UoH, Rohith Vemula.
The Student Wing of Dravidar Kazhagam(DK), founded by the social revolutionary Periyar E.V.R., conducted on agitation at the District Collectorate, Chennai, Tamil Nadu on 27th January 2016, condemning the attitude and approach of the Central rulers and the UoH authority. The State Secretary of Student Wing, Self Respectful Prince Ennares Periyar presided over the agitation.
Many student comrades spoke on the discriminatory deeds meted to Rohith Vemula and demanded the immediate resignations of the Vice – Chancellor of UoH and the two ministers viz, Smriti Rani and Bandaru Dattetraya for their deliberate interference and instigation of the UoH, to take action against Rohith Vemula and other research students.
Poet Kali.Poongundran concluded the agitation highlighting the concern and commitment of Periyar Movement to the cause of the students, hailing from the downtrodden sections. The agitation took place in the presence of Self Respectful V.Anburaj, General Secretary, DK. The agitation captured the attention of the public and the government authorities because of the participation of students in large numbers who raised slogans alarmingly at the atrocities of Hindutva forces.