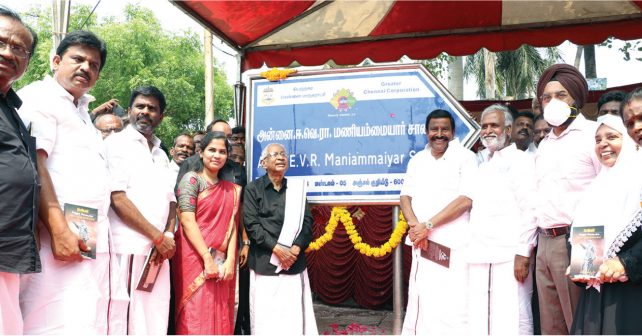 The Greater Chennai Corporation(GCC), has named a road, after Annai E.V.R. Maniammaiar, adjoining her statue in a vital area of the city in Tamil Nadu.
Annai E.V.R. Maniammaiar who was the ardent associate of Thanthai Periyar, later became his wife to lead the social movement founded by Periyar after him. The five-year leading of Dravidar Kazhagam (DK) by Maniammaiar (1973-1978) made the entire country and the world to look at the movement. She organized 'Ravana Leela' as a mark of protest with the identity as Dravidian. Many in the country had started to ask 'Why not Ravana Leela?' when 'Ram Leela' is customary in the capital of the country with the participation of all the dignitaries at the helm of the governance of the country. The subsequent leading of DK is being carried out by Asiriyar Dr. K. Veeramani with the legacy left by Thanthai Periyar.
Both the Union Government of India and the State Government of Tamil Nadu had recognised the social contributions of the leaders Periyar through the release of commemorative stamp at the centenary year and the special First Day cover on the 125th birth anniversary of Thanthai Periyar. Welfare schemes for women in the name of Annai Maniammaiar were also implemented.
At present Tamil Nadu State government, ruled by DMK with Respectful M.K. Stalin as chief minister announced the birthday of Periyar (September 17) to be celebrated every year as 'Social Justice Day' All the government employees and others will have to take an oath on the dispensation of social justice to all as envisioned by Thanthai Periyar.
The latest recognition conferred by the Government of Tamil Nadu is the naming of a road as 'Annai E.V.R. Maniammaiyar Salai' in Egmore, Chennai. The Government issued the G.O. for the effect and the board displaying the name of Annai E.V.R. Maniammaiyar was unveiled at an exclusive function on 7th May 2022, the day on which the DMK assumed the rule a year back.
The function was held in the presence of Asiriyar Dr. K. Veeramani, President of DK. The State Minister for Municipal Administration, Urban and Water Supply Mr. K.N. Nehru, the Minister of Charitable Endowments Mr. P.K. Sekar Babu, along with Mrs. Priya Rajan, Mayor of Greater Chennai Corporation. Mr. Mahesh Kumar, Deputy Mayor and Mr. Gagandeep Singh Bedi, IAS, the Principal Secretary and Commissioner of GCC, Mr. Balaraman, MLA, the functionaries of DK and the public.
Arignar Anna in 1968 as TN Chief Minister had proudly declared in the Legislative Assembly that DMK government led by him was dedicated to Periyar. The ideological lineage of DMK to DK and honouring its leaders continued during the earlier DMK rule by Kalaignar M. Karunanidhi and is continued by the present DMK government led by Mr. M.K. Stalin.