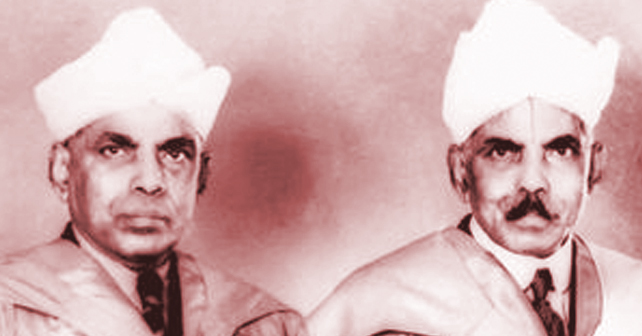 Arcot Brothers
Natesan Kailasam
Sir A.Ramasamy Mudaliar and Sir A.Lakshmanasamy Mudaliar hail from Tamil Nadu. Since they belong to the town of Arcot, they are known as Arcot Brothers. They had their formal education in the Madras Christian College and the elder Ramasamy took to law and became a lawyer. The younger Lakshmanasamy studied medicine and became a doctor.
A. Ramasamy Mudaliar
Having enrolled as an advocate, he was a very successful lawyer; but on seeing the injustice done to a majority of the population, he entered politics. He was a member of the Justice Party as well as the editor of the daily "Justice". He devoted his life for the upliftment of the downtrodden people, who had been made poor by the caste system.
Having realised the efficiency of Ramasamy, he was sent to the Security Council of the U.N. to argue for the Hyderabad case in Switzerland. If at all Hyderabad became a part of India, it is because of Ramasamy. He signed the Charter on behalf of India to become a member of the United Nations.
Many universities in India and foreign countries honoured him with doctorate degrees. The Indian Government also awarded "Padma Vibhushan" title to Ramasamy. Besides politics, he was also interested in industries. He became the Chairman of the Steam India Shipping and Navigation Company; Chairman of the Carborandum Universal and many more companies.
Thus he is always remembered as a social guardian, politician, industrialist and humanitarian.
A. Lakshmanasamy Mudaliar
After becoming a doctor, Lakshmanasamy joined the Egmore Children & Maternity Hospital in Chennai. He became the best doctor to serve the people. The then English government noticed the efficiency of Lakshmanasamy and selected him as the Dean of the Madras Medical College. He was the first Indian to hold that post. He was elected as the Vice Chancellor of the Madras University in 1942 and held the post for 27 years continuously till 1969.
He wrote a book known as "Clinical Obstetrics", which has been prescribed as a textbook in many medical colleges in India and abroad. He was the medical advisor of Queen Elizabeth II until 1974.
He was elected as a member of Madras Legislative Council. All his speeches in the Council were published as a book titled "Search Light".
Dr. Lakshmanasamy was an architect par excellence. The Pachaiyappa's College in Chennai, The Centenary Building in University of Madras and the Graduation Hall behind the University of Madras bear testimony to his architectural expertise.
Many universities in India and abroad honoured him with honorary doctorate degrees. The Government of India decorated him with "Padma Vibhushan" title in 1963. He was the President of the World Health Organization in 1948. Lakshmanasamy was the Head, Deputy and Consultant for about 50 organizations. Such a great personality, he remains a guiding force for the younger generation.