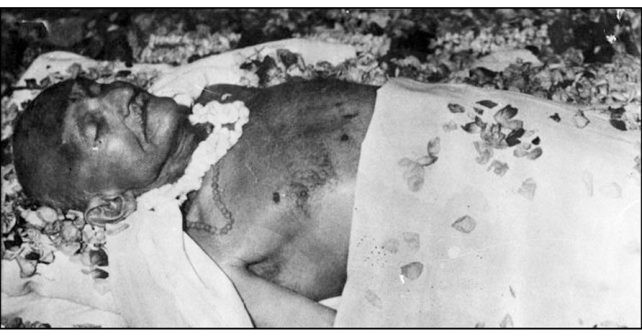 On Gandhi's 75th death anniversary (Jan.30, 2022) the nation was paying homage to the 'Father of the Nation', icon of peace and condemning his assassination by Godse. But in Gwalior a coterie of Hindu Mahasabha and a group of saffron clad fanatics were paying homage on the same day, ironically to the assassin Godse and his accomplice Narayan Apte by observing "Godse-Apte Smriti Divas" (Memorial-Day). We recall how Godse openly admitted in the court, the heinous crime without regret and prick of conscience. He dared to go a step ahead and tried to justify the brutal murder.
Adding fuel to fire, the organizers gave an award(?) to a saffron-clad, Kalicharan Maharaj and four others calling it "Godse-Apte Bharat Ratna". In December, 2021 this Kalicharan was arrested for his violence-inciting speech. He was imprisoned in Raipur, the capital of Chhattisgarh, for his vituperative remarks against Gandhi. It was during an event called "Dharma Sansad", held by a group of saffronists. Four other elements were also conferred on with this award. Besides, the coterie also resolved to make India "Akhand Bharat" by integrating it with Pakistan and Bangladesh.
This annoying incident has occurred in Madhya Pradesh which is under the rule of the BJP. During a press-meet held in Gwalior, the vice-president of Hindu Mahasabha, is reported to have said that the major contribution to India's freedom struggle was only by them. He has added that people are being misled by making them believe that the spinning wheel (charkha) brought us freedom. It was also stated by him that the sacrifices of saffron-clad seers have not been recognised.
According to him the event in Gwalior was an outlet of Mahasabha's fury over the arrest of Godse and his co-accused Narayan Apte on January 30, 1948, following the heinous assassination of Gandhi. Would the Union Government turn a blind eye to this contemptible event which has threatened the security of our country and its people? Besides, it would be detrimental to our amity with neighboring countries too. We feel this could crop up international disgrace and ultimately belittle us.
It is surprising how a fanatic out-fit could confer the nation's highly coveted 'Bharat Ratna Award' on any Tom, Dick and Harry. The Madhya Pradesh State government as well as the Union Government is obviously silent spectator. It makes us suspect they agree with the coterie concerned. There is no action so far even by the Home Ministry, against the inciting speech of saffron outfit which imperils the defence of our country.
There is a ploy to change the name 'India' as 'Hindu Rashtra'. Murders in broad day light are being justified by the saffronist-coterie. Tributes are being paid to merciless killers. Is it not high time such atrocities are ceased?
The Prime Minister Narendra Modi placed a wreath on the memorial of Gandhi in veneration on 30th January but on the same day in a city which is under the rule headed by his own party BJP, a group of perverts have displayed their unabashed motive in an uninhibited manner. Is it fair on his part to leave the annoying incident unnoticed and ignored?
The State of Tamil Nadu is presently under a Dravidian Model Governance. The Chief Minister M. K. Stalin was quite right when he stated in response to this obnoxious incident that there is no place in India for the heirs of Godse. His retort was indeed pungent and his foresight clear as crystal. His sonorous voice must echo all over the country.
There is a dire need of salvaging communal harmony in our country. Egalitarianism and true secularism should flourish. Caste based discriminations and stigmas are to be eradicated. The integration of the country is to be safeguarded. The saffron sectarians are to be weeded out in order to protect the unity of the country for ever. Every attempt of wicked elements tarnishing the image and spoiling the sovereignty of our country must be nipped in the bud!