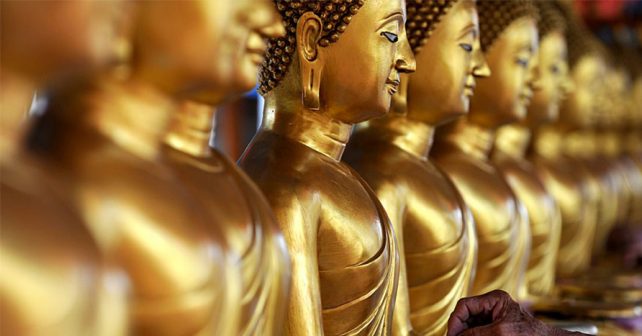 On 14th February 1955, at a public meeting in Srirangam town near Tiruchirapalli, Madras State, Thanthai Periyar delivered a speech explaining the scientific spirit in Buddhism. His speech was published in the 'Viduthalai' issue dated 20.02.1955. Excerpts from his inspiring and thought-provoking speech are in nutshell as follows:
Darkness of Ignorance
Dear comrades, my topic for today's speech is 'Hindu religion and the policies of Buddha'. Some of you may be surprised by the topic and my explanation. That is because you are not aware of the truth in it, since some people had deliberately kept you unaware of the truth. So, now when I elucidate the facts, naturally you may be astonished.
Very few people involved in public services speak their mind. They rarely come out with the truth with utmost honesty. Most people conceal the truth with an ulterior motive of deriving benefits for their own survival. There are a few others who are quite indifferent towards such issues. These self centred people are bothered only about their welfare and achievement of their personal objectives. As they too meet you all on various occasions to propagate their views you are obviously baffled and confused. So, you remain in the darkness of ignorance. My purpose now is to draw you out of that darkness.
Calling a Spade – "A Spade"
I would like to make it clear at the outset that I never take advantage of my party to reap benefits of any sort. I don't crave to earn name and fame by hiding, the truth and pulling wool over your eyes. I always call a spade – a spade! I wish to take you all to the bottom of the mess and see for yourself the nauseating filth of falsehood around you. These meetings help me make you all realise the unpalatable truth in several issues. I dare to reveal the truth behind complex subjects such as religion, castes, society and the blind belief in gods and goddesses. I quote reliable references to support my arguments.
We live today in a scientific era and an age of rebellions, to fight for the right. And yet, most people remain soaked in outdated customs, superstitions and irrational thoughts. They resist reformation. They refuse abolition of ancient conventions as if we are still in the stone-age. Objects of man's barbaric days are to be exhibited today only in a museum. We are now in the modern times where amazing feats beyond our imagination are cropping up time and again. There are developments all around us.
Discard and Defenestrate
It is a pity, our mind-set has not changed yet. The future is sure to make us spellbound by incredible inventions. Man would learn to think differently and introduce novel devices and god gets to make our lives much more comfortable. Hence, we should discard and defenestrate antiquity in all spheres. It is high time we rectified our mistakes for a lovable life.
Let me now commence my discussion on Buddhism. Dear comrades, it is quite incorrect to call it a religion. Blindly believing in others and following in their footsteps have been so far the basic foundation of every religion. Such followers never take time to see if it makes really any sense. Veneration towards such preachers snatches away their power of reasoning.
Buddhism Differs
If one dares to ask "Why? How? What? What for?" – they are labeled as irreligious. The central idea is that religion is an unquestionable concept. But Buddhism differs from this illusion. Examining meticulously and accepting it with absolute conviction is insisted upon by Buddhism.
Buddha used to say – "I am in no way connected with god. I am an ordinary, simple, common man. I speak only about what makes sense to me. I seek the truth after severe search and speak using my power of reasoning. You must also examine my thoughts thoroughly by introspection. If you are convinced they are true, accept and adopt. If not, reject them outright!" – such was Buddha's unflinching resolve.
Buddha further elaborated thus: "Do not believe in anything just because I said it. Use your brain power and examine. If you fail to do so, it would mean that your sixth sense – the common sense – has vanished like mist. Rational outlook is the hallmark of a human being. "According to couplet No. 423 of Thirukkural, "blindly accepting somebody is folly; one has to delve deeply into it and realise the truth of it on his own." This is exactly what Buddhism preaches.
Misinterpretation
Hidnuism is a common religion in India, expounded in the Vedas, the Upanishads and the Bhagavad Gita. These ancient scriptures talk about sages, saints, holymen and divine images of shiva, brahma, vishnu and many more. The Hindu religion compels one to believe in them and live adhering to scriptures.
This is the striking difference between the Hindu religion and the Buddhist policy. Therefore I firmly stress that policies of Buddhism should never be erroneously called 'Buddhist religion'. That would become not only a misconception but also a misinterpretation.
Lack of Historical Evidence
Many substantial evidences exist for Buddhism. It is proved historically that Buddha was born (in 563 B.C. and that he passed away in 483 B.C. at the age of 80). There is adequate proof for his preaching. The year, month and date can be specified through historical references. But Hindu religion does not have even a single historical evidence for its origin and existence. Who generated it? When was it born? We have no answers. If at all someone comes forward to convince us with answers, they would only be words flowed in an inebriated condition, unintelligible scramble of words.
According to the "Hinduism-followers", their religion is ageless. They say that it was born numerous eras ago and that it is billions and billions of years old. They babble that Hindu religion was not designed by mankind and that sages and saints recorded them as dictated by the gods. Hindu religion has been expounded thus through unreliable, meaningless theories which abuse our power of reasoning.
Obnoxious Entities
Who were the gods and goddesses, sages and saints glorified by Hindu religion? What kind of entities were they? What were their habits and customs? When we probe into them, we find them all to have been obscene, utterly vulgar and obnoxious in conduct. Such nauseating aspects do not exist in Buddhism. it does not abuse our intellect.
I explained how Buddhism as a policy differs from Hinduism as a religion. Now let us move to the similarity. God does not exist in Buddhism. God does not exist in Hindu religion too. This is the basic striking similarity. Buddha stressed that the entire universe is Buddhist and that there is no use for a god at all.
Similarly, the vedas on which Hindu religion was founded do not refer to any invisible power called god, who is omnipotent, omnipresent and omniscient. The vedas comprise several heavenly immortals called "the Devas". Those holy men had an outward appearance, practised individual trade and had led a normal life with wives and children. A probe into the Vedas proves that those sages and saints were neither venerable nor virtuous.
We are told by these vedas and ancient scriptures that such deplorable sages incarnated and led a normal life with conjugal rights, like all common men. They had no divinity in them. The vedas do not refer to the existence of god or any divine power. I firmly stress this truth to create an awareness in you.
Later Date Fabrication
To elucidate further, the vedas refer to thirty eight sages approximately. Each one had imbibed normal desires which were quite common in the Vedic Age. The vedas have personified every abstract quality of those sages. They worshipped them with prayers for various offers. Besides this glorification, the vedas do not refer to the existence of god.
Indran was one of those 38 sages. There were many more such as Varuna, Vayu, Agni, Rudra, Brahma, the Sun, the moon etc. It is a long list. Some of those sages have been projected for us as gods and goddesses. Besides this, no god has been designed by Hindu religion through holy scriptures and vedas. It must have been a later-date fabrication. Therefore I stress that god does not exist either in Hindu religion or in the doctrine called Buddhism.
The Hindu religion believes in the existence of soul in a human body. Buddha firmly denied it. According to the principle of Buddhism there is nothing called "soul". The Buddhist doctrine has explained this truth clearly.
Buddhism is based on three vital codes called "Anichavaram" (no creator), "Anathmam" (nothing called 'soul') and "Anithyam" (nothing is permanent; everything is bound to vanish by impermanence). The Hindu religion keeps men bound by shackles, whereas the Buddhist doctrine paves the way for free thinking and search for the truth. The principle of Buddhism is scientific in spirit.
Courtesy: 'Viduthalai',
Translated by M.R. Manohar