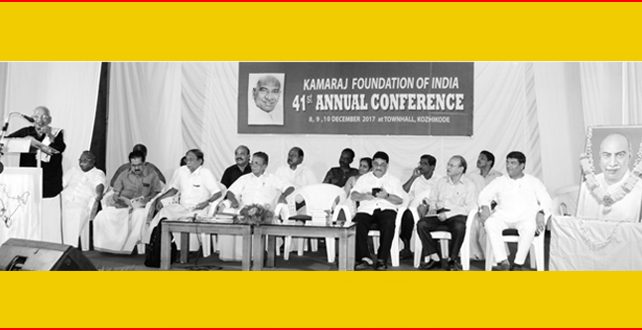 Dr. K.Veeramani
Presidential address delivered in the 41st National Conference of Kamaraj Foundation of India held at Kozhikode, Kerala on 10th December 2017
The reservation policy which assures social justice to the depressed classes, tribals, backward classes and minorities was not obtained in a day.  It was the outcome of the strenuous work of enlightenment undertaken at many points of time by stalwarts like Jotiba Phule and Sahu Maharaj of Maharashtra, Sri Narayana Guru of Kerala, Thanthai Periyar of Tamil Nadu and Baba Saheb Ambedkar.  Even now the struggle for reservation continues in many parts of India.  On another side, the oppressed people are deprived of the quantum of reservation due to them.  Everywhere there are threats of whatever is available to them being drastically reduced or altogether given up.
Those who are enjoying the benefits of reservation must be made aware of its value, which was the result of a prolonged and bitter struggle.  There is a danger of their rightful share being snatched away.  Such a situation is being created in a planned manner by those who are oppossed to social justice.  A news item in today's 'The Hindu' (10th December 2017) states that the 27 per cent of reservation to other backward sections in the central government offices as recommended by the Mandal Commission has not reached the required level of 27 per cent of employment to the other backward classes as recommended by the Mandal Commission even after 24 years.
Only 14 per cent of reservation is in being, implemented in group A section and in group B, C & D sections, 15, 17 and 18 per cent respectively.  In some departments,  there is no representation of the other backward classes in some posts.  For example, out of 64 officials working in the central cabinet secretariat, not a single person belongs to the backward community.  60 of them were selected in the open competition category and the other 4 belong to the depressed classes.
Mandal Commission recommendations are ostensibly being implemented from 8 September 1993, and yet the backward classes have not been given their due share.  Shockingly, there are some departments where no reservation is being implemented.  This amounts to betrayal of the backward classes.  The Central Minister who went into the inadequacy of representation of the backward classes in the employment opportunities, did suggest some schemes to rectify these defects.  But they have not been fully implemented.
As the right to reservation, which was the result of people's struggle is in the verge of being totally withdrawn, we have to adopt different strategies in order to get the reservation fully implemented.  In that direction a federation of all the organizations fighting for social justice will soon be created.
We get a new impetus while making the announcement regarding the formation of such a federation in this national conference organized in the name of Kamaraj who has made enormous contribution for the establishment of social justice.  While he was the president of the Tamil Nadu Congress, while he was the Chief Minister of Tamil Nadu and later after he became the President of the All India Congress Party, he has rendered tremendous service in assuring social justice.
When the opponents of social justice were spreading the canard that reservation was leading to inefficiency, lack of merit and deficiency of talent, Kamaraj answered them back in his own homely style.
"Is there any instance of collapse of a bridge constructed by an engineer who had studied and employed through reservation?  Can you point out a doctor who had studied and employed under reservation on whose administration of injection or medicine a patient had died?" he asked.
He asserted through these words that there was no deficiency of merit whatsoever in persons who were employed through reservation.
In the recent days, many activities are going on which are opposed to secularism.  It is highly objectionable that the government which has been elected according to the Constitution, is encouraging and abetting the activities against secularism.
In the name of cow-protection, the government at the Centre is acting in support of a religion, particularly a section of people in that religion, and is detrimental to the rights of other religions and secularists.  A gang of bigots is taking law into its hands and is making a mockery of law and order in the name of cow protection.  Passing a law prohibiting beef eating and even storing beef and making it a punishable offence is diametrically opposed to the Constitution of India.
When Kamaraj was the President of the All India Congress Party he expressed his opinion against passing an Act for cow protection.  That was enough for the Hindutva bigots make a heinous attempt to murder Kamaraj in broad day light at New Delhi.
Such acts of violence in the name of cow protection, which were inaugurated on that day are spreading all over the North.  It is the prime responsibility of all peace loving and patriotic people to identify such anti-secular forces which pose a threat to social order and teach them a fitting lesson at the time of election.  Let us pledge ourselves to the task on this occasion of the National Conference of Kamaraj Foundation.