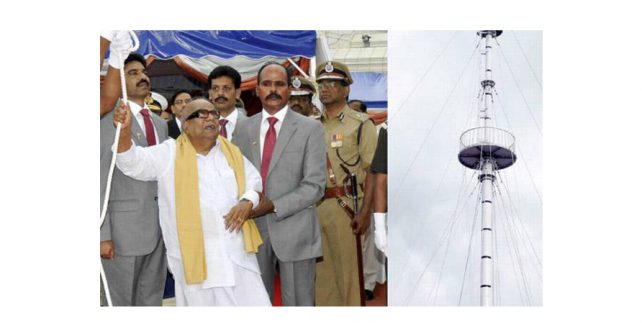 Kalaignar M. Karunanidhi former CM, hoisting the national flag
Since the introduction of Indian Constitution on 26th January 1950, the President of India had been hoisting the national flag at Red Fort, New Delhi on the Republic Day and the prime minister on the Independence Day.  Both of them get elected by the representative, elected by the people. Contrary to the tradition, at the State level on both these days, the Governor of the respective States, who are appointed by the Union government were hoisting the flag.  This practice at the States is against the democratic tenet of the polity.
Kalaignar M. Karunanidhi, the former chief minister of Tamil Nadu claimed in 1971 for the right to hoist national flag by the chief ministers of all States in their State on independence day ever year.
The raison e'tere  of the claim was like prime minister at Delhi, the chief ministers are elected by the people of the country.  The then Union government recognised the justification of the claim made from Tamil Nadu and from 1971 onwards, the chief ministers have been hoisting the national flag in their respect capital of the States on the Independence Day.
Since the claim was not made earlier, it did not mean that the claim had been ignored.  Claiming the right belatedly cannot be the reason to deny it. The role of Kalaignar M. Karunanidhi, the them CM of Dravida Munnetra Kazhagam (DMK) enabled to exercise the right of hoisting the flag by all the chief ministers of the States.
The present DMK chief minister M.K. Stalin has started the practice of mentioning as 'Union government' a constitutionally recognised term.  Belated commencing of mentioning cannot deny the rationale behind such usage.  Attributing negative motives to such practice is only a distorting tactics.  The usage as 'Union government' may be adhered by all the States to ensure the federal right of the States associated with.
The usage as 'Union government' is in no way reflect the dividing and fissiparous charges levelled by the saffron parties that divide the people of the country on religion front!