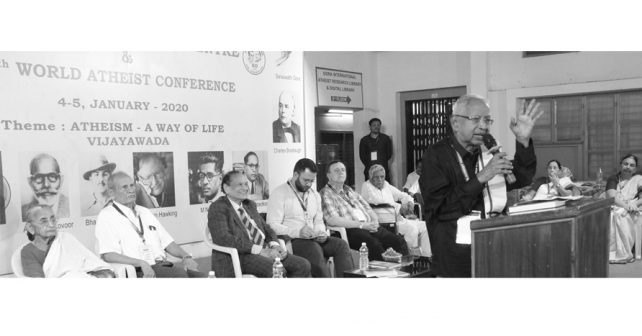 Dr. K. Veeramani delivers valedictory address at the conference.  Dr. G. Vijayam, Dr. G. Samaram, Gary McLelland (IHEU), England and  Dr. Volker Mueller (Germany) are on the dais. (Vijayawada – 5th January 2020)
Dr. K. Veeramani
The 11th World Atheist Conference-2020 was organised recently in Vijayawada, by Atheist Centre founded by the renowned Atheist Gora. 80 years of Atheist Centre celebrations were also held simultaneously. Asiriyar Dr. K. Veeramani, the President of Dravidar Kazhagam graced the occasion and delivered a speech on the second day of the historic conference. The excerpts from his Valedictory Address are as follows:
Dear friends,
I deem it a great pleasure participating in the 11th World Atheist Conference and the Celebration of 80 years of Atheist Centre, established by respectful Gora and flourished by the entire Gora family. For me, this is really a wonderful opportunity.
I congratulate Ms. G. Rashmi, Secretary of Vasavya Mahila Mandal and Mr. Hari Subramanyam, the curtain raisers for today's Valedictory Function being held at Gora and Saraswathi Gora Pragnanam, the Atheist Centre which has been in existence for 80 long years. I thank them for welcoming us.
I thank Gary McLelland, Chief Executive of International Humanist Ethical Union, U.K. and Dr. Volker Mueller, of German Free Thinkers' Association who have adorned the dais besides other respectful dignitaries.
My hearty thanks to Mr. Vikas Gora, Dr. G. Samaram, Dr. G. Vijayam and all the Gora family members for their hospitality and warm reception to us.
I thank all the youngsters at this Centre for carrying the torch lit by our beloved Gora. My hearty thanks to the organisers and their entire team for honouring us, who hail from the State of Tamil Nadu.
This is undeniably a landmark for the Atheist Movement in India because this Centre is certainly the role model for our Atheist community. We have all assembled here as one undivided, extended family without any distinction or discrimination. Our objective is to jointly carry and convey the message of Atheism all over the world. Atheism has proved itself to be the good way of life. We are able to witness it here today.
Respectful Gora and his better-half Ms.Gora Sarawathi created a wonderful community which has been thriving for 80 long years, like an Atheist's life-span. They toured all over India and strove for their mission. Gora was also a great friend of Gandhi – the father of our nation, who ceased to exist because of religious fanaticism. They were like a master and a disciple. But with the passing of time difference of opinions cropped up on religious grounds, caste system and the issue of atheism. Gora was a great humanist and a rationalist. He differed from Gandhi on certain grounds.
Periyar and Gora had the same lens and spectacles to view the society. They were on the same wave length of thoughts and had much in common. Like Gora, Periyar was also like a disciple of Gandhi until 1925. But they differed in varnashrama dharma issue, as well as caste and social justice issues. Periyar believed that untouchability cannot be eradicated without abolishing castes. But Gandhi seemed to be in favour of caste system. Hence, Periyar majestically renounced the leadership of Gandhi and paved his own way. He also decided to stay away forever from politics.
Periyar's objective was not social transition – but social transformation. To achieve that end, he started the Self-Respect Movement, just as Gora started the Atheist Movement. Gora started Atheist Movement 80 years ago. Periyar started the Self-Respect Movement 95 years ago. They were co-fighters against social evil of caste system, untouchability, bigotry, superstitions, blind faith, dehumanisation, religious fanaticism, women's slavery, gender based bias and all other social evils.
After seceding, Periyar met Gandhi in Bangalore. Gandhi tried to change his mind and revoke his decision but Periyar was stubborn. He refused to retract. Much later Gandhi did realise that social justice is more important and that religion and politics should not be mixed up. He declared it very clearly and came to the line of thinking of Periyar and Gora. Instead of disciples following the leader, the leader followed his disciples. Is it not an amazing analysis? Co-incidentally, Gandhi's 150th Birth anniversary year has synchronised today with 80 years of Atheist Centre Celebration.
I congratulate the organisers for all the commendable arrangements for this mega event. The photo exhibition was marvelous. Dr. Samaram took me around the art gallery of portraits and snaps. It is an excellent documentation centre. A wonderful meeting hall has also been named after Periyar. I am really at a loss of words in conveying my admiration to every one of you for every aspect.
30 years ago I had seen Samaram and Vijayam as little children. They have grown up as responsible adults. The Gora family should be called an emulatory, role-model family. The torch borne by Gora and Saraswathi Gora has been rightly passed on to the youngsters of the family. They are the custodians of future. They can perform better than us. Not only the grand children of Gora but also his great grand children and great great grand children would keep the torch of Atheism unextinguished. This is my belief. In Tamil we have a saying – "Ayiram Kalathu Payir", which means "A Crop which is imperishable for thousand long years". This culture-specific proverb suits the descendants of respectful Gora and Saraswathi Gora. These youngsters would also grow on forever!
Dear friends, our Dravidar Kazhagam which is more than 75 years old, would always extend you its unstinted support at all times because we are co-fighters for a common cause. Our vision and mission are identical. Our humanist movement is an international movement. We require atheism wherever there is inhuman treatment.
Some people ask youngsters to become atheists. I disagree with them. Infact children are all atheists by birth. They are not born with any religious symbol, sacred thread, sacred ash or any such identity. As they grow up, their parents and their system of education introduce them to the concept of God and the spirit of religion. They learn the language of their parents. They become what they are forced to become. Only people like us can draw them out from the darkness of ignorance. Atheism alone can lead to disillusionment.
It is with this objective that Periyar's words of wisdom have been engraved on the pedestals of his statues in Tamil Nadu:
There is no God –
He who invented God is a fool!
He who propagates God is a rogue!!
He who worships God is a barbarian!!
People believed numerous Gods and Goddesses because science had no impact on them. If they still continue believing in them, it would only mean that their foolishness too still exists.
Some mischievous elements started babbling that those words were engraved by us after Periyar's death. A crazy man filed a suit against us. But we faced the litigation and proved that they were all Periyar's own words. The verdict was in our favour. We thanked the petitioner because we had been all along speaking only on the public platform. We were provided with a wonderful opportunity to explain our position and the truth before the judges in a court. We always swim against the current in the sea of turbulent giant waves of malice.
Fifteen years ago when we had to brook the inexplicable devastation caused by the natural disaster Tsunami, people of various religions let out three comments that god is omnipotent, omnipresent and omniscient. Had they proved it, we, the atheists would have been the happiest, but they did not because they could not!
We atheists are free, frank and plain and our minds are clear as crystal. Our approach is not a negative concept. It is positive atheism. "Forget God and Think of Humans" is our slogan. Our aim is to help human beings and establish equality. Theism is for inequality but atheism is always for equality. Gullible people believe in reincarnation, fate and destiny. They babble that what we are today was decided by our previous birth. As far as atheists are concerned such ideas are rubbish. Reason is our only tool. We discard all irrational concepts. We don't believe in superstitions, rituals and fate. We are profound rationalists. Time is precious for us. Lost time can never be retrieved. But in our country people waste much time everyday considering three hours as inauspicious. Many days are also wasted in a similar manner. But we atheists have all 24 hours for ourselves because we never waste our time like them.
This morning when I had a chat with Dhaneswar Sahoo and other friends from Odisha, they were explaining how they donated the bodies of their dead parents to a medical college. Even in Tamil Nadu, the cadres of our DK donated bodies of their families. They avoided obsequies and meaningless rituals. This is another important feature of atheism.
When our blood, eyes and other organs are donated we do not bother about the caste of the beneficiary. We do not insist on a particular religion making use of it. Organ donation and blood donation are signs of humanism. It cares a hoot for caste! Hence, it is obvious that caste is an unscientific concept.