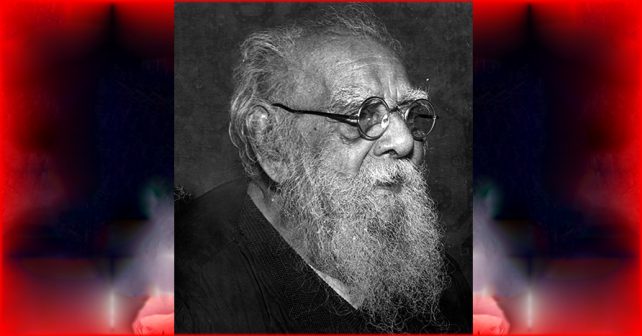 It is not only the policy of the Indian National Congress but also a mark of ultra nationalism to block the moves for assuring representation proportionate to castes and religions in India. Since, we advocate representation in keeping with castes and religions we have been included in the list of communalists and traitors. Again only we are in the anti-caste and anti-religious list because we advocate total abolition of castes and religions. All the ultra nationalists want castes and religions to be safeguarded. From this discerning people can somewhat understand who communalists are. Yet, masses who are incapable of reasoning will not stop finding fault with us. Conferences of different castes, sub castes, and religions have been continuously taking place for the past 20 years.
All the so called national policies are trying to protect castes and religions, their hereditary claims, customs and traditions. Even if the columns prepared by the Government, one column mentions religion, another column mentions caste and third one mentions the sub-caste. Civil laws, criminal laws and governance go on only according to those columns. Caste domination and religious domination are prominent in the fields of business, agriculture and in society.
Sikhs and Muslims are proud of calling themselves eternal enemies of each other. There is no need to elaborate on the unity of Brahmins and Sudras. Yet, they do not want communitywise or religionwise representation. It will be anti national. But protecting castes and religions is nationalism.
For instance, C.Rajagopalachari has released a notification in his capacity as the President of Tamil Nadu Congress Committee that anyone who consumes liquor must be excommunicated and no one must give him water, fire or earth, and the communal coherence must be strong enough to cause distress to him.
So, in nationalism as well as Gandhism divisions of castes and religions have been doubly strengthened and firmly controlled. No one need have any doubt that these controls will be easily abolished.
The punishment for an untouchable who walks on a public road, the punishment for an oil monger who enters the temple, the punishment for another low caste person who takes water from a public pond – all these procedures of native criminal code, and civil code which stipulate the compensation for such offences are enforced from Munsiff Court upto Privy Council. And anyone who opposes these practices becomes an enemy of the caste and religion, and is never accepted as an arbiter.  If a Hindu plays drums on public road he is attacked by the Muslims. If a Muslim takes a bullock on the road, Hindus cut him with sickles.
Sikhs and Muslims are proud of calling themselves eternal enemies of each other. There is no need to elaborate on the unity of Brahmins and Sudras. Yet, they do not want communitywise or religionwise representation. It will be anti national. But protecting castes and religions is nationalism. That is what Gandhi and Congress demand independence for. Now let us give some thought to how these peoples' representatives are selected.
Franchise for a person is based on education, property or income. People of all the religions and all the castes have some of these qualifications. But among crores of people called panchamas, Adi Dravidars or untouchables, even one in a thousand will not have anyone of those qualifications.
Among Brahmins everyone might have all the three or if it is not so, at least one of these qualification. They will become voters in anyone of the constituencies. Among the upper class people at least 50 per cent will become voters.
Among the people of the middle community, atleast 12 per cent will become voters. Among the people of the lower communities, 5 to 6 per cent will become voters. But among the so called untouchables even one in 300 people cannot become voters.
Even if some constituencies are reserved for them can they be acquired by real untouchables? There are people even among untouchables who sport caste marks and rosaries and practice untouchability even with their own caste. There are people who apply ashes on their forehead and take bath after going to the habitat of the untouchables. Only such people and those who sell their own kinsmen can become voters. Those who do not have such appendages can never become voters. The upper class people will never consent to elect those panchamas who are after the uplift of their community and those who want to eliminate the stigma attached on them.
In villages big landlords may get elections conducted but ensure that their own serfs and menials get elected so that their control over the society is in tact. Those who claim equality will never get a chance. Even if all those who complete 21 years get voting rights, only the top landlords of the place will decide the candidates and the voting pattern. So, when independence comes it must be ensured that all the lower caste people who do not have any faith in people of other castes must be enabled to their representatives as per their own choice. Otherwise the Government must be entrusted to a group of people who are common to all the people and are not bound by the existing differences of castes or religions. Without that if one refuses to give up the social position and the resultant privileges and insists on lording over the lower caste people and humiliating them it must be understood as crookedness of the first order.
Gandhi is willing to grant separate representation and constituencies to Muslims and Sikhs but not to the untouchables and Malaviya seconds him. Please decide for yourselves whether this is in any way fair or if there is any goodwill in this attitude. Muslims and Sikhs are bold as well as united.
And Muslims can be kept under control only if the scare of the Sikhs is invoked. Hence the need for special representation for Sikhs who constituted a few lakh of population. But the untouchables numbering seven crores are unable to think of themselves as human beings, are totally devoid of boldness and remain subjugated to the level of kissing the feet that kicks them. They have to continue indefinitely being exploited by the upper caste people, and must be forbidden from progressing. That is why, Gandhi, Malaviya and Congress refuse to give them special representation. Their patriotism and nationalism are confined to opposing community-wise representation.
Gandhi and his parrot like disciples keep repeating that the Government is keeping people divided to deny them independence. But in reality who brought about caste divisions and discriminations, the British Government or the Rama Rajya of the Indians? Who tries to deny justice to the Muslims by dividing them into national Muslims and treacherous Muslims – Gandhi or the British Government? Can anyone say how many out of eight crores of Muslims are nationalists and how many  are anti-national? Gandhi repeatedly proclaims that he is attending the Round Table Conference as a representative of the poor, the downtrodden, the dumb rustics and the minorities. But who does he actually represent there?
Let the freedom we attain be complete or limited. It will be meaningful and acceptable to the Indian people only if all the castes, religions and sects are given proper representation in it. Or else we have to oppose it.
('Kudi Arasu' – Editorial,
dated 11th October 1931)
PERIYAR'S PRESENCE IN PUNJAB
Periyar has penetrated into Punjab and has become the guiding spirit of the state, where the dalits form about 32 per cent of the population, the highest among all States in the country. Gone is the misunderstanding that Periyar's Dravidian Movement is anti-Hindi and anti-North, according to a report in The Times of India, and people have started realising that the movement is for fighting the caste system and inculcating self respect among the depressed masses, more than 90 years after the Self Respect Movement was started (1925).
Though even fifty years ago, a section of Punjabis came forward to accept the Dravidian identity, it was confined to social activists. It is only now, particularly after their disillusionment with the Modi government which has done pretty little to strengthen the SC/ST (Prevention of Atrocities) Act which was diluted by the recent Supreme Court order, that the backward and the depressed people in Punjab are proudly proclaiming themselves as Dravidian and Anarya (Non-Arya).
Many people have started converting their last names as Daitya, Danav or Rakshas (after the words used by the Aryan invaders to denote the Dravidian inhabitants.) Even Dravid is becoming an acceptable surname.
Darshan Ratan Raavan, the founder of Aadi Dharam Samaj, which has been spear heading the movement says, "The Supreme Court order and the clash between dalit acitivists and the right wing Hindu groups at Phagwara in which a Valmiki man was killed has triggered interest in this regard. They have even created Raavan Sena, to create awareness about 'our original identity', according to Charanjit Hans, the founder of the Sena. He asserts that Raavan was not a villain. They have even started calling him Mahatma Raavana. When people join 'Raavan Sena' they are given names like Lankesh, Danav and other names. It looks as if the movement is very much catching on. There is a chance of this trend spreading to other States as well.
Long live Periyar!