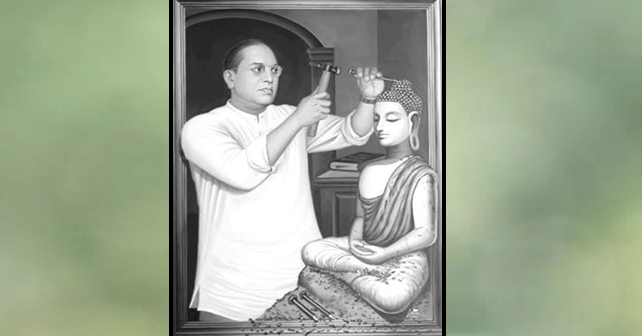 1956, a few weeks before his death on 6 December 1956. Buddhism formed the best possible choice for Dr. Ambedkar because it was an egalitarian religion born in India – not the creation of outsiders. The fact that Buddhism perceived by him as an alternative to the Hindu social hierarchy is clearly reflected in the speech he made during the ceremony of his conversion in Nagpur on 14 October 1956:
"By discarding my ancient religion which stood for inequality and opperession today I am reborn. I have no faith in the philosophy of incarnation; and it is wrong and mischievous to say that Buddha was an incarnation of Vishnu. I am no more a devotee of any Hindu god or goddess. I will not perform Shraddha (the Hindu funeral rite). I will strictly flow the eightfold path of Buddha. Buddhism is a true religion and I will lead a life guided by the three principles of knowledge, right path and compassion".
These words reflected the anti-Hindu social motives of Dr. Ambedkar's conversion. All the more so as they were followed by 22 oaths of which the first six, the eighth and the nineteenth were directly pointed against Hinduism:
22 Oaths Taken by Dr. Ambedkar
1. I shall not recognise Brahma, Vishnu and Mahesh as gods, nor shall I worship them.
2. I shall not recognise Ram and Krishna as Gods, nor shall I worship them.
3. I shall not recognise Gauri and Ganapathi as gods nor shall I worship them.
4. I do not believe in the theory of incarnation of god.
5. I do not consider Buddha as the incarnation of Vishnu.
6. I shall not perform Shraddha a Hindu rite that one carries out for the safety of the deceased nor shall I give offerings to god.
7. I shall not do anything which is detrimental to Buddhism.
8. I shall not perform any religious rites through the agency of a Brahmin.
9. I believe that all human beings are equal.
10. I shall endeavour to establish equality.
11. I shall flow the eight fold path of the Buddha.
12. I observe the ten Paramitas (observances) of the Budha (the virtues in which a follower of the Buddha has to restrain himself.
13. I shall be compassionate to all living beings and I shall nurture them with care.
14. I shall not steal.
15. I shall not lie.
16. I shall not commit adultery.
17. I shall not drink liquor.
18. I shall lead my life striving to cultivate a harmonious blend of the three basic principles of Buddhism [Enlightenment, Precept and Compassion].
19. I thereby reject my old religion, Hinduism, which is detrimental to the prosperity of human kind and which discriminates between man and which treats me as inferior.
20. I fully believe that Buddhism is Saddhamma.
21. By my embracing Buddhism I am being reborn.
22. I hereby pledge to conduct myself hereafter in accordance with the teaching of the Buddha.
Source : Justice faith Dr. Ambedkar
Vol. III, No.4 of
Indian Institute of Dali Studies.Expellatur, si od