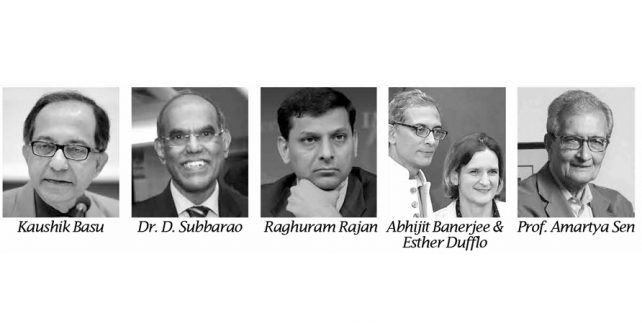 We need a large fiscal stimulus. India has the Fiscal Responsibility and Budget Management  (FRBM) Act 2003, for fiscal management and to make sure that the government does not over-spend. But the FRBM Act is a sophisticated piece of legislation that recognizes that, during times of natural calamity, we should be allowed to run up larger deficit.
I am in favour of wealth being taxed and inheritance being taxed. No one should be borne into extreme poverty and that cannot be corrected without a wealth tax and inheritance tax. There is a need for a team of talented bureaucrats and even professionals from outside the government to take charge of designing the trade off between the pandemic and the looming economic crisis.
– Kaushik Basu
Economist and Former Chief Economic Adviser
Government of India
The fiscal stimulus announced by the Centre on March 26 on account of lockdown of Covid – 19 is not sufficient. The combined fiscal deficit of the Centre and the States may go upto 13 -14 per cent this fiscal. The Centre needs to cap its borrowings as the open-ended borrowings will have negative consequences such as pushing interest rates high.
– Dr. D. Subbarao
Former bureaucrat of Indian Administrative Service, Former Governor, RBI
India would need Rs 65,000 crore package to support its poorest during the Covid-19 pandemic and the resulting nationwide lockdown which has robbed them of daily livelihoods. Many of the poor do not have any support. They have lost out on both their incomes and safety net.
We can't dispense with markets; we do need growth. We also have a problem of stuck or inadequate distribution. People are not getting the fruits of that growth in the same way. Many people are being left out. So we need to think about both sides.
– Raghuram Rajan
Former Governor, Reserve Bank of India
Giving money in the hands of everybody, so that they can buy in stores or they buy consumer goods….I think spending is the easiest way to revive the economy. Because then the MSME people get money, they spend it and then it has the usual Keynesian chain reaction.
Be much, much bolder with the social transfer schemes. Without that, the demand crisis will snowball into an economic avalanche, and people will have no choice but to defy orders.
-Abhijit Banerjee & Esther Dufflo
Nobel laureates in Economics
Call for equity in response to the crisis is wanting in a number of areas. There is no policy recommendations to achieve such societal fairness, other than to say that India could benefit from having a National Health Service, nor any proposals on how such measures would be paid for.
– Prof. Amartya Sen
Nobel laureate in Economics
The number of experts urging the government to spend more is rising by the day even as the Centre's stimulus package is awaited.