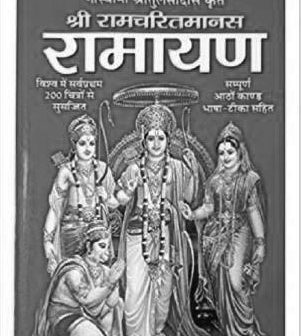 The lyrical epic 'Ramcharit Manas' composed by Goswami Tulsidas recently became a subject of heated arguments and debates among political leaders. Voices raised demanded a ban on the segments in it that denigrate the Dalits, the tribals and aborigines who were 90 percent of the early settlers in India. The protesters insist on the objectionable portions of the epic, getting deleted atleast now.
According to Bihar Education Minister Dr.Chandrashekhar, 'Ramcharit Manas' based on the epic 'Ramayan', spreads hatred and hostility in society. Certain stanzas in it favours a particular caste and belittle others. They stress on denying education to the Dalits and the tribals and further add that they would transform as venomous serpents if they are educated. The Minister compared 'Ramcharit Manas' to R.S.S. Golwalkar's 'The Bunch of Thoughts.' He emphasized on the similarity between Manusmriti and 'Ramcharit Manas'. The Minister pointed out how the epic advises denial of education to all the low caste people including womenfolk. His remarks have led to an uproar among the Sanghparivar coteries.
This was followed by an attack by Alok Mehta, the Revenue Minister of Bihar. He remarked that 10 percent of Indian citizens were the agents of the British. They are now exploiting the other 90 percent which includes the Dalits, tribals and the backward classes. Former Deputy Chief Minister of Bihar, Jagdev Babu too commented that the 10 percent upper caste people including Brahmins exploited the 90 percent marginalized people during the British rule and that the exploitation continues even today.
Besides the uproar in Bihar, 'Ramcharit Manas' debates cropped up recently even in UttarPradesh. The general Secretary of the Samajwadi Party Prasad Maurya condemned the work as an epic against womenfolk and the Dalits.
In brief, there is widespread protest against certain contemptible segments in this lyrical epic which are disgraceful towards downtrodden marginalized people and women folk of all such classes. Deleting the objectionable parts of the work would calm down the storm.