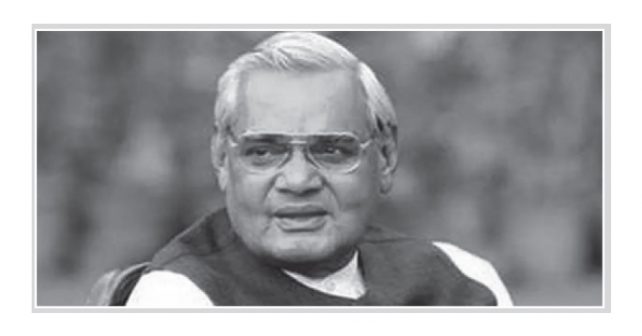 Respectful Atal Bihari Vajpayee was the prime among the frontline leaders of Bharatiya Janata Party. Vajpayee was the leader of the  Opposition in the Lok Sabha for a  long period. He assumed the prime ministership of the country thrice. Vajpayee joined R.S.S. and became the leader of Jan Sangh, that later became BJP.  Despite our ideological differences it has to be remembered that his lovable approach and the kind gesture towards others set examples to all.
Delhi Periyar -Centre was demolished deliberately in 2001. Vajpayee was the then Prime Minister. V.P. Singh, former Prime Minister leading the delegation accompanied by Chandrajit Yadav,  Vaiko and other opposition leaders, we met him. He admitted the demolition of the Centre a mistake. To  assuage the unwarranted action of demolition, Hon'ble Vajpayee deputed the Lieutenant  Governor of Delhi to the residence of V.P.Singh to express the readiness of the government to allot an alternative site. Such a man of grace was A.B. Vajpayee. Dravidar Kazhagam ever remembers  this gracious gesture of Vajpayee. It is very pertinent to mention the participation of Vajpayee in TESO (Tamil Eelam Supporters' Organisation) conference organised by us at Madurai in 1986. Vajpayee being a humanist respected the views of the opposition. In his demise, the India's political arena has lost heavily a great personality.
Dravidar Kazhagam condoles the demise of Atal Bihari Vajpayee.
Veeramani
President, Dravidar Kazhagam
Chennai
16th August 2018