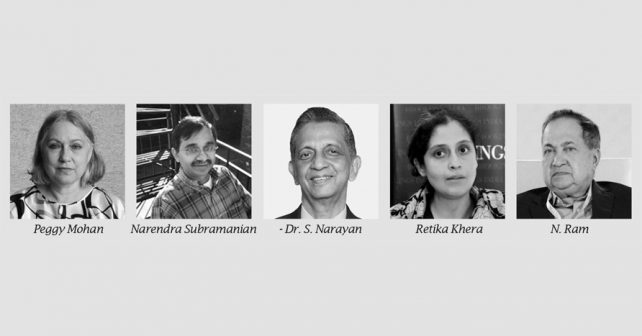 Statement of Scholars, Administrators, Journalists
Poor people, possibly speaking the same old languages that were related to the Harappan languages…….There are so many features in North Indian language that are clearly southern or Dravidian, and they are not in Sanskrit. Pharases like hua and ho gaya. You have that in Malayalam, Tamil, Marathi, all are tribal languages. You don't have it in Sanskrit. And verbs having gender.
– Peggy Mohan,
Trinidadian born noted linguist
In the recently held Legislative Assembly election in Tamil Nadu, the DMK- led Secular Progressive Alliance gained 45.4 per cent to the AIADMK – led National Democratic Alliance's 39.7 per cent. Their high combined vote share of 85.1 per cent underlined the continuity of Dravidianist Electoral dominance.
– Narendra Subramanian in 'Continuity of Dravidianist electoral dominance' in The Hindu.
There is a deeper imperative for effective policy implementation in this State. The invisible hand of competitive populism. Ever since the down of benevolent populism during the AIADMK regime, an irrespectable commitment to policy competition in the realm of mass welfare schemes has become deeply entrenched in the ethos of successive Tamil Nadu governments
– Narayan Lakshman in 'New Dawn in Dravidian Politics'in The Hindu
Tamil Nadu is an example of empowering backward classes, and could well set an example for other States.
– Dr. S. Narayan in, 'Dravidian Years'
'In Tamil Nadu, there were also reports of improved enrolment in girl students from disadvantaged families in schools'
– Retika Khera in 'Mid-Day Meals in Primary Schools: Achievements and Challenges', Economic and Political weekly 41 (46) : 4742-50
'Self-Respect Movement was a movement specifically against the Brahmins, who occupied positions far in excess of the numerical proportion they made up of the population.
From 'Dravidian Years'
Healthcare functioning in Tamil Nadu has also been aided by better density of the total healthcare work force (doctors, nurses and midwives, dentists, pharmacists and other medical staff)… According to the National Healthcare Profile (2019), it has 17.7 registered doctors per 10,000 population as against 8.7 at the all-India level. Similarly in the ease of nurses and auxiliary nurse midwives (ANMs) the State has registered 44.4 per 10,000 population, as against the national average of 22.
– From 'The Dravidian Model –Interpreting the Political Economy of Tamil Nadu
"On many parameters Tamil Nadu has been progressing with splendid performance. The industrial and service entrepreneurs in other States is dominated by upper castes. The major difference in Tamil Nadu is its predominance of backward classes due to the long journey of social justice, dispensed for more than 100 years".
– N. Ram, Senior Journalist