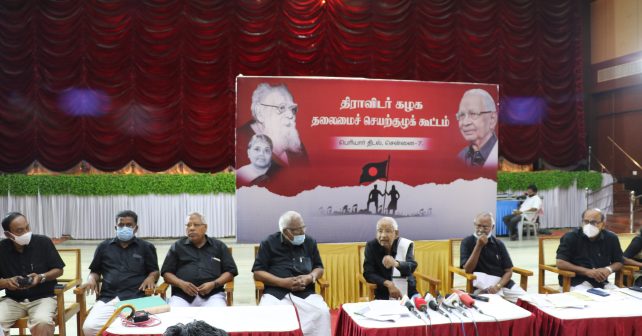 Asiriyar Dr. K. Veeramani, President, Dravidar Kazhagam addresses the members of the Chief Executive Committee held at Periyar Thidal, Chennai.
With an agenda to discuss Asiriyar Dr. K. Veeramani's scheduled mega propaganda tour from 3rd April 2022, on NEET protest, opposing New Education Policy (NEP-2020), restoration of State Rights etc, the Chief Executive Committee Meeting of Dravidar Kazhagam was held on 19th March 2022 at Periyar Thidal in Chennai, wherein sixteen (16) vital resolutions were unanimously passed, as listed below:
Asiriyar leads DK in the 45th year
Resolution No.1: After resolving to condole the passing away of centenarian stalwart Rajagiri Thangaraj, the vice-president of Periyar Self-Respect Propaganda Institution at the outset, the committee moved to the next resolution through which it was resolved to place on record the commendation of the committee to Dr. K. Veeramani, the president of Dravidar Kazhagam (DK), who has stepped on 18th March 2022 upon his 45th year of leading DK, after Thanthai Periyar and Annai E.V.R. Maniammaiar.
The committee expressed encomium over his 79 years of tireless services within his 89 years of glorious life. He was congratulated unanimously on behalf of Dravidar Kazhagam upon his unparalleled achievements in nine decades. It was resolved to wish his emergence as a proud centenarian in the next decade.
DMK's "Dravidian Model" Rule
Resolution No.2: When the Tamil Nadu State Annual Budget was presented on 18th March, 2022 at the State Assembly, the chief minister of Tamil Nadu Thiru. M.K. Stalin declared that a volume comprising Periyar Thoughts would be translated and published in 21 national as well as international languages. The chief minister had also declared earlier that Periyar's Birth anniversary every year on 17th of September would be celebrated State-wide as Social Justice Day. The government headed by the DMK strove for reservations in All India Quota – Medical Education for the Backward Classes and succeeded. Recently, 50 per cent allocation in admission to super speciality medical courses in Tamil Nadu has been granted for the doctors serving government hospitals. It was resolved unanimously to commend and thank the DMK and chief minister Thiru. M.K. Stalin for all the splendid achievements in the dispensation of social justice.
DK's mega propaganda tour
Resolution No.3: To propagate the necessity of solutions to various problems currently faced by the State, Dr. K. Veeramani would be undertaking a hurricane tour from Nagercoil to Chennai, commencing on 3rd April 2022 and concluding on 25th April 2022. The core point of the propaganda is protest against NEET, opposing National Education Policy 2020 and protecting States' Rights. It was unanimously resolved to make his mega tour a grand success by collective efforts of cadres in all the districts.
Scrap NEET
Resolution No.4: Using the score of high marks in National Eligibility cum Entrance Test (NEET) instead of plus two exams as yardstick to measure the eligibility of a student for medical admission has been termed detrimental to the student community. It was resolved to continue the fight with united efforts to get the State of Tamil Nadu exempted from NEET by the Union Government.
Medical admissions were so far being done till 2016 on the basis of plus two marks scored by the applicants. Changing this usual procedure, conducting an eligibility cum entrance test (NEET) and short listing students for admission based on the marks in that test is against social justice principle.
Indian sub continent comprises several races, languages, cultures, environment, life styles, climatic conditions, industrial modes and various educational schemes.
Conducting a test in a uniform manner for all and providing admission opportunity to those who score higher marks in it is a move of creating partiality among students.
Educational institutions in Indian subcontinent are functioning with various curriculum and methodology. Hence by conducting NEET based on the curriculum in CBSE schools, admission opportunities would be more only for those students following CBSE curriculum.
When Medical admissions were done based on marks scored in plus two exams, CBSE students obtained merely one per cent seats. The students who appeared for NEET last year were able to grab 39 per cent of seats. This makes it clear who is largely benefited by the conduct of NEET.
The first generation learners hailing from families of poor parents in villages, and the children of downtrodden parents are being severely affected by NEET, as revealed by statistical reports.
Social Justice has been adumbrated in the preamble of our Constitution and stressed firmly. NEET is contrary to that assurance. This can be clearly perceived by anyone who probes into this issue carefully and attentively.
Dravidar Kazhagam has been protesting and agitating from the beginning, holding many propaganda meetings, against this particular social injustice.
All necessary steps are being taken by the present government in Tamil Nadu headed by the DMK to seek and obtain exemption from NEET, for Tamil Nadu. Their efforts are welcomed and commended.
To safeguard social justice, the government of Tamil Nadu has been taking exceptional steps by collective efforts without any party based bias. Hence, it is resolved to humbly urge all likeminded groups of people to extend their co-operation to the government of Tamil Nadu.
Restore 'Education' to State List
Resolution No.5: 'Education' was shifted from State List to the Concurrent List during the period of Emergency in 1976, without consulting any State and without a formal discussion. This has led to unwarranted hurdles such as NEET, New Education Policy (NEP) 2020 etc. It was resolved to urge upon the Union Government to bring 'Education' back to the State List inorder to eliminate perplexing schemes and unnecessary obstacles to the student community.
Withdrawal of National Education Policy 2020
Resolution No.6: The New Education Policy (NEP) 2020 introduced by the Union Government is actually the Hereditary Occupation Scheme of yesteryears in disguise. We know how it was defeated long ago. The NEP imposes Sanskrit and Hindi strategically. The plan of exams in various stages is an obstacle to the learners. NEP intercepts the rights of State governments. Considered from multiple points of view, NEP is hazardous to the student community. It was resolved to reject the New Education Policy (NEP) and strive to get it repealed, while commending at the same time the efforts of the Government of Tamil Nadu to frame a new education policy exclusively for this State.
Need of Reservation in Private Sector
Resolution No.7: The Union government is bent upon privatising government undertakings as well as public sector establishments. This is contrary to the Socialist principle adumbrated in our Constitution. A corporate government is likely to emerge instead of a socialistic one by this impractical and harmful move. The policy of Reservation also gets abolished. It was resolved by the Executive Committee to exert pressure on the Union Government to give up privatisation and instead extend reservation for jobs in private sector organizations. It was unanimously agreed upon to get social justice established in employment at all the sectors by necessary reservations to various classes.
Through this committee meeting, the Union government is urged upon firmly to grant reservations in all the sectors.
Certain sectors and departments are being exempted from reservations. This should also be revoked. The Union government is urged upon to confirm reservations in all departments.
This committee meet stresses particularly the dire need of reservation in Judiciary too, in the appointment of judges.
The Prime Minister Narendra Modi had assured employment for two crore people every year. But for the past eight years, no action or step has been taken in any manner to implement it. It is a matter of grief indeed. It was announced in the parliament by a minister of the Union government that there are 8.70 lakh vacancies in Union government organisations. The rate of unemployment in India increased by 6.1 per cent during the period 2017-2018. This was never so alarming in the past 45 years. Centre for Monitoring Indian Economy (CMIE) states that the unemployment rate has risen two folds. This committee urges upon the Union government to declare employment the basic right of every citizen and to offer placements to the millions of unemployed youngmen in the country who have been suffering without any source of livelihood.
Safeguarding the trained 'Archakas' appointment
Resolution No.8: After numerous agitations for a long period, Tamil Nadu succeeded in achieving the rights for trained persons hailing from all castes to serve as 'Archakas' (priests) in temples. But some with ulterior motives have moved the courts of law, seeking revocation of the appointments. It was resolved to urge upon the Government of Tamil Nadu to tackle this by suitable steps and safeguard the validity of the already dispensed social justice by 'Archaka' appointment. This would enable all the so far trained as well as prospective trained persons to serve as 'Archakas'.
Protest on Curtailing States' Rights
Resolution No.9: It is a great shock to note that all the District courts have also been brought under the clutches of the Union government. This would only mean for instance that a judge of Nagapattinam District in Tamil Nadu can be transferred to Assam or Kashmir if the Union Government wishes. This is obviously seizure of the rights of the State government. It was resolved to urge upon the government of Tamil Nadu to get this revoked at the earliest and protect the rights of the State. This resolution is an appeal to all the State governments in the country to prevent encroachment and seizure of rights by the Union Government.
Preventing the Construction of Mekedatu Dam
Resolution No.10: Chief minister M.K. Stalin has asserted that Tamil Nadu would definitely prevent the desperate Karnataka from constructing the Mekedatu dam. But the chief minister of Karnataka, Basavaraj Bommai has adamantly declared that he would go ahead and implement the project. It was resolved unanimously to urge upon the Government of Tamil Nadu to chalk out appropriate measures for a permanent solution to this issue.
Temples to continue under the control of HR&CE
Resolution No.11: Some temples in Tamil Nadu, such as the Nataraja Temple in Chidambaram, which are under the control of private establishments have become the breeding grounds of corruption. It is high time they were all brought under the control of Hindu Religious and Charitable Endowments (HR&CE). At this juncture, surreptitious attempts are being made to bring all the temples under the control of those corrupt elements by scrapping HR&CE. It is therefore resolved to urge upon the State and Union government to prevent any such detrimental move and continue all the temples to be safe under the control of HR&CE. An exclusive law should be enacted for the perpetual existence of the HR&CE.
Religious Controversy in educational institutions
Resolution No.12: The nation noticed unsavoury incidents in Karnataka over the wearing of hijab in educational institutions. It has become a country wide religious controversy now. If hijab has been banned since it is a religious sign, several other religious signs found in other States must also be banned. To establish true secularism an impartial law ought to be enacted by the Union government. It was resolved to urge upon the Union government to solve the problem amicably without any disparity.
Exclusive Act to curb 'Honour killings'
Resolution No.13: Horrible killings in the ironical name of "honour killings" are on the rise all over the country. Irrespective of their caste and religion every man and woman has the right to marry by their choice and mutual consent. Preventing their marriage and arrogantly killing them is inhuman, barbaric and against the noble principles of equality and humanism. Hence, the urgent enactment of a law to curb this menace is the need of the hour. It was resolved to urge upon the Union government and the State governments to chalk out measures to stop forever the so called "honour" killings.
Intrusion of Saffron outfits
Resolution No.14: The Union government headed by the BJP and backed by the RSS has started infiltrating the field of academia by the formation of a forum called Bharatiya Shikshan Mandal, with its headquarters in Nagpur. The members of this group have commenced nefarious activities. Like caterpillars this latest outfit is involved in deciding placement of syndicate and senate members of Universities. This saffron forum is spreading its network by the patronage of R.S.S. outfits and the support of the Union government headed by the BJP. It is resolved to urge upon the government of Tamil Nadu to take this alarming issue seriously and clip the infiltrated forum at the earliest by appropriate remedial measures.
DK's hectic activities
Resolution No.15: The R.S.S. is planning to celebrate its centenary in 2025 as it was founded in 1925. Infact, 2025 is the centenary year for Periyar's Self Respect Movement too. The agenda of the R.S.S. is to act against every policy of DK as a sign of centenary celebration. Hence, we have to propagate all the DK's policies more vigorously than ever. Dravidar Kazhagam should now envelop the entire state like wild fire by propagating speeches in rural belts, street to street meetings, writings on the wall, disbursing hand bills and leaflets etc; – Sale of books, holding book fair, registering subscribers for our journals, spreading Periyar thoughts and strengthening public relations would help us achieve all our objectives. It was resolved to do everything possible to defeat malicious forces.
Release of the Seven
Resolution No.16: Seven convicts imprisoned following an offence have been languishing in prisons for the past 30 years. The government of Tamil Nadu urged upon the Union government to get them released but it has not been done so far. It is resolved to urge upon the governor of the State and the Union government to take steps on humanitarian grounds for the release of all those seven prisoners, without any more prolonging.
All the resolutions were passed through the overwhelming symbolic support of applause unanimously.