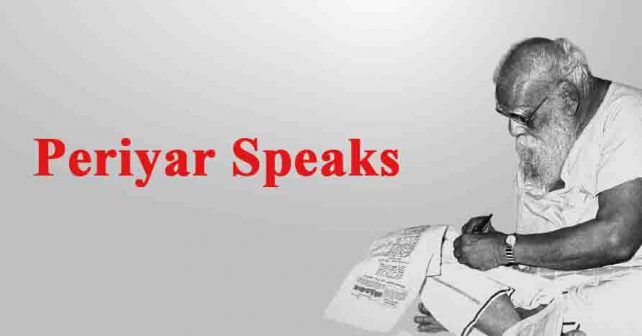 The central idea of today's (Kudi Arasu -21st February 1948) editorial write-up from my desk is the dream of brahmins which would never come true. Their ploy to establish the rule of varnashrama would ultimately make their dream remain unfulfilled. Their strategies are bound to misfire. They have been pretending to be against caste-ridden society and communal fanaticism but actually nourishing them in various ways, pulling wool over our eyes.
Hood-Winking
On the thirteenth day after (Mahatma) Gandhi's assassination, brahmins all over the country were busily involved in post-funeral rituals such as immersion of ash etc; – The assassin was a brahmin as well as a varnashrama fanatic, but as a move to comfort us all and make amends for the gruesome killing, all the brahmin leaders, ministers and business magnates joined hands to safeguard and shield their coterie by performing post-funeral rituals for Gandhi. They were vying with one another in hood-winking us all.
People who use brahminism for their survival and prosperity made us believe that it was a grand homage to Gandhi but their ulterior motive was to protect themselves. Many noble men and virtuous scholars in the past had done much to expose the malice of self centred brahmins but in vain. All the works of those great men were shelved as sacred books for worship. Those authors were labeled as venerable holymen. Their views and thoughts could never reach common people. In brief, these brahmins have always been smart tricksters. Time and again we have been alerting people explaining their tricks.
Awakening – Dire Need
The atrocities brahmins must end. The people of our country should get rid of their superstitions. We have to relieve them all from blind beliefs. They must be united as one single human race. We have to march on the path of progress equaling other countries in the world. But for all these to happen, their religious sentiments have to be completely uprooted as the first step.
Festivals are to be prevented since they are the main cause of religious fanaticism. Centres of religious activities and spiritual discourses must be converted as public property. Maladministration and misuse of temples must stop. We must make people reap a harvest of knowledge through crystal clear awareness. On our Dravidian land, men and women have been enduring inexplicable torture by wicked rulers. They have been exhibiting great resolve and tolerance, agitating without any violence for twenty five long years.
Truth Will Triumph
As the representatives of these exploiting brahmins, some of the leading newspapers published by brahmins have also joined hands in crushing our already oppressed people. These guttersnipes have made our people insensitive by causing numbness. Everything seems to be organised crimes of brahmins. Like the pot calling the kettle black, we are being criticized as atheists, sectarians and fundamentalists. Our image is being wrongly projected by these brahmins while they themselves are the offenders in all respects.
We used to repeatedly stress on curbing religious sentiments, cautioning about their harmful effect on the entire nation. But our alarming calls fell on deaf ears. Even vigorous extremists never dared to openly discuss the atrocities of religious fanatics. We did not retreat or give up our fight even when we were called atheists and anti nationals. We know that truth would be exposed certainly sooner or later. How long can wicked people be the winners in their tricky games?
Our hope did salvage us. After the assassination of Gandhi, all the leading newspapers in India shrieked together that religious fanaticism killed Gandhi. There was unanimous protest against religious fanaticism all over the nation. We did heave a sigh of relief that atlast now our newspapers have become wise, but we also had to ask ourselves, why Gandhi's death should be the price of their wisdom. What effort did those newspapers make to eradicate religious fanaticism? Should they not have curbed it long ago? These are our questions today raised out of true anguish and agony.
Spilt Milk
Violent passion towards religions was infact nurtured and nourished by some news papers in various ways. Arts, music and movies too contributed to the growth of this wild passion. Is it not too late if they yell now? They do not seem to have even an iota of qualm over their mistakes in the past. If they lament now, it is like crying over spilt milk, isn't it?
Mischief Mongers
Newspapers owned by brahmin publishers do not seem to have realised the adverse effect of religious fanaticism. Brahmin citizens too have been quite insensitive over this moot issue. Surreptitiously igniting widespread religious fanaticism is their obvious mischief. Most other brahmins dare to spread this fanaticism quite explicitly. I would like to ask brahminism soaked in hypocrisy, if it is bent upon creating blood flood all over our country. This question does crop up inevitably.
Malicious Intent
A leading newspaper managed by brahmins keeps hatefully spreading false report that Dravidar Kazhagam is a sectarian fundamentalist party determined to malign brahmins. This newspaper is instigating everyone to demolish our party completely. The objective of brahmins today is to crush our party by hook or crook. Brahmins are second to none in such hanky-panky strategies.
Castle in the Air
We have been time and again reminding brahmins that their cowardly attacks can never harm us. You will never succeed on Dravidian Soil. Some of our people may be your accomplices. But not all would fall a prey. Even the Dravidian who is hand in glove with you, betraying us, would not be with you forever. Infact, one who calls himself Dravidian and joins you may not be a true Dravidian by birth. Do not build a castle in the air to crib and confine us. People suppressed for centuries have woken up now.
A New Era
This is not the evil Manu era any more. Times have changed. Men have started firing questions such as – "Why am I a 'Shudra'? Why should I belong to the fourth layer of castes? Why am I in the fifth layer? Didn't my ancestors rule this country long ago? Don't I work hard today? I work hard. You hardly work. You reap all the benefits while we toil. You babble about national spirit, religion, god and many other senseless things while we struggle to eke out a living. We strive but you thrive. Why should you grab the reward of our labour?" – These questions of the oppressed people are deafening. Even some ministers who pretend to have reached glorious heights in life raise such questions inaudibly since they very well know they did not deserve what they achieved.
Unabashed Flattery
Realising that it is no use calling us anti-nationals, you have begun calling us sectarians and fundamentalists. In fact, such labels suit you brahmins – not us. How dare you level this baseless charge against us? Ministers fall a prey to your sycophancy. You instigate them by your mud-slinging strategy and unabashed flattery. Do you really believe that we are bent upon ruining you all completely?
Humanists
If that were to be true, you would not be existing today. You would have faced our atrocities as a sign of revenge. Many of you might have faced a dog's death. Most of your women-folk could have been molested by our people. But no such thing ever happened. Had we determined to retaliate, none of you would have existed today. The entire brahmin race would have become extinct. We are not merciless people. We are true humanists.
Our Rival
All that we really wanted – and still want – is your reformation, your transformation – not your life. Our rivalry is not against brahmins, but against brahminism. Individual brahmins are not our rivals. We had never ever thought of any physical assault or biological warfare. Ours has always been an issue-based fight-never any sort of personal vendetta. It is a pity, we are misunderstood.
You have been tirelessly trying to create a rift among our people and ruin us completely. When your strategies failed, you started piling up arms and ammunition in RSS (Rastriya Swayam Sevak Sangh) under the guise of Hindu Maha Sabha. Would you dare to deny our charges?
Prove By Action
If your real intention is to abolish religious and communal fanaticism, you must prove it in action. You must stop promoting religious discourses and discussions. Writing, publishing and selling works related to religion and caste must be given up. Propagating Ramayana and Mahabharata must be avoided. Thrusting scriptures and ancient mythologies on gullible people to keep them forever in the darkness of ignorance should not continue. Do not spread superstitions through senseless stage plays and mind-boggling movies. Art should not be misused as a destructive weapon.
Religious marks and signs must not be used by people for identity. You must dissuade them. Caste discriminations and birth based segregations must end. Bogus astrologers should be unmasked. Avarice of priests in temples should be curbed. Charlatans who make people crazy through religious discourses are to be punished by you.
Did any astrologer predict Gandhi's assassination? None. And yet astrology continues to deceive our innocent people. Would you expose it as an unscientific evil?
You must strengthen our hands in annihilating malicious people who babble about heaven, hell, soul, rebirth and divinity. Tricksters who cause numbness of human brains by dumping on them rubbish such as thoughts of fate, fortune and destiny, must be punished in public. Hard working innocent people should not be exploited at any cost. It is your duty to ensure this. Dehumanization must stop.
If you could do all these and establish a truly secular, progressive society, we can believe that you are really interested in absolute reformation. Shall we hope our dream would be fulfilled? If you are not willing to carry out all that we have cited so far, – your dream of conquering us by brahminism would also remain unfulfilled. You need not even answer us. Your activities themselves would answer with the passing of Time.
Courtesy: 'Kudi Arasu' – editorial
Translated by : M.R. Manohar