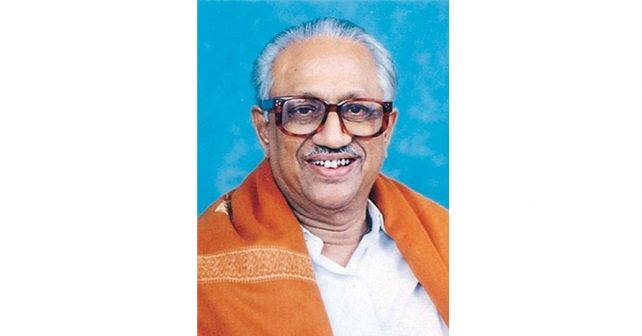 Prof. K.Anbazhagan
General Secretary, Dravida Munnetra Kazhagam
Professor K.Anbazhagan who was the general secretary of the DMK for 43 long years, breathed his last on 7th of March 2020. Asiriyar K.Veeramani, the President of Dravidar Kazhagam, bid a tearful farewell to the departed leader and paid homage. His message of condolence was a glorious tribute in reverence.
Mourning the demise of the stalwart Asiriyar Veeramani exclaimed thus; "We are shattered by the shocking obituary! We have lost a great warrior and a steadfast ideologist. On our march towards the achievement of our objectives and aims he had always been with us as a friend, philosopher and guide brightening our path as a becon.
Professor Anbazhagan had been the general secretary of the DMK for more than four decades. He was an unparalleled leader who was extremely friendly with everyone expressing his inherent culture and his affection through his warm hand – shake.
The principle of Self-Respect was Thanthai Periyar's remedial capsule. Professor Anbazhagan used to offer this capsule on several occasions to the crowd of cadres, followers and common public. It was like a doctor of medicine caring for his patients. As the most cherished brother of Aringar Anna, he had always been strengthening his arms by his unstinted support. Later under the leadership of Kalaingar Karunanidhi he safeguarded his ideology with an unflinching resolves, and restraint. Though the span of his life was 98 long years, we feel crooked nature has snatched him away too early from us. The extent of his companionship and patronage were such that we deem his demise an irreparable loss. His public service for 85 Years was indeed a historical achievement. He would continue to exist as an exceptional role model for public service.
After the demise of Kalaingar Karunanidhi, when his son M.K.Stalin shouldered the responsibilities of the DMK, professor Anbazhagan played the role of a god father and rendered him paternal care. Duty, discipline and restraint are the three codes of conduct for the DMK, of which Anbazagan was a unique symbol. He had reached enviable heights in nobility and values of life. He stood an example for every virtue which has made him an exceptional personality.
DravidarKazhagam(DK), the parent movement of Dravida Munnetra Kazhagam (DMK) conveys its heartfelt condolence upon the demise of the great warrior of noble principles. With royal salute in obeisance, all the scheduled events of DravidarKazhagam are put off for seven days, as a mark of our respect to the noble Professor. Let us all console one another and share our grief at this juncture!
K.Veeramani
President, DravidarKazhagam