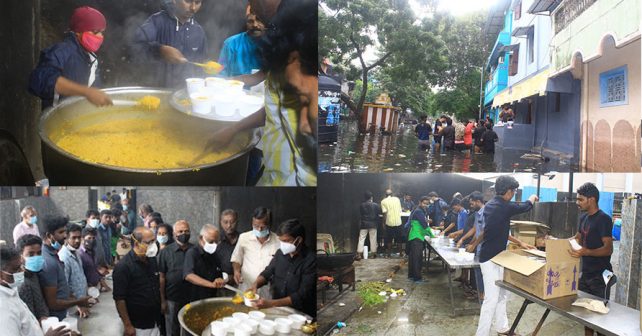 Food preparation at Periyar Thidal, the headquarters of Dravidar Kazhagam & Packaging the food and distribution to rain-flood victims.
Heavy rains in Chennai (9th -13th November) have caused floods in many parts of the city, leaving people without basic necessities. This situation has occurred in many parts of Tamil Nadu. The State government has been doing serious work under the guidance of the Chief Minister. The President of Dravidar Kazhagam Dr. K. Veeramani asked DK comrades to be involved in relief work. Even when the rain intensified, DK Youth Wing cadres and Dravidian Students Forum cadres had begun relief work. Food was prepared for 1500 to 2000 people a day at Periyar Thidal. In areas surrounded by rain water like Pulianthope, Raja Thottam, KP Garden, Vyasarpadi Jeeva, Kannigapuram, Villivakkam, Perambur, and Kannappar Thidal, food was provided to those who were stranded and unable to come out of their home.
Besides food packet, candles, mosquito nets and milk packets were also distributed. Cadres reached water-logged interior areas which were affected for days. During the floods in Chennai and Cuddalore in 2015, Periyar Thidal was instrumental in carrying out such humanitarian work. Periyar Thondaram, a volunteering group along with Dravidar Kazhagam comrades, actively participated in this relief work. Periyar said, "Forget God! Think of Human!" His advice leads us forever.
Prince Ennares Periyar