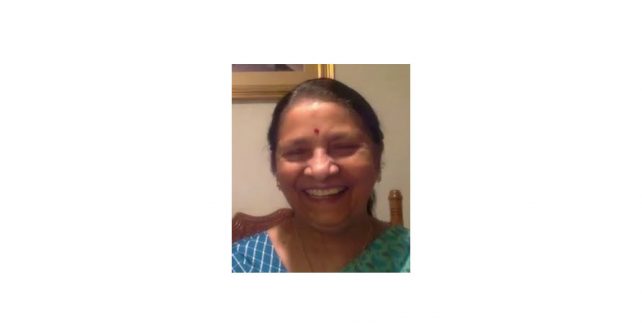 Dr.Saroja Ilangovan M.D.,
Neuropathologist,
United States of America
From the previous issue
Another astronomer, Fritz Zwicky, made a great discovery in the 1930. He interpreted, that apart from visible stars, there is an invisible universe in the background. Another woman astronomer, Vera Rubin, also convinced the world about this finding. In the 1940s, Vera Rubin applied for Ph.D studies in Princeton. She was not accepted because she was a woman. Without losing her hope, she applied to Cornell University and then, eventually as an astronomer she applied to Georgetown University along with her husband. She was also a young mother with two children. She took evening classes to juggle her responsibilities as a mother and a graduate student in astronomy. She pursued her work to research spinning galaxies. Many of them are discs of hundreds of billions of stars spinning around once every 200 million years. She wanted to study how long the stars in galaxies have been around. She also wanted to weigh the galaxies. There are no weighing scales in space. The heavier the star, the faster it will be moving due to gravity. So Vera and her colleague Kent Ford were studying how stars were spinning around within galaxies, how fast they were going and how massive they were.
To do this, the telescope in Palomar Observatory in California was needed. Vera applied for permission to use the telescope but the notice in the application revealed that women were not allowed to use it. In the 1960s,  women were not allowed in the telescope room because there was no bathroom for women, but mischievously, took the picture of a skirt and pasted it on the men's bathroom symbol and solved the issue. She was the first woman to use this huge telescope and she used it to measure how fast the stars in the galaxies are spinning around. She also discovered that the stars at the edge of the galaxy are spinning around faster than the rest. This was true in all the galaxies that are looked at.
The interpretation of this observation depicts that the stars are only a small fraction of a huge, invisible, much heavier mass that is out there. The major portion of the universe is this invisible heavy matter which responds to gravity. It is a spherical matter surrounding the stars. It does not reflect any light and one cannot see it through any telescope directly. The same observation was raised by another astronomer Fritz Zwicky 30 years earlier, and he termed it dark matter. Now Rubin found it, not in one place but everywhere. This is one of the biggest mysteries today.
Dark matter makes up 85 percent of the universe, more than five times as much as ordinary matter. This may be a new kind of particle, which they haven't discovered yet. Rubin did not win the Nobel prize, but many astronomers felt that she deserved it; however, a few months ago she was honored when the biggest synoptic survey international telescope, which was funded by the United States and the observatory, was given her name. It is one of the biggest telescopes, which will carry out a deep, ten year imaging survey. It is 8 metres in length and it is going to scan the whole sky every few nights measuring billions of galaxies. This largest telescope with a woman's name is a thrilling message for women all over the world.
The last woman to be mentioned, even though there are many more, is Jocelyn Bell Burnell. She was the senior colleague to the speaker in Oxford University in UK before she moved to Princeton. Jocelyn Bell was an inspiration for many women astronomers. She discovered a weird signal coming from space. It was a signal coming from radio waves, just a kind of light with longer wavelength which you cannot see, but can pick up with your radio. This signal can be captured in Australia easily since there are a lot of radio telescopes in Australia. She picked up the signal every second, but she didn't know what it was. It was very regular initially, and it was called LGM(little green man). It turned out to be the extreme kind of star in the universe. It was called a neutron star, also called Pulsars, because they send a pulse of light.
Our earth is of the size of a basketball, but a neutron star is like our entire sun squeezed into a city, the size of Sydney. The gravity in it is very dense. These are dying stars. If you squeeze it more, it will become a black hole. Bell Burnell found them. It is sad that she was not awarded the Nobel prize, but her adviser was. However, two years ago she became the recipient of a $3 million breakthrough prize in physics for her discovery. She is using the money to support women and minority students to delve into astronomy which is very inspiring.
It is a very proud moment for women who are realizing the dream of Thanthai Periyar. He worked hard all his life to uplift the suppressed human race, especially women, to attain empowerment, economic freedom and the right to participate in every field including Astronomy. Nowadays, many more women astronomers are coming up and contributing significantly to science. We salute all the pioneer women astronomers. Long live their amazing discoveries!
Concluded