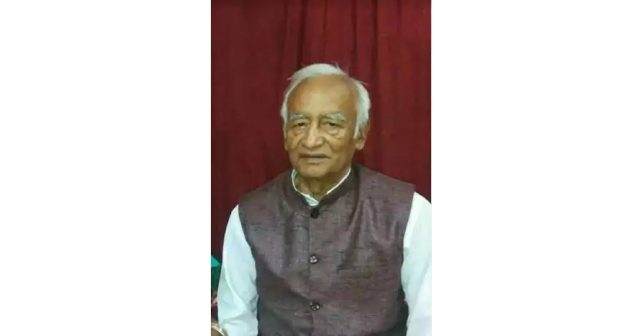 We are sad on receiving the message of the demise of Ram Awadhesh Singh, the stalwart of social justice on 20th July 2020 at Patna, Bihar.
Ram Awadhesh Singh lived for the cause of the downtrodden and the oppressed till the end. He was a forceful leader who fought for the implementation of the recommendations of the Mandal Commission, raised and augmented support continuously for the reservation rights of the Backward Classes. He was a fighter by impleading himself and argued for the cause in the Indra Sawhney case in the Supreme Court. Started the public life as the ideological disciple of Ram Manohar Lohia, he had served as Member of Parliament both in Lok Sabha and Rajya Sabha for many tenures.
Ram Awadhesh Singh ji had great respect and adherence to the ideology of Thanthai Periyar and propagated the Mission on social justice in the north. Whenever he had to come to Chennai, Tamil Nadu he used to visit Periyar Thidal, headquarters of Dravidar Kazhgam (DK), meet and discuss with us on many an issues. His contributions are significant as Member of the National Commission for Backward Classes when it was chaired by Justice S.Ratnavel Pandian, the former judge of the Supreme Court.
In his demise we had lost a valiant commander of the cause of social justice. We convey our deep condolences to the bereaved family members of Ram Awadhesh Singh and the ideological cadres, groomed by the stalwart.
Gallant Salute to Ram Awadhesh Singh ji!
K.Veeramani
President,
Dravidar Kazhagam