The excerpts of the speech delivered by Thanthai Periyar at Communal Rights Conference held at Thiruvarur, TamilNadu on 8th July 1951
My dear comrades, the conference today is held here under the caption 'Communal rights'. But before I delve deeply into the issue through my speech, let us discuss the level of our literacy. More than 85 per cent of our people are illiterate. Among our womenfolk, more than 95 per cent lack education. No other country in the entire world would be in such a deplorable condition as far as education is concerned. In Europe and America the literacy rate of the people is one hundred per cent. They consider only the educated people as true scholars. They look down upon the illiterate with contempt.
Wide Gulf
We can find nearly sixty per cent of the people educated in cities such as Cochin and Travancore – where brahminist domination is less. Why is it that in a country most of the people who have been existing for centuries are illiterate where as another group of people who had actually intruded into the same country are nearly one hundred per cent literate? How is it that there is a wide gulf between the level of their literacy and that of ours? We must probe into this first and dissect the causes and their effect.
Fault is Ours
We exist as Sudhras according to religious codes and ancient scriptures framed by malicious elements. It has been stated by them that only the upper caste people have the right to education. We are told by them that the people of lower castes do not deserve education and that none should come forward to educate them. We have been toiling like bulls involved in our hereditary occupations, without a murmur. Hence after the invasion of brahmins we lost our rights to education and opportunities to acquire them. I would assert firmly that we must blame ourselves for our illiteracy.
---
"Marks need not be considered, once a candidate passes an exam. But today it is a strategic yardstick. Minimum marks and maximum marks are all sheer humbug. Our present day ministers are still clinging to exam system, marks and certificates. They do not want our people in any coveted post or position in any department. Abolishing exam system is therefore essential."
---
Superior to them
Only after the arrival of the British, we got belated opportunities to acquire literacy atleast to some extent. Even that was hindered and prevented by the brahmins. People who have rich experience in politics would certainly agree with me. Our people may be less inclined towards education but not in learning. Not all the educated can be called truly learned. We are superior to brahmins in learning and knowledge atleast to some extent but certainly not inferior to them even a little bit. In an exam, if six out of ten candidates of ours pass, only four would pass out of ten brahmin candidates. I mean to say that we are more efficient. It is just a pity that we could not excel in formal education.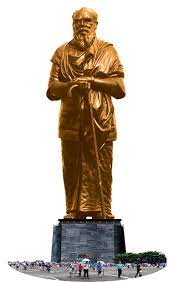 Ulterior Motive
Importance to exams was a strategic ploy of brahmins. It is they who imposed 'merit' on us. It was unheard of in employment affairs forty years back. The world of education was monopolised by brahminsuntil the Justice party came to power. But the leaders of that party did help our people to some extent in achieving education. Inspite of opposition from the brahmins, they helped some of our people obtain B.A., M.A., degrees etc; Later we started vying for employment opportunities. Our people gave priority to placement and began applying for jobs in the government sector. It was then that the brahmins brought 'merit' as an obstacle for us. They made passing exams inevitable for employment. Education gradually became expensive forcing our people to give up higher education.
Stumbling Blocks
Ninty per cent of our people are manual labourers. Higher education for their children is naturally unaffordable. Therefore they get only fourth grade jobs as peons and orderlies. Lucrative jobs are easily grabbed by brahmins. Thus, the standard of the living of our people has been at a low ebb for a long period. When we struggle to come up, the stumbling blocks "merit and efficiency" keep hindering us. Fearing threat to their survival, brahmins have been preventing our advancement in life. To get relieved from this trap we demand communal representation. We do not prefer any coveted placement in particular or any status for mere pride. We demand reservation in jobs by justified communal representation. We need communal rights merely for our survival.
Obvious Awakening
Brahmins were nomads without a land of their own. They sneaked into our country seeking survival and livelihood. They are clever but not wise. They dumped outdated religious scriptures on us and took us for a ride by their obscene fables and barbaric codes of conduct. They contaminated Tamil language by an amalgamation of Sanskrit and other North Indian languages. Our gullible people have started believing in god, religions and salvation. People monotonously carrying on with some job for survival are naturally insensitive towards the cunning ploys of brahmins. Only by the effect of our recent self-respect propaganda and inspiring speeches in public, there is a welcome change in our people. They were all so far living in an inhibited manner ignoring humiliation and degradation. By an awakening, our people have now realized the necessity of communal representation. All our efforts have now begun to yield fruitful results. Our people have started realising that god, religion, heaven, hell and salvation are all mere illusions.
Exam Hurdles
We are not asking for undue privileges for our people. We demand just an equal place as per their schemes for education and opportunities to study beyond intermediate courses. Marks need not be considered, once a candidate passes an exam. But today it is a strategic yardstick. Minimum marks and maximum marks are all sheer humbug. Our present day ministers are still clinging to exam system, marks and certificates. They do not want our people in any coveted post or position in any department. Abolishing exam system is therefore essential.
For most big people today in coveted posts and positions, being brahmins is their only qualification. Some of them are in the job of planting saplings for better environment. Are they skilled in it? An average farmer would perform better since he knows all about plants, and trees. But he is denied a suitable job because he has neither merit nor efficiency according to the measuring scale of these bureaucrats.
Superfluous degrees
When a company advertised for a job which involved cycling, an acrobat with experience in a circus company applied stating that he is good at riding a cycle. My dear comrades, just think and tell me, was his circus-skill necessary for a simple job of a messenger? For the post of a police sub-inspector, in my opinion, his physical fitness, attitude and aptitude are enough. Does he need a B.A. Degree and high score of marks? Even for a clerk, deputy collector or a deputy superintendent, I believe, degrees are not at all required. In what way would they work better than one who does not possess a degree certificate? For such jobs, do the candidates need knowledge in maths and science? Are not exams, marks and certificates meaningless?…..
Future Reforms
When true, perfect and meaningful freedom is granted to us, we would eradicate first higher studies, coveted jobs and bigger positions. As our second step, we would throw the entire exam system overboard. After teaching a student and equipping him with knowledge, why should he be tested by an exam? After the exam, he is awarded forty or fifty marks. Why should we pay teachers for producing poor results?Our teachers are actually overpaid for less work. This must be checked and stopped. They handle classes hardly for five hours and total work is only for half of the year. If teachers enjoy such privileges what would be their contribution for the students? Look at a police constable who is paid pittance for his restless hard work. He is on duty round the clock,infact even when he is at home. Is it not injustice? When ministers visit our cities, sometimes schools are closed and teachers are granted leave but a police constable has to stand in the middle of the road under the scorching sun. Is he not a human being like others? Why should people who hardly work be happier than those who work hard? That is because most of the teachers are brahmins. Hence special privileges. We must get rid of exams in order to get rid of brahmin faculty. Infact, exam system does not exist in most of the countries abroad. They expect students to learn certain things within a particular time-frame. That is the end of it. Our objective is to bring about such reforms.
Solitary Fighters
Our mission is to get placements for our people in Government sector organisations especially because they are all occupied now only by brahmins. We demand reservation by reasonable communal representation and as per the percentage in each. Selfish and corrupt people have monopolized government sector jobs. In the Railways, at many places, one single brahmin family can be found occupying various posts. Our movement alone keeps questioning all such atrocities. As lone fighters we succeeded in getting our Constitution amended a little bit but our ministers are impartial in implementing reservations. Reservations in employment and education are not ratified in a disinterested manner. Brahmins continue to get the lion's share. By hook or crook they manage to grab everywhere what they want. In brief, the allotments are all still favourable to the brahmins. The percentage calculations pull wool over our eyes. Our people are being taken for a ride but these insensitive people do not come forward to agitate with us.
---
Religion A Stumbling Block
Religion and the general Nature of the world have always been quite unrelated. This is because almost all religions dominate World-Nature. They intercept it like a stumbling block and divert its route. This has been the lifeline of religions. By the intrusion of religion the scope for natural knowledge is lost and there is no room left for any research activity. Since all religions have been in existence for thousands of years, their strong hold and dominance have hindered the intellectual growth and development of mankind.
Thanthai Periyar in
'Kudi Arasu', 27.09.1931
---
Unity – Urgent Need
We have been fighting so far silently but not violently. The time has come to protest much more vigorously. We have already caused panic in our opponents and achieved success to some extent. My dear comrades, if you all strengthen our movement and fight with us in a disciplined and democratic manner, would there be anything that we cannot achieve? There is a dire need of agitating on a war-footing to smash all the obstacles and bring about reforms in every sphere.
The brahmin coterie already stands stirred by our voice of protest. With some more efforts we can silence them for ever and attain social justice. Lack of unity among us is the major problem. Most of our people are lethargic and insensitive. They must wake up before it is too late.
Before I conclude my speech, I urge upon you all to remember the golden words – "United-We stand. Divided – We fall." Our vision and mission should be success in all reforms, flawless communal representation, equality in every aspect and absolute social justice. Join us to wipe off every stigma which belittles us.
Courtesy: 'Viduthalai' July 15&18, 1951
Translated by: M.R. Manohar