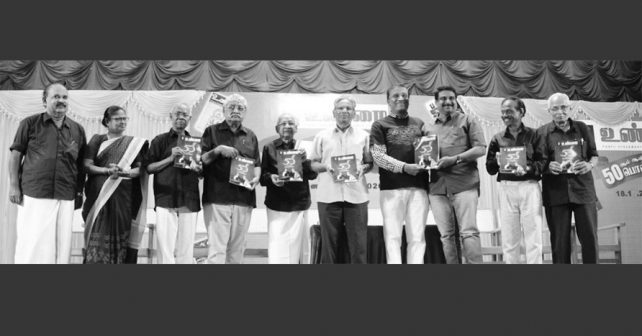 The Golden Jubilee Souvenir of 'Unmai' was released (Chennai-18th January 2020)
The unique feature of Periyar Movement is not only its humanist principles of self respect and rationalism but also its mode of propaganda and strategic approaches adopted by it. Its major propaganda weapons are the books and the periodicals, published by the Periyar Self Respect Propaganda Institution (PSRPI). One of its magazines, 'Unmai', meaning 'Truth', founded by Periyar in 1970 celebrates its Golden Jubilee in 2020.
The magazine 'Unmai' is a Tamil fortnightly, which satisfies the expectation of both its readership and the publisher. The content of the magazine is versatile, including, essays, short stories, book-review, passages from relevant publications, poems, snippets, rejoinder to the ideological fabrications making the readers interactive and informative. The magazine is popular among students and women. The Editor in Chief of the magazine is Dr. K. Veeramani who is also the Secretary of The Periyar Self Respect Propaganda Institutions (PSRPI) and the President of Dravidar Kazhagam (DK) founded by Periyar in 1944. While the organisation DK is celebrating its Platinum Jubilee (75 years), the magazine 'Unmai' is in its Golden Jubilee (50 years).
To commemorate the Golden Jubilee of Unmai, a special function was held on 18th January 2020 at Periyar Thidal, Chennai. The function was presided over by Prof. Dr. Ravisankar Kannabiran, Professor of Linguistics (Tamil Language) Middle Eastern, South Asian and African studies. The felicitations were by Prof. Suba. Veerapandian (General Secretary, Dravidian Tamil Federal), Prof. Arunan, a Marxist Scholar and Govi. Lenin, from 'Nakkheeran', a Tamil bi weekly. All the dignitaries described the arduous path, treaded by Unmai and lauded its role and contribution to the Tamil readership in the progressive front. The Editor-in-chief, Dr. K. Veeramani announced that Unmai, because of the popularity and the need to reach many more, would very shortly be published as a weekly. In his introduction, Poet. Kali. Poongunran briefed on the history of 'Unmai'. The Golden Jubilee Souvenir was released on the occasion.
The Golden Jubilee of 'Unmai' has proved once again the strength of print media, the Periyar Movement possesses. Through its transformation into e-format, now it copes up with the changing environment of Information Technology.