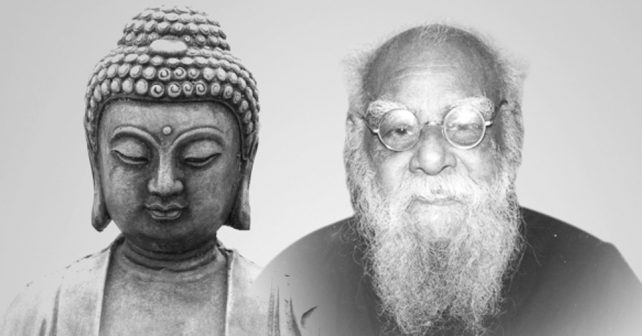 Prof. Dr. Palany Arangasamy
Director, Center of Periyar Thoughts, Periyar Maniammai University
Great men think alike may be a cliché but its relevance to Buddha and Thanthai Periyar cannot be over – ruled.  They believed in disseminating their thoughts to the public by travelling from one place to another and spoke in a language of commoners.  They never resorted to rhetorical flourish.  Their unadorned simple language made inroads into the mind and hearts of the general public.
As per the Sri Lankan chronicles, Mahavamsa and Dipavamsa, Buddha was born in 563 B.C and passed into Nirvana in 483 B.C.  In about eighty years of his life, nearly 45 years he travelled along the public road that existed then, roughly embracing the areas such as Yamuna – region's Surasena, Vatsa, Kosambi, Saranath, Pataliputra, Gaya and Gangetic region's Nalanda, Licchavi, Kapilavastu and Lumbini.
The Sangha, a conclave of monks or Monastic order founded by Buddha faced difficulties in proposing pity and peace. They emanated wisdom and preached tolerance. The Buddha refused to abide by the norms of caste and social position.   He requested his preachers to extend profound compassion for all beings.  Amor vincit omnia – Love conquereth all things was Buddha's testament to his ministers.
In preaching universal brotherhood, the princely heritage and royal parentage of Siddhartha, as he was then known did not prevent him from plunging into his holy preaching.  Buddha's sympathetic disposition caused him great hardships in cutting across the rituals and ceremonies that have enveloped the custom ridden society, yet Buddha was determined to hold his principles of non – violence.
Periyar's fabulously rich parentage did not succeed in getting him spoiled.  Nor did the piety of his parents influence him to be meek, servile and orthodox.  He was diametrically opposite to these qualities.  He was singularly independent.  In fact so clever he was in finding out the trickery and cunningness of Brahminism.  He did not fail to notice how in the garb of varuna adharma, the Brahmins kept all the others in thraldom and bondage.
He, therefore decided to work tirelessly for safeguarding the honour and presige of the enslaved masses by keeping Brahmins at a distance.
Gods, their incarnations, their messengers and messages are all mere humbug, Periyar has said.  As young Siddhartha had an inquisitive mind to question his teachers to the point of getting them concede the limitations of their understanding, Periyar too put critical questions to the pundits and shastris who very often gave puranic discourses in his home.  This was very much to the embarrassment of his rich parents who arranged these religious discourses at the home. Periyar did not like either their inane and purile discourses or the expenditure incurred by his parents.
Old  age, sickness and death are inevitable in life.   Neither rituals nor the chanting of sacred texts towards God help people to lead better lives, the Buddha realised.  Thanthai Periyar found in these opinions of Buddha an identical set of thinking.  Hence his appreciation of Buddhistic principles.  Buddha and Thiruvalluvar are the two saints, Periyar has venerated.  Even among these two, it was to Buddha, Thanthai Periyar has unreserved appreciation. The Tamil saint is said to have been an innovative original thinker.
But he was also tainted by Brahministic feeling. Keeping women in subjugation was also his thinking. Periyar has said so in a marriage function at Arantangi on the 11th of April 1971.  Periyar was all in praise of Buddha only.
Periyar commemorated the name and fame of Buddah on many occasions.  On the 27th of May 1953, he arranged for the clelebration of Buddha, the Great.  So outspokenly he enumerated on that day, the cardinal principles of humanism enunciated by Buddha.  The very next year at Erode on 23rd January 1954, an exclusive one – day conference was organized on disseminating Buddhistic principles.  Dr. Malalasekara from Ceylon had been invited.
In enumerating the salient features of Buddhism, Periyar reminded the audience of the fact that Government of India has kept Asoka Stupi and Dharma Chakra of Buddha in the National flag of India.  The Government declares a holiday on the birth day of Buddha. That great sage had declared to do away with God, religion, Sastras, Puranas and Epics that have been keeping us in thraldom. Will this Government be frank and bold enough to do away with God and follow what has been ordained by Buddha, Periyar asked.  This is the reason that this conference has been arranged, he explained further.  Consequently in a number of meetings in various other places, he echoed the same feeling among the general public.
Aware of the attachment of Periyar towards the humanistic principles of Buddha, the Rangoon Buddhist Society (at present Myanmar) invited him to the third conference on Buddhism, in the last week of November, 1954.  On the 3rd of December, Periyar delivered his lecture on the secular aspects of Buddha and the Universality of his principles.  Dr.Ambedkar was also one of the invitees to the conference.  Both the great leaders of India were able to exchange their opinions on that occasion on religion and society.
Ambedkar informed Periyar that he has decided to embrace Buddhism.  This was because of hard – core caste system perpetrated on him by the Hindu fanatics.  Since Periyar was also fighting against religion and Caste, Ambedkar persuaded him to convert himself into Buddhism.  But Periyar's policy was different.
By remaining in the Hinduism, he said he will have the right to annihilate it but the same cannot be done if he converted into Buddhism.
A State – level three – day conference at Bombay on the eradication of caste system was held from 25th March to the 27th 1956.  Disseminating the ideals of Buddha was the main theme on one of the three days.  Thanthai Periyar travelled to Bombay by car with his close associates and took part in it actively on all the three days.
The 2500th Annual Day was held at Rajaji Hall Chennai on the 27th of May, 1956.  As a tribute to the memory of Buddha, every one should swear not to indulge in idol Worship, not to go to the temples and not to wear or bear anything that relates to religion, Periyar has said.  He echoed in the meeting what the Revered  Sri Lanka's Mallalasekara has said.
Periyar has questioned further why one should leave the Hindu religion as such?  Let us train the people of this religion to utilize their brain and to get themselves reformed with an awakening wisdom. Buddha was born in India and began propagandizing his thoughts and ideals here. But in India itself, the Hindu orthodoxy has conspiringly blacked out Buddhism and created straitened circumstances to see that Buddhism runs away to South East Asian countries.
Among the public, an animus and bias against the rationalism of Buddhism has been generated by Brahminism that believed in subjugating the gullible public by introducing rituals, ceremonies and getting them brainwashed; made them believe in life after earth and by creating a fear of hell.  Buddhism negated all these as figments of imagination.  Thriving of such Buddhism was almost a threat for their livelihood, the Brahmins felt.
Hence Brahminism was bent upon annihilating Buddhism. Devious method of annihilation by absorption, the Brahmins adopted towards the principles of Buddha. The Nayanmars of Saiva and Azhwars of Vaishnava sects have unequivocally condemned Buddhism in their innumerable hymnologies. The virulency with which Buddhism was attacked by them can be studied in a poem by Thondar Adippodi Azhwar which says that if chance happens, my duty shall be to condemn  and cut off the head of the naked jains and useless Sakkiyas.
Much against such age – old condemnation of Buddhism, Periyar in the 20th century has said that we must uphold the tenets of Buddhism,   Until the last breath of his life, Periyar stuck to this principle of hailing the ideals of Buddhism.
Allergy towards Brahminism made Ambedkar to keep himself away from Hinduism and to embrace Buddhism. Periyar differed from Ambedkar in this respect.He remained in Hinduism, swam against the cross currents of religious and Brahministic fundamentalism and saw to it that the  awakening of  Non  Brahmins  thrived in Tamil Nadu, at length.