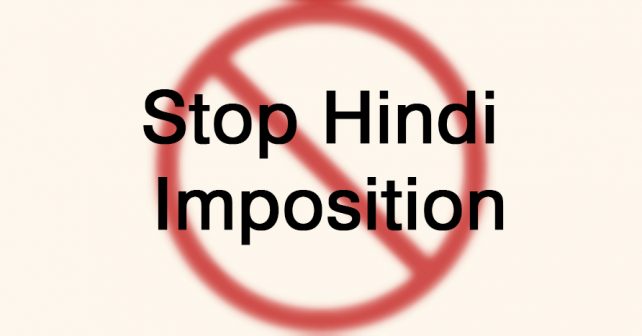 In Tamil Nadu, Hindi is neither the medium of instruction nor official language of the State. Tamil and English are the official languages in Tamil Nadu and English is the language of communication between the Union and State Governments as per amendments made to the Official Language Act 1963.
As per the Article 343(2) of the Indian Constitution, English continues the as official language of the Central government. Based on the Article 343(3) of the Constitution, The Official Language Act 1963 was legislated by the Parliament with due assent of the President of India. As per this Act, English continues the link language in between the Central and State Governments.
The Official Language (Use for Official Purposes of the Union) Rules 1976 was framed as per the provision of The Official Language Act 1963.  Rule 3(ii) states that communication from a Central Government Office to a State or Union Territory in Region 'C' or any office or person in such state shall be in English.
The Region 'C' covers the States – Andhra Pradesh, Arunachal Pradesh, Assam, Karnataka, Kerala, Goa, West Bengal, Manipur, Meghalaya, Mizoram, Nagaland, Odisha, Sikkim, Tamil Nadu, Telangana and Tripura and the Union Territories – Pondicherry, Lakshadweep, Jammu & Kashmir and Ladakh.
Hindi imposition:  In Tamil Nadu Hindi is never  be the education language or the State official language.  Only Tamil and English are the official languages of the State.
Starting from the Constitution, the Act, and the Rules are not for the imposition of Hindi, the Centre is continuously impose Hindi language on the other language speaking States and UTs.  Recently National Education Policy 2020 has been released by the Ministry at the Centre, which advocates 3 language policy to be followed by the States. In 1968, the State of Tamil Nadu had framed the Two Language Policy for the State with no place for Hindi at all in the State but Tamil and English.
Rule 1(ii) of the Official Language Rules 1976 states clearly "They (Rules) shall extend to the whole of India, except the State of Tamil Nadu."
Under such circumstances the release of NEP 2020, advocating Hindi imposition through the three language formula is the blatant violation of the Rules, formulated by the Central Government.  Can the Centre violate the Rules 1976, which is not at all applicable to the State of Tamil Nadu? The Constitution protector should not break it!