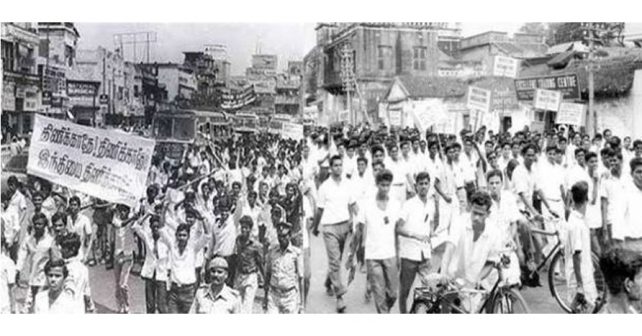 Spontaneous and democratic revolt against Hindi Imposition in Tamil Nadu
N Vinoth Kumar
Tamilians don't just love their native language (Tamil) but also take great pride in it. Renowned poet Bharathidasan even went on to say that "if anyone disrespects Tamil, I will not remain silent, no matter what".
Similar arguments were put forth by social reformer and Dravidar Kazhagam founder Periyar, and later by his disciple CN Annadurai, affectionately called as 'Anna' who founded the Dravida Munnetra Kazhagam (DMK).
While Periyar wrote and spoke against Hindi based on the social events of the time, Anna made it a political issue. Their arguments were supported by other intellectuals such as Maraimalai Adigal, a Tamil scholar, and Ma Po Sivagnanam, who founded the Tamil Arasu Kazhagam, a political party that rose during the anti-Hindi agitations.
Together, all these writings and speeches became the knowledge base for a long and unending resistance against the imposition of a language, particularly Hindi, over Tamil, that continues to resonate even today.
Many believe that it is because of these resources that any move to make Hindi a 'common' or an 'official' language across the nation has been met with fierce objection at every level.
But critics of the agitation dismiss them as 'language chauvinists' and even 'anti-India'. They often fail to see the arguments behind the opposition.
Common language vs Official language
Many among the current generation believe that the move to make Hindi as the 'official language' by the Union government (both in the past as well as present) was the main reason behind the vociferous opposition against the language.
Those against the 'imposition' of Hindi argue that by trying to make Hindi a 'common language', the government is sending a message that the language should be taught to people of non-Hindi-speaking States so that they have no difficulty in communicating with people from a Hindi-speaking State. This thinking behind making communication easier for a Hindi-speaking person is seen as a kind of dominance.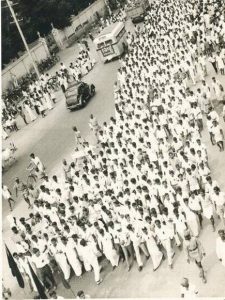 Organised and disciplined protest against Hindi imposition in Tamil Nadu
In the 1920s, during the freedom movement, there were also discussions on using a 'common script' for all the languages and that script would be 'Devanagari', which is used for Hindi. Leaders like Mahatma Gandhi welcomed the step, believing one can learn all the languages like Tamil, Telugu, Kannada, Malayalam using the Devanagari script.
The first backlash against Hindi
It was in this backdrop that Periyar EV Ramasamy wrote an article titled 'Thamizhirkku Dhurogamum Hindi Baashaiyin Ragasiyamum' (Betrayal of Tamil and the Secret Behind Hindi) in his magazine Kudi Arasu under the pen name Chithiraputhiran. Published in 1926, it was the first article in Tamil against Hindi imposition. This was a decade before the first phase of the anti-Hindi agitations that took place in 1937-1940.
Periyar equated Hindi with Brahminism in the article. He believed that the language is used to spread the Brahminical religion 'Hinduism'. He also targeted Gandhi since the latter was at the forefront of making Hindi a common language.
"With a nationalist view, Gandhi tries to make Hindi the common language of the country. For that, he spends the people's money. More than half of the money spent for Hindi is from non-Brahmins," he wrote.
Out of 100 per cent, Brahmins are only three per cent. But they constitute 97 per cent who know Hindi and only three per cent of non-Brahmins know the language, he argues.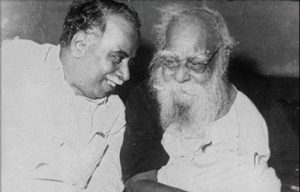 Periyar and Anna
"Even though some of the non-Brahmins who learnt Hindi could have come forward to teach the language, they were not treated properly. How much money was spent for Sanskrit? It was used only to create discrimination as Brahmins, non-Brahmins and Sudras," said Periyar.
While attacking Hindi, Periyar was also worried about the future of Tamil language.
"Are there enough schools to teach Tamil? Even the schools which teach the language are filled with Iyers, Iyengars, Acharyars, Raos and Sharmas. These Brahmins get the ancient palm manuscripts from non-Brahmins, translate in their language (sanskritised Tamil), publish it using the money collected from non-Brahmins and sell it to non-Brahmins for Rs. 10 and Rs. 25 and make a profit in lakhs," Periyar wrote.
The government has formed a committee to bring out a Tamil dictionary. But that too has a lot of Brahmins, he pointed out.
"If some of us ask whether a Tamil book shouldn't have Tamil words, they say that Tamil can be developed only when words from other languages are introduced to Tamil readers. While I call water as 'Thanni, they use the Sanskrit word 'Jalam' for it and then claim that is the only right usage. Then what is the purpose of having 'Thanithamizh' (pure Tamil)? What is the meaning of 'love for one's mother tongue'?" he wondered.
'No place for Hindi'
When Hindi as a common language was opposed, its defenders came up with the 'official language' move. Under this, the official communication language, teaching language and exam language would be Hindi. During this time, it was said that English can be continued as a link language till the time Hindi is developed into the official language.
This only inflamed the anti-Hindi opposition, whose proponents saw this move as a 'Damocle's sword' hanging above their head.
This led to agitations in Tamil Nadu in three phases in Tamil Nadu. The first was between 1937 and 1940, the second between 1946 and 1950 and the third in 1965. While the first two agitations erupted because Hindi was made a compulsory subject in schools, the third agitation took place when the Official Language Bill was passed. It was then that Anna spoke and wrote against the imposition of Hindi.
Two of his speeches, one in the Tamil Nadu Assembly and the other in the Rajya Sabha, were later published as books — Hindikku Ingey Idamillai (1968) and Anna Speaks (1975).
"Even today my honorable friends of the Congress would forgive me for saying that the Congress has presented and the government has accepted two national anthems, Vande Mataram and Jana Gana Mana. Neither of these two national anthems is in Hindi language. They come, just as my friend Mr Gupta (Bhupesh Gupta), from Bengal. That shows that whatever be the claim that the honorable home minister makes, that Hindi has progressed very much, how can I be compensated when I am told that Hindi is becoming progressive when I have got a 5,000-year-old language and when I am not able to make that language the official language of India?" he said in the Rajya Sabha in 1963.
He added that the English edition of ancient work on Tamil grammar Tolkappiyam was being released by the President. "We possess such an inheritance. Let not my friend, Mr Bhupesh Gupta, feel that we are acting like some toadies, and therefore we want English."
When there were discussions about the use of words 'may' and 'shall', which were found in the Bill, Anna asked: "Why do you enact such an imperfect Bill throwing us to the wolves, asking us to go the courts to know the real meaning or the judicial meaning of the simple word 'may'? The Home Minister has stated that if 'may' is replaced by 'shall', there may arise many difficulties. Difficulties do arise, but the Law Department remains there to ease out the difficulties and present a Bill acceptable to all."
He drew insights from Periyar about using a language without a mixture of words from another language. He continues:
"The Prime Minister has been saying that Hindi should be simplified. If a language becomes the national language, take it from me, from my experience of the working of the Tamil language, the pressure will be to make it more and more pure and not more and more simple. You can never simplify the language after making it official or national. In the case of Tamil mixed with Sanskrit, the mixture has been taken out and there is purity of language there. That alone will happen in Hindi States. When that happens and when we are asked to learn simple Hindi, is it not a handicap race?"
Later, after his arrest, along with DMK cadre, for opposing the imposition of Hindi and observing Republic Day (January 26) as a 'Black Day' on January 25, 1965, Annai said in the Upper House in March: "I would like to have a lingua franca for India through a very natural process, in due course of time, without the backing of a government and it ought to be sponsored by the people. Anything coming from the government, especially from this government, is anathema for millions of our people".
Opposition to English dominance
Around this time, Tamil Nadu also saw opposition to English, key among them was from freedom fighter Ma Po Sivagnanam, who is fondly referred as 'Ma Po Si', and founded Tamil Arasu Kazhagam in 1946 to push the Congress in the State to use Tamil in its administration and education.
In his book titled Gandhiyum Aangilamum (Gandhi and English) published in 1962, Sivagnanam argues why Gandhi advocates the use of mother tongue and opposed English dominance.
"There are two reasons why Gandhi wanted Hindi to be a common language. One, Hindi is spoken by a large number of people. Two, it can be learnt easily. However, he opposed the imposition of Hindi," writes Sivagnanam.
He went on to say that in Tamil Nadu, opposing Hindi means supporting English which dominates Tamil.
"Opposing Hindi language is different from opposing Hindi imposition. Those who oppose the consideration of Hindi as a 'common language' are either enslaved to English or against national integration. But the stand of people who oppose Hindi imposition is different. They accept Hindi as a 'common language' but they oppose it because the government is trying to make it an 'official language' before non-Hindi speakers could even learn Hindi," he wrote.
According to Sivagnanam, Gandhi asked people to accept Hindi only as a 'common language' but not as an 'official language'. Even though he accepted Hindi as an official language, Gandhi did not think it as an "immediate, imperative" thing.
"People who learnt English are the ones behind the caste, communal violence and head separatist movements," wrote Sivagnanam. One can gauge from such allegations how much animosity the 'Tamil Only' groups nursed towards making English a 'common language' or as an 'associate official language'.
For Gandhi's first claim (that Hindi is spoken by many), which became a standard argument for many (supporting Hindi) later, Anna had a retort in his 1963 speech.
"It was stated that Hindi has got the claim to become the official language because it was spoken by 42 per cent of the population. If this 42 per cent were to be scattered throughout the length and breadth of India, the argument would be logic and it would be ethical also but this 42 per cent is concentrated in compact and contiguous areas. It is not spread over. Therefore, if 42 per cent is taken into consideration you are conferring a permanent, perennial advantage on a compact and contiguous area in India and conversely a permanent disadvantage to other areas," he said.
For Gandhi's second claim that Hindi can be learnt easily in a month, if one dedicates four hours a day, Anna, at a separate event, quipped: "Yes. Hindi can be learnt in three months. Because there is nothing more in that language to learn beyond three months."
Source; 'The Federal'