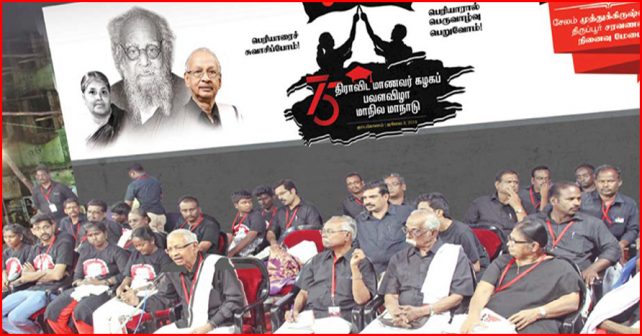 Education and the Responsibility of the Government
The first generation learners of the backward and the depressed classes and the rural people who have been deprived of education for generations should be treated liberally in sanction of loans by banks. Since education will help them lay a strong foundation for their life, they must be encouraged in every respect to get education.
Sports as Essential as Education
(a)  It is rank Brahminism to take it that education ends with bookish learning. Sports and games also form part of education. Schools without playgrounds must be denied recognition. Marks must be allotted for proficiency in sports and must be added to the total.
(b)  Because it is sponsored by the Brahmins, the gambling game of cricket has pushed all other games behind. The Indian game of hockey is lagging behind for want of governmental support. It is shameful that India with its 1300 crores of people could not qualify itself to participate in the world soccer competitions. The education system of India should be suitably amended, giving due importance to sports and games.
Change in the Syllabus
Section 51A(h) of the Constitution of India enjoins the development of scientific temper and reformist attitude. Hence all those parts like mythology and itihasas which foster superstition must be removed from the syllabus and a curriculum that develops scientific temper must be drafted. Besides the system that encourages learning by rote must be brought to an end.
The entry 'Education' must be Restored to the State List. National Eligibility cum Entrance Test must be Abolished
This conference strongly feels that in a country like India with different curriculum, and teaching learning methods, selecting candidates for professional course through a single entrance examination is unfair and partial. The Central Government must restore 'education' to the State List. State governments also must take steps in this regard.
It is pointed out with agony that for the two years students of the poor and the downtrodden and the rural folk have been denied admission to the medical courses as a result of National Eligibility cum Entrance Test (NEET). It is suspected whether the government and the judiciary have jointly perpetuated this injustice on the oppressed lot of people. Not only for medical courses, but all entrance examinations which give room to robbery by coaching centres must be abolished.
(a)  The step to replace U.G.C. with HECI by the Central Government condemned. Steps to privatise and globalise education must be given up. The attention of the students, parents and teachers is drawn to the agreement with WTO to commercialise education and the conspiracy to close the doors of social justice which call for concerted opposition to the sinister moves.
(b)  It is resolved to oppose tooth and nail the steps to bring the universities under the control of the Central Government in the name of standardisation and pave the way for international commercialisation of education.
(c)  All the social forums must combine to thwart the attempts of the RSS to introduce its ideology into education. Appreciation to all the outfits which are opposing the anti-educational activities of the Central and the State Governments.
The Responsibility of the Students
(a)  Students must take it as their full time responsibility to enlighten people through websites on the liberation of the Tamil race and its development, cessation of Aryan domination, safeguarding social justice and upholding human rights.
(b)  Must distribute booklets published by the Dravidar Kazhagam among fellow students.
(c)  Should keep themselves away from addictions and other immoral acts, keep their attention focussed on social purpose, welfare of the family and future progress.
(d)  Must disseminate Periyar Thought through 'Notice Boards' fixed at strategic points.
(e)  Must form branches of Dravidar Kazhagam in every educational institution to strive for formation of a socialist democratic society.
(f)   It is only through the efforts of our great leaders that our society which had been deprived of education has started getting education and is on the way to progress. Students are, therefore, beseeched not to be misled, but to concentrate on education and work for overall prosperity. Parents, teachers, leaders and the media are requested to offer their co-operation in this respect.
(g)  While getting married, caste, religion and rituals must be eschewed and priority for life pair must be given to widows, widowers or divorcees.
(h)  Wherever untouchability is followed or communal clashes arise, the Association must go there to find a solution.
Delayed distribution of Scholarships and Incentives Amounts to Malpractice
Various research scholarships and incentives offered by the Central Government are inordinately delayed causing enormous mental strain to the recipients, for most of whom it is a matter of life and death. The Central and the State Governments are requested to ensure timely payment of these amouts.
(a) Reduction by the State Government of the scholarship paid to the Adi Dravida students pursuing engineering education increases their burden and causes difficulties. The relevant G.O. must be withdrawn and the entire amount must be paid by the Government.
Various Entrance Examinations Cause Misery to the State Board and Rural Students
Examinations like CBSE – NET, CSIR-NET, ASRB-TECT, which had hitherto been conducted by UGC have been transferred to CBSE. Conduct of these examinations cause havoc to those who studied in the State Board, and all the rural candidates. They are much helpful to the candidates from the North. It is felt that after having completed two years in a teacher training institution, TET is unnecessary and hence may be discontinued forthwith. This recommendation is made in the interest of social justice and state rights.
Greater Priority to Social Justice,
Extend to Private Sector
Though reservation policy is professed to be followed in respect of the depressed and the hill tribes it is not distributed in the proper proportion in education and employment, which is against the constitutional requirement. This must be set right and those responsible for it must be punished. The exemption from reservation given to certain departments must be withdrawn and must necessarily be extended upto the Supreme Court level. No factor like 'creamy layer' which dilute the principle of social justice must be introduced. Since private sector and international sector are growing fast, reservation must be introduced in the private sector also to ensure social justice. While reservation in promotion to the depressed classes is welcome it may be extended to the backward classes also.
Denial of Women's Rights
50 per cent reservation must be given to women in education and employment. The Bill providing 33 per cent reservation for women in elected bodies which has been pending since 1996 may be passed immediately, failing which women may consider boycotting elections altogether.
Self Imposition of Discipline
Student Members of the Association must follow self discipline and respect laws of the country. Traffic rules to be followed and helmets to be used. Must keep away from all addictions and consumerist culture. Must maintain punctuality, simplicity, frugality and follow all tenets of Periyarism.
Eradication of Untouchability to Start from Temple Sanctum Santorum
Appointment of temple priests on the basis of caste and not permitting other caste people to touch the temple idols are yet another form of untouchability. The law may be amended to accommodate a properly trained person of any community becoming a temple priest. It is basically wrong to keep in abeyance the already passed Act in Tamil Nadu Assembly to appoint persons of all communities as temple priest.
Place for Tamil in Act Apprentice Training and Examination at BHEL
The Act Apprentice examination conducted in BHEL, Trichy and Ranipet, after the training used to be held in Tamil upto 2016 and afterwards only in Hindi and English causing enormous hardship to the Tamils who are mostly from the depressed and indigent families.
Even the small percentage of candidates who passed got only poor marks, making it impossible for them even to apply for any all India Examinations. The Central Government may kindly restore the practice obtained till 2016 and conduct the examination in Tamil.
Spreading Movement's Propaganda Literature and Periodicals
Members of Dravidian Students' Association and the Youth Wing must take up collection of subscriptions for 'Viduthalai' as it means dissemination of Periyarism.
The Government of Tamil Nadu which had been distributing 'Viduthalai', 'Unmai', 'The Modern Rationalist' and 'Periyar Pinju' to Government libraries has discontinued the practice on account of political misunderstanding. The practice may be renewed since those magazines are dedicated to spreading ideals like secularism, social justice, eradication of untouchability, eradication of casteism and eradication of womens' servility.
Remove Pavement Temples
(a)  In spite of the firm decree by the Supreme Court on 14th October 2010, that all the numerous (77, 450) pavement temples must be removed, the Government of Tamil Nadu has not done anything to implement it for more than eight years and rendered itself open to contempt of court proceedings. The Government is warned that failure to comply with the court order will have to face a contempt of court case.
(b)  The practice of putting up places of worship within Tamil Nadu Government office complexes continues contrary to the High Court Madurai Bench order dated 17th March 2010, and also conducting pujas and the like in the offices. The government may implement the said order of the court, failing which it will have to face contempt of court proceedings.
(c)  It is pointed out that it is the duty of the Government of Tamil Nadu to prevent any religious practice which is harmful to people's life and health.
State Level Propaganda
A propaganda programme to enlighten people on Section 51A(h) of the Constitution will be undertaken throughout Tamil Nadu in two phases under the leadership of the President, Dravidar Kazhagam. The first phase of 22nd August to 28th August 2018 will cover from Nagercoil to Villupuram and the second phase of 1st September to 9th September 2018 will start at Ariyalur and conclude in Chennai.
Bring Down BJP Rule
The NDA government headed by Modi at the Centre has to be brought down for the following reasons:
(a)  Activities against Secularism enshrined in the Indian Constitution. The term 'Secular' has been purposely removed in Government Advertisements. With a religious minded attitude, fostering mythology and superstition, Hindu religious policy of cow worship is given prominence in the name of cow protection. Beef eating banned. Violence instigated against minorities.
(b)  Examinations like NEET, NET, TET, will nullify the dispensation of social justice. Retrograde Varnasrama type of education, saffronisation of education, imposition of Hindi, imposition of Sanskrit and steps to foster Hindutva are encouraged under BJP rule.
(c)  Violence instigated against the depressed and the tribals. Sexual violence against women.
(d)  The election promise of 2 crores of employment per year remains unfulfilled.
(e)  Great fall in economic front. Inflation caused by GST and other taxes. Small and tiny industries are destroyed. Increase in unemployment. Government supportive of corporate and god men.
(f)   Neglect of agriculture leading to suicide of farmers. Denial of labour rights.
(g)  Appointing RSS men as Governors in the non BJP ruled states, and encouraging them to indulge in anti-democratic activities.
(h)  Interference in the working of Election Commission and Judiciary.
(i)   Imposing projects like methane, hydro-carbon, sterlite and neutrino which are harmful to the people against the will of the people, trampling on the states' rights just in order to favour the corporates.
(j)   Taking a partial stand in river water disputes with ulterior political motives. Peoples' agitations for rights being crushed with the help of State governments and police. Branding rights activists as terrorists. Invoking national security for incarcerating them.
(k)  A Prime Minister with fascist attitude who refuses to meet even State Chief Ministers, elected by the mandate of the people.
This Conference calls upon all the voters to get together with a determination to defeat the BJP in a decisive manner in the 2019 parliamentary elections. All the non party people, students and women must actively participate in this endeavour.
It is also recommended that the State Government which functions at the behest of the Central BJP Government must also be brought down.
Censure to the Centre that conspires against Tamil Nadu in Archaeological Research
Archaeological research was undertaken at Adichanallur as early as 1876 by the British government, but the report is not yet released.
The research undertaken at Keeladi, Sivagangai District, has been abruptly stopped.
We are convinced that the Centre acts with an Aryan-Brahministic attitude to stall all this research, since it might be proved that the Dravidian civilization is greater and older than Aryan civilization.
We urge continuance of research at Keeladi and publication of official reports in this regard.
Even after the civilization of Mohenjo Daro and Harappa has been conclusively proved as Dravidian, attempts are made to dub it as Aryan by planting spurious evidences. Calling it 'Hindu' Civilization by Mohan Bhagavat of RSS is a conspiracy, and is to be condemned.
Censure to the Murder of Rationalists
Assassination of rationalist thinkers like Narendra Dabholkar, Govind Bansare, Kalburgi and Gauri Lankesh by bigoted reactionaries is condemned. Equally reprehensible is the delay in apprehending the perpetrators and getting them punished. The Central and the State Governments should act fast avoiding further delay.
Vow on Future Programme
Factors like caste, untouchability, subjugation of women, bigotry, terrorism, attitude to encourage corporate oriented economy, moral degeneration, gender inequality, dire poverty, appalling inequality and unbridled exploitation, have wrecked the Indian society. The remedy lies in introducing values like socialism, equality and fraternity which will unite the entire humanity as a single family. It can be brought about only though rationalism sans religion and the concept of universal brotherhood formulated by Thanthai Periyar. We vow to take this philosophy of human rights all over the world to ensure peace and prosperity.