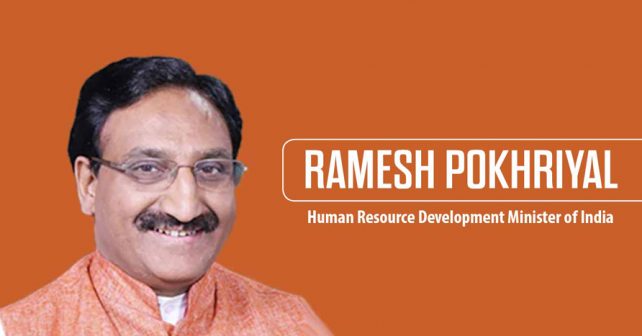 NASA's 'Mission Sanskrit' goes viral after the speech of the Union HRD Minister Ramesh Pokhriyal in the 57th Convocation at IIT Mumbai.
The Constitution of India recognizes 22 languages by placing them in its VIII Schedule among which Sanskrit is one. Any individual is at liberty to learn and use any language of their choice, besides those 22 languages. The praise for a particular language must have some basis.  But a  Union Minister, holding the HRD portfolio, pertinent to education, has upheld the supremacy of Sanskrit without attributing any concrete evidence for it.  The Minister has instead quoted as if it was glorified by NASA (National Aeronautics and Space Administration).
In his address, Ramesh Pokhriyal has specified that Sanskrit is the only scientific language in the world.  He quotes as follows:
"NASA has said that if computers suddenly get the power of speech in future, they would speak only Sanskrit because it is the only scientific language in the world."
Raja Ram Mohan Roy was an erudite scholar in Sanskrit.  But in his letter dated 11/12/1823, addressed to the Governor General, he himself has stated that Sanskrit would confine people in the darkness of ignorance.
The Minister's address was perhaps prepared with facts(?) downloaded from the internet, which have no authenticated basis.  His speech has proved many students to react with tweets condemning his quote. One such student has tweeted thus:
"It is high time the fact checkers validate their speech before addressing an audience".
Another tweet reads:
"At the IIT-Mumbai convocation, HRD Minister Ramesh Pokhriyal 'Nishank' dropped some post-truth bombs.  He has stated that in the Vedic Ages, some 'Sadhus' discovered Space Travel possibilities and that NASA has also accepted it.  We hope the Minister would contact NASA in future for the verification of facts and get their concurrence before quoting them in his speeches.
It is high time the speeches of saffron party rulers, who are the part and parcel of governance, are subjected to scrutiny, for the reliability of their quoting agencies, if at all there is any quote in the text of their speech.  They do not seem to be conscious of the post they are in, the place they speak at, and the possible impact of the contents of their speech.