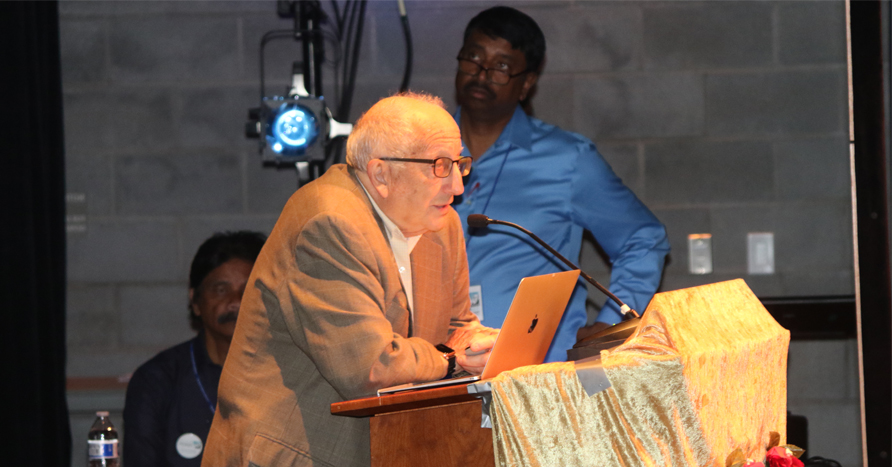 Dr. George Hart
Prof. Emeritus, University of California, Berkeley
When we look at the classical and older literatures of South Asia, we are struck by the fact that many of them contain primarily religious works. There are, of course, many exceptions—some of the wonderful Sanskrit plays in Sanskrit of the first millennium CE, for example—but mostly we find compositions that are partly or all based on religious ideas. Along with this, we find a passion for anonymity. Very few works (except inscriptions) describe historical events; most concern mythological subjects, places and times. And while there is no absence of fine literature in pre modern India, one misses an unmediated encounter with the real world.
Few people have heard of the oldest literature in the Tamil language, generally called "Sangam literature," a body of work that includes eight anthologies and mostly avoids religious themes, describing life as it was really lived, filled with real names and historical events. One of the anthologies is called the Puṟanāṉūṟu, "Four Hundred (Poems) on War and Wisdom." Its poems are not religious but rather describe the suffering inherent in human life, the tribulations of war, the greatness of kings, and, perhaps most notably, imperatives to live a moral and self-controlled life.
When we read the literature of the Greeks and Romans, we cannot help but be struck by its realism. This is not so true of the works of Homer and Virgil, which take their content from older oral epic material, but it is notable in such authors as Thucidides, Cicero and Seneca. In the works of these authors, the reader feels transported to ancient Greece or Rome, observing the sights and events almost as if they were before him or her. And while this is rarely if ever true for Sanskrit literature, it is a notable feature of the classical Tamil Sangam works. In translating the Sangam anthology entitled Akanāṉūṟu, "Four Hundred (poems) of Love," I constantly felt I had been transported back to a village in Tamil Nadu of 2000 years ago. The poems are so evocative and descriptive of life that one can almost smell the fragrance of the hundreds of plants that are described, taste the foods the people ate, and feel as if participating in the gossip and events of a village. This is equally true of the Puṟanāṉūṟū. When that work describes suffering, war, the greatness of kings, and the importance of moderation and morality, the reader feels transported to South India of 2000 years ago.
Perhaps the most famous poems of the Puṟanāṉūṟu is poem 192, by KaṇiyaṉPūṅkuṉṟaṉ. While most Tamilians are familiar only with the first two lines, it is the rest that I think is most notable. The poem speaks of the human condition with great wisdom, suggesting that the suffering we go through should motivate us to feel for others and try to help them regardless of their social status. It avoids any appeal to the divine, insisting rather than we are responsible for our own suffering, and it suggests that compassion for others is the proper response to the suffering we undergo. The image at the end of the poem comparing a life to a raft on the waters of a turbulent river is remarkable. All translations are from The Puṟanāṉūṟu: The Four Hundred Songs of War and Wisdom by George Hart and Hank Heifetz.
Every city is your city. Everyone is your kin.
Failure and prosperity do not come to you because others have sent them!
Nor do suffering and the end of suffering.
There is nothing new in death. Thinking that living is sweet, we do not rejoice in it.
Even less do we say, if something unwanted happens, that to live is miserable!
Through the vision of those who have understood we know that a life, with its hardship, makes its way like a raft riding the water of a huge and powerful river roaring without pause as it breaks against rocks because the clouds crowded with bolts of lightning pour down their cold drops of the rain, and so we are not amazed at those who are great and even less do we despise the weak!
The culture of Tamil Nadu 2000 years was not what we would call enlightened, any more than the cultures of ancient Rome, Greece or China were. One of the features of the old culture was social stratification based on birth, similar in some ways to the modern caste system. Among the people at the bottom of the social pyramid were professional performers, called pāṇaṉs (lute players) and kiṇaiyaṉs (drum players). Our word "pariah" comes from the Tamil word for drummer, paṟaiyaṉ, as this group was long marginalized. In the normal course of things, if a low-status person polluted the sacred object of someone of higher status, he would be punished, especially if that person were a king, yet the poems again and again counsel against this sort of behavior.
In poem 183, the king PāṇṭiyaṉĀriyappaṭaiKaṭantaNeṭuñceḻiyaṉ sings that learning is more important than any distinction of birth:
Learning is a fine thing to have if a student helps a teacher
in his troubles, gives him a mass of wealth and honors him
without ever showing disdain!
Among those born from the same belly,
who share the same nature, a mother's heart will be most tender
toward the most learned! Of all who are born into a joint family,
a king will not summon the eldest to his side but instead he will
show favor to the man among them
who has the greatest knowledge!
And with the four classes of society distinguished as different,
should anyone from the lowest become a learned man,
someone of the highest class, reverently, will come to him to study
The Puṟanāṉūṟu is, above all else, about social life, whether that entails war or peace. It is scarcely surprising, then, that several poems describe the proper governance of a kingdom—what it takes to ensure peace and prosperity. In this regard, two poems are especially notable. The first is 185, which compares the king to the driver of a cart. For many ancient cultures, one of the most important commodities was salt, and in the old Tamil poems, the salt cart, carrying its precious cargo from the salt pans on the beach where it is harvested inland over mountains is often invoked. In poem 185, by ToṇṭaimāṉIḷantiraiyaṉ, the cart is like the Greek ship of state. The poet points out that communal life is dependent on the skill of the ruler, and if he is notskilled, all things will fail.
When a cart that is well-guarded has a driver who is skilled,
it will move through the world, with wheels and shaft joined,
and it will roll on smoothly without meeting any obstacles!
But if the driver does not know how to handle it,
then every single day
he will sink the cart into dense and hostile mud
and it will create nothing but immense,
fierce suffering over and over!
In this brief overview of what I consider one of the great classics of all literature, we see expressed a concept of the world that is humanistic in the deepest way. The worldview of these poems eschews belief in any deity and assigns the responsibility for fate to human actors. The best land is filled with good people, including some who have subdued their desires, and is ruled bya just king who taxes minimally and whose policies are enlightened.
The Puṟanāṉūṟu is never naive or utopian; it never imagines that in some way, the suffering of the world can be permanently alleviated or changed. It describes the world as it is, acknowledging that suffering and pain will always exist. It makes no appeal to any god who might magically change things; rather, it suggests that living a life of moderation and keeping one's desires under control is the only reasonable and effective way to counter the difficulties of life. Again and again, these poems of wisdom insist that people can flourish if they can control themselves and if their rulers act with restraint. The view of the workis not solipsistic—its poets see everything in the world as interconnected and suggest that a proper life can only be lived in contact with others—they do not recommend asceticism or renouncing the world. They counsel that our highest good is to help others and that if we happen to have wealth, its proper use is generosity. For them, wisdom is to live with generosity and restraint, helping others, always mindful that if we are fortunate, ultimately we are the same as those who are less favored by fate than we are.
(Dr. George Hart is Professor Emeritus of the Chair in Tamil Studies, at the University of California, Berkeley. He has translated several works from Classical Tamil into English. He is also the distinguished recipient of Padma Shri, the third highest civilian honor of India.)