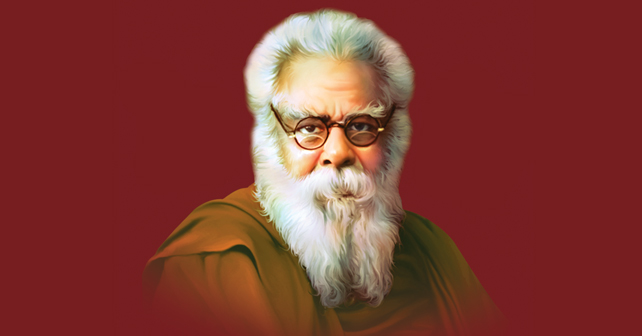 The excerpts of the speech delivered by
Thanthai Periyar at the Conference to Prevent Exploitation in Kancheepuram on 7th April 1951
Most of our people have been believing ancient mythologies and adhering to the codes of conduct embedded in these fantasies. Only now we find transformation to some extent. People who have realised that all those concocted stories are meaningless have now started to throw them all overboard. Those who have woken up from slumber are cadres of our DK Movement alone. Others are still unabashedly treating mythologies as divine products. They are insensitive to their degradation, ignoring their own Dravidian pride.
Sycophancy of kings
In the past, great men like Buddha had tried to annihilate Varnashrama Dharma and prove that god is an illusion. The great Sage Thiruvalluvar too undertook a similar task. But they could not achieve complete success. Miscreants with vested interests have overshadowed them and betrayed. They are very particular about making Varnashrama Dharma reign supreme in our country. The renowned kings of Chera, Chola and Pandiya dynasties were all subservient to the Aryans, safeguarding their kingdoms by sheer sycophancy. They built temples for the Aryans and remitted taxes as tokens of gratitude. Those kings have earned name and fame today by their servitude to please the Aryans. Almost all the temples and tanks and other places of worship in South India speak volumes about our kings enslaved by the Aryans. We can find nowhere the reflection of Dravidian glory, humanism, self respect and rationalism. Besides signs of Aryan Dominance, we find nothing. The much celebrated kings of South India have obviously survived and flourished by disgusting servile flattery to please the Aryans.
Hence, people have been languishing for centuries in the darkness of ignorance and illusion. This explains their blind faith in god, despite all our efforts to cause disillusionment.
Ulterior motive
According to eminent historians and research scholars, most of the temples in South India were built only after the period of Buddha, because the Aryans were against the preachings of Buddha, his denial of god's existence and his rejection of Varnashrama Dharma. The objective of all the renowned temples were to firmly establish Varnashrama Dharma. Every temple built was an Aryan strategy to propagate it.
Through these temples fables about gods and goddesses, various festivals, religions and routine customs have been imposed on our people. Added to these, blind beliefs and superstitions also cropped up by the smart ploy of the Aryans. All these have ultimately developed as our curriculum, literature, music, drama, dance and several fine-arts. In brief, the root of everything is clearly found to be Varnashrama Dharma. Every renowned classic seems to have only this mess at the bottom.
The elders in the past have been enduring Aryan strategies and blindly following their Dharma without resisting it at any stage. Such blind followers are revered today as scholars. For nearly 2,000 years our arts and literature have been badly affected by the Aryan impact. We are struggling today to save our arts and literature from decline. We are striving to annihilate an unacceptable ideology which has smartly grabbed a strong foothold. Our strife is the root of all our political, communal, economic and cultural struggles today. We are striving hard to eradicate blind beliefs of our people. This is a strenuous task and a great ordeal indeed. When we begin a protest on behalf of our Dravidian Movement, some are planning to hold a conference to propagate ancient mythologies, scriptures and baseless works full of fables. Many of our eminent scholars are supporting our rivals who are trying to sabotage our efforts. What else can this be other than an Aryan servitude? We find it difficult to gather supporters for our cause.
---
When we begin a protest on behalf of our Dravidian Movement, some are planning to hold a conference to propagate ancient mythologies, scriptures and baseless works full of fables. Many of our eminent scholars are supporting our rivals who are trying to sabotage our efforts. What else can this be other than an Aryan servitude?
---
Economic Exploitation
Today our country is being exploited by others in the name of politics, arts, education, society and religion. The cause of this exploitation is Arya Dharma. It has detached us from all the above. Nothing belongs to us, nor is any of them of use to us. The beneficiaries are outsiders from alien soil. We sow the seeds while others reap the benefits. Cadres who are present here at today's Conference to Prevent Exploitation' should think deeply about our helpless condition. How long are we going to get ourselves exploited thus? There is a dire need of political freedom. Our country should get complete freedom and be ruled by us independently. Nearly 150 years before the British rule, the land was divided into several parts and there was a king in charge of every part, protecting the subjects. Today, in democratic rule there is greed everywhere to amass wealth. Countries are vying to grab the wealth of one another. Each country chalks out a plan to rob another country of its wealth. In my opinion, the problem of economic exploitation is more serious than political exploitation.
Fake Freedom
One country invades another country generally to augment its economic strength. Therefore, in spite of the grant of freedom by the British, I still feel our country is in the clutches of outsiders. Only when our economy is safe with us, we can say that we have achieved true and absolute freedom. I find Aryans rejoicing and shrieking — "We are free. Ours is a Republic! We have obtained democracy!" The delightful shout of Aryans is not a matter of surprise for me, because I know, most of our people have only half-baked knowledge. They are aware of some and unaware of many. The less said about them, the better.
Misconceptions
Our perception of religion is also false, in my opinion. That which degrades and belittles us is accepted by us as religion. We are told that we can attain salvation and reach heavenly abode if we are religious and if we adhere to all the religious codes of conduct.
People who believe in heaven, hell and salvation would naturally believe that our country has achieved freedom and that autonomous self-rule has begun. Won't they? Is this not an illusion, my dear comrades?
Illusory Self-rule
Out of 100 Dravidians, 99 have accepted god, that which made us take birth as low caste individuals. We crush stones into tiny pieces to lay roads. Such stones are god for these gullible people. Has anyone ever seen god? Does anyone know how he or she looks like? And yet, we find many men renouncing their wife and children in order to attain salvation in a heavenly abode. Such people would naturally believe and accept this slavery, exploitation and the self-rule called 'Swarajya'. Our people have always been barbaric in numerous matters. No wonder, they believe 'Swarajya' too, which is another illusion in my opinion.
It is absolutely a deceptive hoax. To make people realise this unpalatable truth is the objective of today's 'Conference to Prevent Exploitation'. Our intention is to end every exploitation by perfect disillusionment. I urge you all to think over it as deeply as possible.
Courtesy: Viduthalai
Translated by: M.R. Manohar