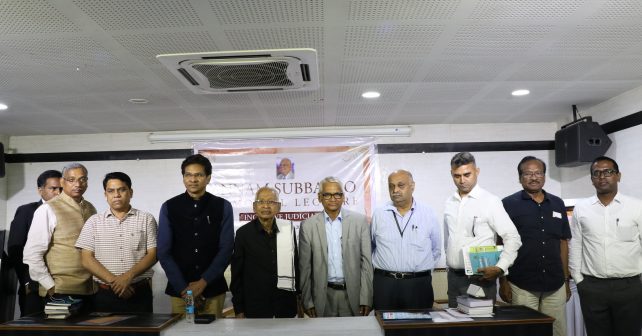 The dignitaries, participated and addressed in Annam Subba Rao Memorial Lecture – Chennai – 3rd May 2022

The Late Annam Subbarao was a senior advocate at the Supreme Court in New Delhi. He was also the managing trustee of the Lawyers' Forum for Social Justice. In his honour 'Annam Subbarao Memorial Lecture' was delivered at PeriyarThidal in Chennai, on 3rd May 2022, which was his first Remembrance Day. The memorial lecture was titled – 'Inclusive Judiciary'. The event was jointly organized by the Lawyers' Forum for Social Justice and Forum for All India Judicial Services. As the Chairman of the Lawyers' Forum for Social Justice, the president of DravidarKazhagamAsiriyar Dr. K. Veeramani presided over the event and delivered his Address.
Asiriyar Dr. K. Veeramani's speech: a summary
After unveiling the portrait of the late Annam Subbarao and paying a floral tribute to him, Asiriyar Dr. K. Veeramani commended the great constructive achievements and services of Annam Subbarao in the sphere of Social Justice. During his long and glorious period of service at the Supreme Court of India his involvement in social justice related tasks and various contributions were laudable. He had been instrumental behind the establishment of the Lawyers' Forum for Social Justice. Since its Founder President L. Havanur commenced the activities under his presidentship, Annam Subbarao had been strengthening his arms at every stage of the Forums' functioning. Whenever someone spoke against social justice on any occasion he attended, he used to raise his voice of protest condemning it. Every instance of social injustice provoked his fury. He never tolerated when somebody belittled the noble concept of social justice. He was steadfast in conserving the glory of social justice and never allowed anyone to denigrate it. In this respect Annam Subbarao was an unparalleled warrior on the path of social justice.
During a hearing pertaining to a case related to reservation policy, an eminent lawyer arguing in the Supreme Court against the people who deserved reservation, commented in a derogatory manner that the Backward Class people are idiots. Subbarao who was present then in the courtroom rose up in protest and said to the lawyer – "I strongly object to your remarks. I am one of the idiots described by you. Take back you words immediately!" The entire courtroom was shocked by his daring protest in objection.
The senior lawyer was able to continue his argument only after taking back his words. Subbarao did not go back to his chair until he succeeded in making the lawyer stoop. Subbarao firmly believed that derogatory remarks on downtrodden people itself was social injustice. He had made agitating against it the prime objective of his life. He lived till his last breath as an unequalled warrior of Social Justice. I feel proud to honour his memory today by my royal salute as a mark of respect and gratitude.
The central idea of today's memorial lectures is the necessity of integrating all the custodians of justice in a bondage of unity. Hence the caption for the entire series of lectures is rightly chosen as "INCLUSIVE JUDICIARY".
Justice O. Chinnappa Reddy was a renowned judge who had been serving at the Supreme Court. He had deliveredverdicts in several social justice related cases during his judicial career. Upon our invitation, once he participated in an event of ours at Periyar Thidal, Chennai. On that occasion, during a casual chat, he shared with us a personal experience. Once a Bench of five judges had to decide upon a case pertaining to social justice. Justice Chinnappa Reddy was one of the five judges. When Reddy raised a doubt whether it was fair on the part of brahmin judges delivering verdict in a social justice case related to downtrodden people, the other four judges retorted – "We are Brahmins but you are not!" – Chinnappa Reddy replied that he was neither a brahmin nor one of the Backward Classes or Scheduled Castes but one of an upper caste. But there is no one in the Bench who could represent the downtrodden people.
Asiriyar Dr. K. Veeramani stated after recalling ChinnappaReddy's visit that some of the upper caste judges are of course there in the High Court and the Supreme Court, who are fair in their verdicts in social Justice cases. They are favourable to the downtrodden people. But they are very few in number. True social justice could be established everywhere only when we have more number of judges in the Supreme Court who could represent the downtrodden people and handle cases supporting their causes.
The judges hailing from upper castes express this view and they themselves agree with us that we need more judges in High Courts and the Supreme Court who can represent the underprivileged people and deliver verdicts in their favour, in the cases revolving around social justice. The condition today is the same in society as it was during this personal experience of Chinnappa Reddy. The pitiable condition of the downtrodden people has not undergone any change.
Officers hailing from Scheduled Castes who were in high posts and positions in the Government invited Thanthai Periyar and organized an event at Chennai in 1971. Kalaignar M. Karunanidhi was then the chief minister of Tamil Nadu. The officers spoke expressing their gratitude to Periyar. They declared proudly that Periyar's public services and noble activities helped them make advancement in life. They admitted thankfully that they were in coveted posts and positions because they acquired literacy and progressed by the social reforms of Periyar. They felicitated Periyar for causing their upliftment in life. When Peiryar spoke before the end of that event he modestly refused to take credit for the progress of all those officers. He said that the progress was not really great. He added that they had much more to achieve. He pointed out that even after25 years of India's independence not even one judge from downtrodden communities could be found serving in High Courts. Periyar conveyed his feeling that the officers occupying high positions in Government offices is not a great achievement. Even among the Scheduled castes there are many qualified legal experts and advocates. Why don't they get elevated as judges in High Courts and the Supreme Court? Periyar furiously raised this question and concluded his speech. When we returned after the event, Periyar advised me to write an editorial in 'Viduthalai' covering that particular issue related to appointment of judges. The editorial was written and published as per his wish. Periyar's speech during that event was the central ideal of my editorial.
After reading it in 'Viduthalai', the chief minister Kalaignar M. Karunanidhi sent word for the law ministers Madhavan and discussed Periyar's provocative speech. He asked for a list of district judges in Tamil Nadu. He found the name of justice A. Varadarajan in the twelfth place on the list. He belonged to a scheduled caste. Kalaignar contacted the chief justice of Madras High Court and discussed the matter. Since collegium was not in vogue then, Kalaignar forwarded his ministry's recommendation to the Union Government for appointing A. Varadarajan as a judge in the Madras High Court, S. Madhavan, the minister for Law was also deputed with the letter of recommendation. Subsequently, A. Varadarajan was appointed as the first scheduled caste judge in the High Court Judicature A. Varadarajan occupied the post by the efforts and initiatives of Kalaignar M. Karunanidhi. But Periyar had not known Justice A. Varadarajan at that juncture. A. Varadarajan had also never met Periyar in person.
A. Varadarajan later rose to the level of the first judge hailing from the Scheduled Caste in the Supreme Court of India. By Periyar's vigorous struggle a qualified advocate judicial person from a downtrodden community was able to occupy a coveted position in the Supreme Court. As the first instance, this was indeed a historic achievement.
In 1992, a 9 judge-bench heard the Indra Sawhney case related to the Mandal Commission issue. Justice S. Ratnavel Pandian was one of those nine judges. He was in consensus with the other judges in the Bench. He explained to them how he achieved advancement in life inspite of hailing from a Most Backward Class. He expressed his desire to deliver his verdict independently. With the consent of the other eight judges he delivered his verdict upholding 27 per cent reservation in government jobs for the backward classes.
Having achieved his objective with tremendous success, Justice S. Ratnavel Pandian later placed on record how Periyar and his movement had laid the foundation for social justice to the downtrodden under privileged people. He stated this fact clearly while delivering his significant verdict.
In the past, we did have noblemen in judiciary like, S. Ratnavel Pandian O. Chinnappa Reddy who were warriors of Social Justice. Such advocates in the apex judiciary strove for the emancipation of the oppressed and suppressed people in society. But the numerical strength of such humanists is indeed very poor. We need judges in large numbers from the Backward Classes, Scheduled Castes and the Tribes. A few good men in judiciary do exist even today. I do not deny it. But my contention is that it is not sufficient, if absolute social justice is to be established all over the country. The number of such true custodians of social justice must increase. Our courts of law need judges who are truly dedicated to the noble concept of social justice.
In all the downtrodden communities, we find people who have studied law and acquired eligibility to serve as judges but they are denied opportunities. Hence, reservation for higher judicial posts is essential. None of the provisions in our Constitution adumbrates reservations for higher judicial posts. This is the loophole that needs to be plugged. I firmly assert that reservations for the posts of judges in the constitutional courts is necessary. This can be achieved by stressing this dire need in all our public meetings and propagating tours. An awareness must be spread among youngsters who have mastered laws. This issue must be widely discussed by all the like-minded people. Reservations in the posts of judges must be implemented by our collective efforts. Even if we are unable to watch the implementation in our life time,our minds must be broad enough to make the next generation reap the benefits. Let us all strive with synergy for posterity.
Today's series of Annam Subbarao Memorial Lectures should set a good precedent for many more inspiring lectures of this sort in future. While remembering and recalling Annam Subbarao let us all resolve to establish absolute Social Justice. – Asiriyar Dr. K. Veeramani concluded his speech with this earnest appeal to the audience.
The presidential address of Asiriyar Dr. K. Veeramani was followed by the speech of Prof. Dr. Ravivarmakumar, former Advocate General of the State of Karnataka. He stated that he had intimately known Annam Subbarao since 1992, when the Mandal Commission case was being heard by the Supreme Court. The intimacy with him continued and led to Ravivarmakumar's assuming a responsible position in the Lawyers' Forum for Social Justice. He further added that Inclusive Judiciary has been in vogue and practice already in many countries. He emphasised that in the appointment of High Court and Supreme Court judges, eligible advocates from the oppressed communities should be granted reservation. He explained how South Africa had set a precedent in this issue. In many countries different terms such as Reservation, Representation and Affirmative Action are used but the sole objective of every country is Social Justice.
In his speech, Dr. Suresh I.A.S., the Chief Secretary of the State of Haryana proudly announced that he hailed from a downtrodden and suppressed community.He explained how social justice was the only basis for his advancement in life. He stressed that Reservation policy helped him progress to a very high level.
He regretted the elitism of people who have already come up inlife reaping thebenefit of reservation. They do not care to help others like them come up in life. These elitists should learn from the upper caste people, helping one another in their group. Beneficiaries should be grateful to the ideal of social justice and fight for others too.
One of the senior advocates serving at the Supreme Court of India is A.D.N. Rao. It is noteworthy that he is the eldest son of the Late Annam Subbarao, the renowned torch of social justice, in whose memory the lecture was going on. In his Address, A.D.N. Rao thanked the audience for their presence and explained in detail the nobility of his father, who inculcated in his sons the spirit of social justice and shaped them as humanist citizens. Mr. Rao said that he has been rendering free legal assistance to several victims of social injustice in society.
He stressed on the need to instill Sensitisation of Social Justice into all those who have come up in life from the stage of oppression to an elevated status in life. He urged upon all such beneficiaries to extend their helping hand to the people still waiting for upliftment. Mr. Rao further narrated how he helped a poor girl get admission in a medical college under the peril of NEET. It was possible only by his free legal assistance.
During the concluding part of the event, senior advocate K. Parasaran's message of remembrance was also placed on record and read out for the audience. Mr. Parasaran had been an intimate friend of Annam Subbarao since 1980. He had described in his message the unfathomable knowledge of Annam Subba Rao, his scholarship, love for books, philanthropy, humanism, selflessness and true dedication to Social Justice.
'Inclusive Judiciary' event was attended by many legal experts, academicians and promoters of social justice. As a prominent Torch Bearer of Social Justice, Annam Subbarao would exist for ever in the memory of every warrior of social justice.
Compiled by:
V. Kumaresan