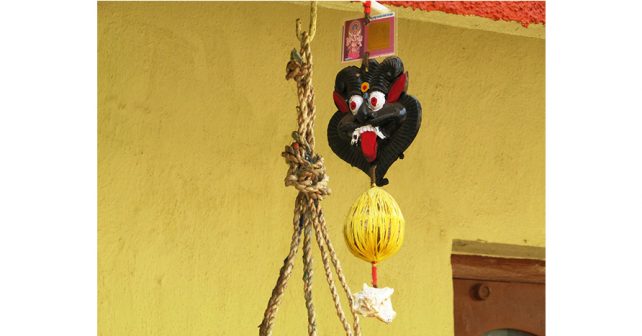 The list of superstitious nuts appears to be endless in our country. Time and again news pour from every nook and corner about crazy people who behave in a bizarre manner believing in senseless concepts and beliefs. The latest horrifying news is about a father in Nannilam town of Thiruvarur district in Tamil Nadu who has poured kerosene on his own four year old son and burnt him alive. Blind belief in astrology has led him to such an heinous act.
Reports say that the murderer is an auto driver. An astrologer has told him that his family would suffer because of that elder son. He had added that his life is also in peril as per the boy's horoscope. The father wanted to admit his son in a hostel and keep him away. He has had heated arguments with his wife over the issue. Ultimately he has killed the boy setting him on fire. The killer-father has been arrested and lodged in prison. He confessed his crime explaining the cause.
Recently crazy parents in Andhra Pradesh brutally murdered their own daughters believing in bogus occult practitioners that it would ward off the evil which has engulfed their family. What are we to say about such insane people in today's technologically advanced era?
The latest crime report from Thiruvarur district is bewildering because it has happened in Tamil Nadu which is considered the land of rationalism. Can we believe this is happening in the 21st century when we are smashing every myth about the planet Mars? These superstitious people tarnish the image of Tamil Nadu and make us hang our heads in shame. Particularly this Nannilam town horror is undeniably a barbaric crime which is to be vehemently condemned by all.
It is shocking indeed to note that such bizarre crimes are not confined to the State of Tamil Nadu alone. Almost in every State of our country such blood-curdling incidents have been occurring. The root-cause is found to be blind belief in astrologers, horoscopes, rogues moving around as god-men and tricksters who call themselves occult practitioners.
The rate of literacy growth in our country is satisfactory but the spread of rationalism has not sufficiently widened. Blind faith and superstitions have caused numbness of brains in our people. We rationalists in India must intensify our task of re-vitalising the brains of our people by injecting the elixir of rationalism. If we do not wake up now, this would become a land of the insane.
Article 51(Ah) of our Constitution insists on developing scientific temper among people as one of our fundamental duties. It implies annihilation of superstitions, inculcating questioning attitude and propagating the values of life with significant emphasis on humanism. But all these continue to be merely words on sheets of paper not in action. There are attempts by many to stifle the voice of rationalists. Rationalists' forums must be patronised by the police department of the State governments. All the rationalist outfits need support, motivation and encouragement to eradicate the menace of superstition and blind belief. Every State government should initiate constructive action to prevent such horrific incidents. Astrology should no longer be permitted to imperil precious human lives.
It is only the ability to reason which makes man different from animals. It is really surprising how most people ignore the power of reasoning. Our recent achievements in ISRO and the access to Mars instilled much hope in us but such sporadic crimes ignited by superstitions sometimes dampen our hope.
Numerous superstitious activities are endlessly going on. They are to be curbed by our collective efforts. But it is a pity that our rulers at the State as well as the Centre are themselves soaked in irrationalism and superstitions. Thanthai Periyar used to rubbish the concept of auspicious and inauspicious time, destiny, astrology, rebirth, heaven, hell, ghosts, salvation and many other baseless beliefs which do not make any sense and which do not have even an iota of truth.
It is disheartening to find our people still fidgeting in their dark cage of ignorance. Let us all strive together to annihilate every sort of superstition from the earth and globalise rationalism.