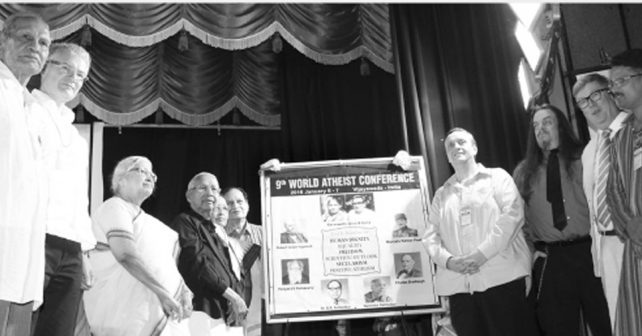 IX World Atheist Conference on 'THE NECESSITY OF SCIENTIFIC OUTLOOK AND SECULARISM'
IX World Atheist Conference was organised by Atheist Centre, Vijayawada on January 6 & 7, 2016 at Vijayawada. The conference was convened on the theme, 'The Necessity of Scientific Outlook and Secularism'.  When the whole world is moving toward a post religious society, the convening of the World Atheist Conference assumed much significance. The conference was presided over by Dr.Volker Mueller, Humanist Freethinker Association, Germany.
The conference was inaugurated by Dr.K.Veeramani, President – Dravidar Kazhagam and Chancellor – Periyar Maniammai University, Tamil Nadu. The Guests of Honour were Mr.Alfred Harald Perzold, Member of Parliament, Germany, Mr.Robert Rustad, Norwegian Humanist, Oslo, Mr.Aron Ra, President, American Atheists, Texas State, USA, Prof.Narendra Nayak, President, Federation of Indian Rationalist Associations and Mr.Rajendra Singh, Magassassay Awardee.
While inaugurating, Dr.K.Veeramani pointed out thus :
" Religion became the institutional form to sustain the concept of god and worshipping culture. The religious administrators and controllers viz., priests who dominated in the subsequent phase, where the subjects were more administered over by the priests rather than by the god. This feature was developed in almost all the religions throughout the world but differing only in degrees. The clergies kept their obedient subjects in the prolonged ignorance to keep up their supremacy. In the East, particularly, thousands of years ago, Carvaka and Kabila pioneered the scientific temper (of course, it was called atheism).
In the West, revolts, erupted questioning the intermediary clergies to pray the so called supreme almighty. Rationalist thoughts were also emerging by questioning, how an omnipotent god could remain passive spectator of the misdeeds of the religious clergies and the inept political thrones, listening and acting as per the advice of the clergies. Such sort of progressive thoughts emerged in the minds of certain clergies too. Such clergies limit their daily clerical duties as a part of their career and started thinking on scientific line.
This trend brought many findings which formed the base for the further development of the scientific field."
The two day conference was attended by the rationalists, atheists and humanists both individually and organisationally from the various states of India and abroad. The conference deliberated on many topics on the theme which would strengthen the formation of post – religious society.
Dr.G.Vijayam and the entire functionaries of Atheist Centre, Vijayawada made all arrangements well for the successful conduct of the conference.