Palani. Arangasamy
Question of probing into the honesty in public life is permissible only in democratic set–up and not in any other mechanism of governance. But still, it doesn't mean that democracy is the best political system. It is least harmful and partly desirable. Even in monarchical days of later Cholas in Tamil Nadu, the democratic spirit was alive and robust, is a matter of the historical past. But in these days of Parliamentary system, there is a façade of democracy, devoid of its merits such as honesty and integrity. Democracy is abused and misused explicitly during the elections and normally as a way of life, in day today life of the society.
Winston Churchill is not far wrong when he said that no one says that democracy is perfect. It is made imperfect and defective because of manipulations by vested interests such as politicians during electioneering and by corporates on occasions and by officials on all times. Corruption causes a global crisis in democracy but governments around the world have failed to control and rather curb it successfully.
Human Right activists would , if it is said that those who involved in heavy corruption should be hanged. In people's Republic of China, even hoarders, black – marketers and illegal profiteers are severely penalized. True it is that such deterrent punishment is bound to have an electrifying effect on those who are highly corruptive. But in democratic countries such as in India when enforcement agencies file a case against corrupters, the meanderings of litigation slow down the effect of the case and the offender at length gets reprieved. It is the stark failure of democracy. In Transparency Corruption Index, India slips into 87th in number.
Former chief vigilance commissioner Vittal has said that corruption in India has become a low-risk but high profit activity. Election law requires every candidate for election to file his assets and liabilities. How many candidates genuinely submit the facts? Declaration should include an oath that candidate has no wealth overseas. The law may also empower the government to confiscate any such overseas wealth traced by it. It is easily said than done. Prevention of Corruption Act 1988 has to deal with all offences that come under Criminal Misconduct of Public Servant. Framing of the Law alone is not enough but there must be a vigorous urge in the implementation of the Law as well.
The Lokpal and Lokayuktas Act 2013 which has been gathering dust from January 2014 must be operationalised and a truly empowered Lokpal should come into effect. Lack of enforcement capacity is enlivening the pervasive corruption in India, Enforcement of anti – corruption law must be given the highest priority in India's politico – legal system.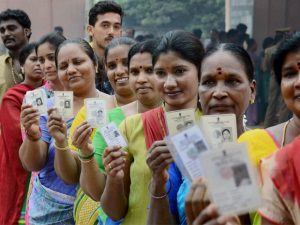 The endemic and deepening nature of corruption in India's corporate sector demands special attention. Punjab and Maharashtra Co-operative Bank has given a loan of Rs.6300 crores, much against the rules of the Reserve Bank of India to a housing development infrastructure profit. This comes to about 73 per cent of total loans of the bank. The resultant effect is that the poor depositors suffer by getting deprived of their hard – earned money.
Political patronage and nepotism are the manifold curses in democratic system. Unless the higher ups in politics are of honesty and integrity, the system below will get rotten. If the man at the top is of doubtful integrity and corrupted, he can have no tongue to question the scandal of others. This is the reason why nothing is heard of raids and seizures of black money unearthed in a number of places owned by a single V.I.P.
Corruption prevails in the electoral process when political parties hold vast stocks of unaccounted money to distribute it to the voters. Vote –buying with that black money has become a standard practice in State Assembly and Lok Sabha elections. This seasonal corruption eats into the vitals of parliamentary democracy but still the Election Commission is not able to check the erosion of legality.
Red – tapism and corruption are closer to one another. Delay breeds corruption is a cliché. Executives at the top should have a vigilant eye on items that are delayed and see to it that the official process is not hampered on its way.
Electorates getting money is a phenomena growing by leaps and bounds. Despite vigilance by the Election Commission, this irregularity has become a matter of regularity at the time of elections. Once an individual wins in the election, he tacitly indulges in garnering a fund for future elections. The practice of bribing the voters continues. Hence the way to curb this electoral corruption appears to be more a puzzle and riddle. So long as India remains to be poverty – stricken, this menace is bound to continue.
Corporate funding of political parties is one more erosion of democratic spirit. When companies fund political parties, they anticipate favours in return. Banning of corporate funding may be seen as a radical solution to the problem of political finance – But it will be extraordinarily difficult to get the dominant political parties to support this radical solution. Even if that funding is banned or regulated, companies may make unlimited contributions in a non-transparent and anonymous way. The condition that all donations must be made by cheque or through digital payments is honoured, more in the breach than in observance.
Tentacles of corruption have crept into the portals of Universities is the cruelest of all offences. Jobs of the academic staff have become marketable and the booty is shared among the higher – ups not excluding the Vice-Chancellors. In their turn, aspirants of vice – chancellorship pay hefty sums which is in commercial parlance, their investment to grab dividends and capital at one stage. If this shocking trend is not checked on time, it is bound to corrode the standard of education and hamper research and development of the country at large.
Political parties have lost their credentials before the public and hence to grab power and pelf, they begin setting up election eve coalitions. This fragile unity doesn't stand wind and weather and hence gives room for presidential rule even before the legitimate duration expires. India cannot afford to be corruptive and unless it sets herself to be corruption – free level, once again our precious gold reserves have to be airborne to the IMF and the monetary value of Indian rupee may still go down to the value, lesser than a paisa.
India needs actively to think of a partyless democracy to minimize corruption, if not eradicate it altogether. Such a trend may pave way for a meritorious man to sit on the chair. There will not be a mushroom growth of political parties on the eve of elections and no room for communal outfits masquerading as parties. High cost of elections, bribing the voters and dynastic control of political parties erode democracy and its essential values. Partyless democracy is bound to put end to these menace and pave way for a benevolent person to face the electorate and win, if possible. Can we expect such a day of blessedness and benefit in India in the days to come? Let us hope so for the betterment of our country.
to be continued in the next issue