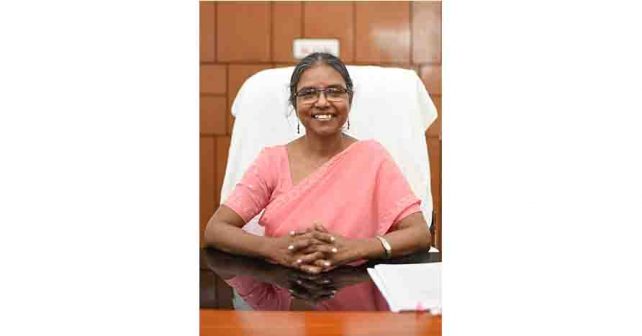 Professor Sonajharia Minz
Vice-Chancellor,
Sido Kanhu Murmu University,
Dumka, Jharkhand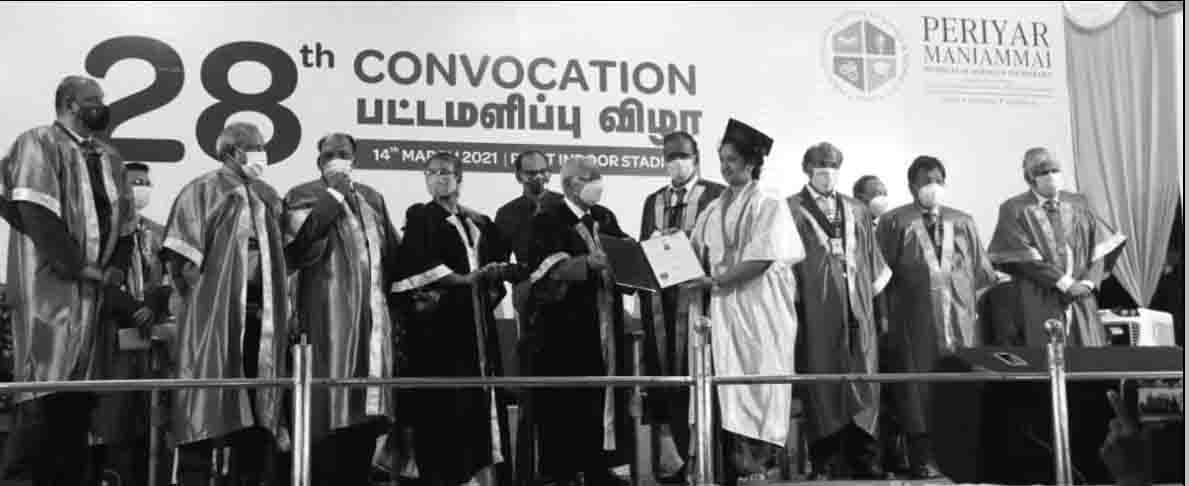 (Text of the 28th Convocation Address, delivered on 14th March 2021 at Periyar Maniammai Institute of Science and Technology,(Deemed to be  University) Vallam, Thanjavur, Tamil Nadu)
Most Honorable Chancellor Dr. K. Veeramani, Hon'ble Vice-Chancellor Dr. S. Velusami, the Pro Vice-Chancellor Prof. Dr. S. Devadoss, the Deans, the Directors, the members of the various faculties, proud parents and family, friends and the graduates of the Periyar Maniammai Institute of Science and Technology (PMIST), it is my proud privilege to be part of a very important date in your lives as graduates of this esteemed institution named after the great fore parents most revered thinker and social reformer PERIYAR E.V. RAMASAMY and his life and mission partner E.V.R. Maniammaiar.
This is not only a moment you need to be applauded, but also the time to acknowledge those because of whom, you are where you are – the parents, siblings, grandparents may be cousins and friends who halfway a journey together with you have fallen out due to various reasons. This is also time to acknowledge this great institution, founded on the principles of the great legends who were larger than life persons-Thanthai Periyar and Annai Maniammaiar. But for their ideals, values and principles many would not enjoy the course of life as it is today, having the opportunity which the great-grandfather or even grandmother of yours did not enjoy. This is also the time to acknowledge the dream, vision and goals behind this specific institution which already must be a pioneer not only in setting standards but also in implementing and putting them in practice, by letting this institution breathe out the spirit of dignity, liberty, justice and fraternity for all Indians.
This higher educational institution, started as an Engineering College exclusively for Women in 1988 (first of its kind in the world), has the applied objective in women education, transforming Women Liberation into Women Empowerment. I am delighted and satisfied to know that the alumni of this institution have moved throughout the world, serving by holding responsible assignments in prime organizations. Because of significant academic contributions, the college acquired the Deemed University status in 2007. The students from both the genders, mostly hailing from rural areas, who are denied educational opportunities, get opportunities here to pursue their higher education courses in various disciplines. PMIST contributes to the dispensation of social justice, envisioned by Periyar.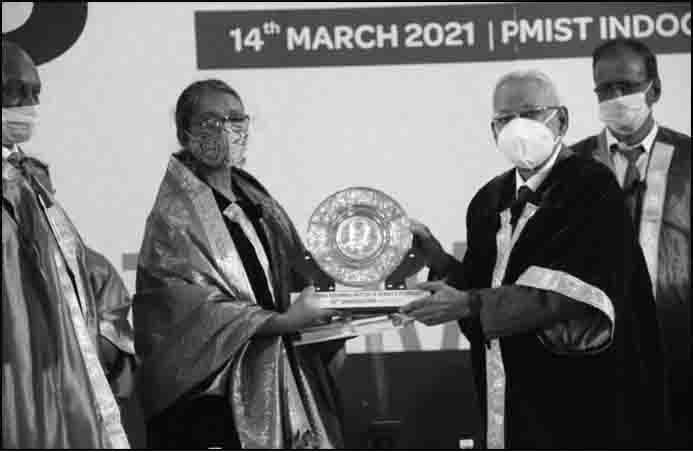 At this time I am aware of the fact that I am addressing some of the best minds this part of the land has ever produced. I also know that some of those sitting here are the pride of the family, crowning glory of the toughest of teachers around here, or even a genius, or just about anyone surfacing from a news report for a path breaking work using an assembly of ordinary things for an extraordinary purpose. Irrespective of where you find yourselves five years from now the path of getting there will definitely remind you of this great institution and the part of it you bear in your identity.
I would like to assume that there are some amongst you who intentionally chose this institution to be in it for your final preparation before you face the world, and some arrived here as a default option. Irrespective of the path of arrival to this marvelous institution of higher learning, it is undeniable that with scholarly faculty and state-of-art institutional facilities, no stone has been left unturned to leverage the inherent potential you possess, for the intended transformation in response to the global challenges. This transformation, imbibing critical thinking and creativity is bound to yield citizens equipped not only to face challenges of the real world but to emerge as global citizens with sensibilities better articulated as Universal values, Self-respect, Gender equality, Dignity and Ethics. I am also aware that the skillful global leaders whom I have a great pleasure in addressing on this memorable day, wouldn't redefine their lives trajectory but for this teaching-learning space and this great institution.
In spite of the intention to bypass some typical cliches I cannot avoid a few you probably know by heart such as "knowledge is power and education is empowerment" and so on and so forth. However, most of the traditional methods, disciplines, and verticals, as well as some current trends and cutting edge research frontiers underwent unique tests of times during the past one year of Life-with-COVID-19. Health and healthcare, essential for all the countries rose to the occasion to take up the challenge qualitatively as well as on the quantitative front. The dimension of life that was affected the most has been undeniably – education. The time of the year the pandemic manifested globally, on one hand it affected those who were eagerly waiting to pass and graduate to the next step of education but on the other hand there were those (parents specially) with great dreams waiting to join the elite section of the Indian society called 'The Educated'.
Besides the academic exercises, the contributions made by PMIST for the community development programmes in the surrounding villages are noteworthy. The late lamented President of India. Dr. Abdul Kalam named 'PERIYAR PURA' after the 69 villages/hamlets being transformed through such programme. Grooming the students on the people oriented activities in such community development works, PMIST enables them to become responsible citizens to serve the society apart from their formal career. The graduates who pass out feel proud as products of this people oriented higher educational institution viz. Periyar Maniammai Institute of Science and Technology!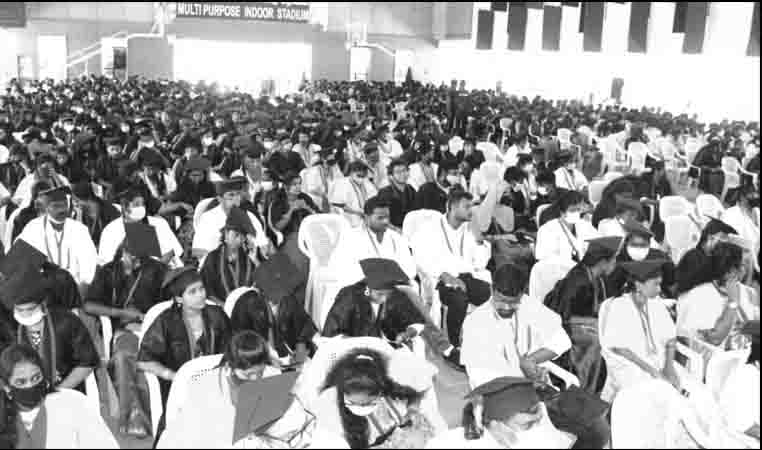 The impact of the virus on the health of humans was unprecedented and so were its side effects on other aspects of life, livelihood and the very foundations of the society broadly known as family. The invisible part of India was on regular television and social media coverage. Painful images of men, women, even children walking hundreds of kilometres are no more a story but was on our TV screens. Those who had homes were locked in their houses, not necessarily homes, as most youngsters these days start cutting the umbilical cord with the family as they approach the final year of their degree programme. However, it appeared like one big pause button thrust down each function of the system to bring a complete halt with entropy soaring to 1 – uncertainty, uncertainty, and uncertainty. The journey of six months may have taught many new lessons, some to practice and sharpen the abilities but education of schools and colleges, be it at Jamtara College under Sido Kanhu Murmu University Jharkhand or Periyar Maniammai Institute of Science and Technology, Vallam, Tamil Nadu all had to turn to the digital platforms to engage with the students, keep their active minds on a positive note, and continue to provide them what they dreamt of before starting the programme of study or the semester in January 2020. This pandemic of COVID-19 has imprinted a unique impression age-wise, state-wise, profession-wise. It may have also prompted a few of you young and intelligent students, to some theoretical and practical solutions and innovations to make life a bit easier for someone who was in deep desperation.
The Convocation of 2021 is unique in many respects. Many batches who graduated from here in the past 27 years may have gone out in the world when the situations were normal, economy was stable and stock exchanges were promising the youth passing out of all the institutions of India to the challenges that were nearly predictable. However, you the batch of 2021, I feel like saying that you are all very special. Special not because each one of you is unique but because you are graduating when the whole world is experiencing a unique uncertainty, unpredictability. Many would like to use adjectives of despair and hopelessness. Preparedness for a situation such as this no management school would have taught the creme of our country how to manage when there was this big pause button on mobility freezing transportation, therefore even the essential commodities became luxury items. We had illness yet physicians were few, but one thing did not stop, many babies were born, nature did not stop. We may have different take on why it happened the way it happened.
Times such as these are not only challenging to all, but provide a unique opportunity to everyone to work hard and sincerely hard. Maybe some of you would actually know yourself once you step out in the real world. Therefore, let us focus on a couple of basic things which stand irrespective of time and space. If there is a vision, a call and a commitment to make a difference even if you have nothing in your pocket but using your time and talent, you are sure to survive. If this institution has helped you think and/or innovate to transform, you are sure to survive longer than your peers who have had a very linear approach and predefined goals. I think society needs young and enthusiasts like you who are willing to pause and take notice of a lesser privileged person who could benefit from your kind gesture. May be there are educators who are looking for innovative educational aids to assist the less techno-savvy older teachers or university professors who simply cannot cope with the speed, the touch screen, or smartness of the smartphone in order to deliver their online lectures. We were able to witness how the traditional market was shut down but online shopping options flourished.
I would like to quote Alan Turing "We can only see a short distance ahead, but we can see plenty there that needs to be done." Human predictions and facilitating needs by innovations have their limitations or short-sightedness. As they aim to address the problem as it is at hand. Although there is plenty out there that needs the attention of young talents who dare to think differently, who are willing to take risks and who are willing to measure their success in other people's comfort or gain. Success is not always in getting to do what you had determined to do before you joined this institution. You must be aware of those great people who were initially found to be "failures" but went on to become the most famous persons. I am sure this afternoon, I am addressing the graduates who are personification of resilience, who will be inspirations to many, many would be proud of having you as their friend and yet many will be the pivot of change that the society or the environment was waiting for, for a long time.
Therefore, finally I wish you all the very best in life. Wishing you the discernment you need to do the things you should do, and not doing the things you shouldn't do. All this because you carry your Institution inside you, the characteristics of PMIST that have shaped you as the individuals you are today.