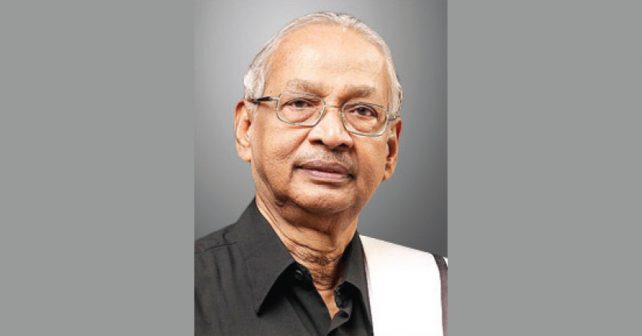 Dr.K.Veeramani
'Mannadhi  Mannan' is a Tamil movie of yesteryears for which the eminent poet Kannadasan wrote a lyric ridiculing fear.
The first two lines meant –
                "Fear is mere folly
                 Fearlessness is Dravidians' asset".
I was recently amazed by the fearlessness of a Dravidian couple in Tamil Nadu.  I must share my amazement with my readers since it is relevant to this column. Fearlessness does make our life lovable, doesn't it?
Kalyanipuram is a remote village in the Thirunelveli district of Tamil Nadu.  There lived in their farm house, a 72 year old retired worker Shanmugavel and his aged wife, 65 year old Senthamarai.  When there are millions of rich people with wealth in abundance, two masked thieves had barged into the farm house of this poor couple, to rob them of what little they had. Such is the irony of life.
The goons had come behind and tied a rope around the old man's neck to stifle and kill him before robbing.  Hearing his shriek, his wife Senthamarai rushed out from kitchen and attacked the thieves with every object that she could lay her hands on.  The goons were wielding sickles but that did not scare her.  She ferociously pounced on them like a wild tigress and the goons soon took to their heels.  The old man too joined his wife and assaulted the goons like a young man of 27.
This news was telecast by popular T.V. channels and published by leading dailies too. The old woman's presence of mind and courage were lauded by all the viewers and readers.  The brave couple became the talk of the town.
Thanthai Periyar used to say – "We have made our women cowards by too much of our protection within four walls of our home.  This makes them unable to resist and fight when there are crimes against them".  But that was then.  This is now. Most women today are undeniably fearless.
The Dravidian warrior Senthamarai should be a source of inspiration for all  women folk.  The poet Udumalai Narayanakavi has sung in praise of a woman who, according to folklores, drove away a tiger, hitting it with a winnow.  According to the revolutionary poet Bharatidasan, women who are devoid of fear are the pride of a nation because fear is a folly.  Parents should feed the baby girls with courage and bravery-besides milk.
Translated by : M. R. Manohar