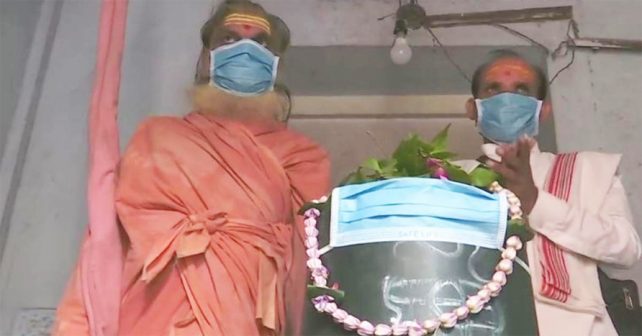 More baffling than the Corona disaster is the precaution taken by many temples in our country to protect the Gods inside.
In the Kasi Vishwanath temple in Varanasi, the shivaling was covered with a mask to prevent infection to the Omnipotent.  At the Siddhivinayak temple in Mumbai all the priests rendered services wearing masks to escape from COVID-19 (Corona Virus Disease-2019, as it was majestically called).  Entry had been denied at several temples to the common public.
"Stay away!" said Sabarimala. "Run away!" shrieked Tirumala.  Disinfectants were being sprayed to curb the invasion of germs.  Every rationalist mind was flummoxed raising an unanswered question – "How could the omnipotent Gods and Goddesses fail to combat the spread of the deadly virus?"
The Meenakshi Temple in Madurai took steps to curb the visit of sick pilgrims.  The Vadapalani Temple in Chennai conducted massive screening.
The Palani Murugan Temple asked people with symptoms of infection to refrain from going there.  Temple employees in all the States were asked to be on the alert.  A few temples which could not totally prevent the entry of people, identified sick devotees and stopped them at the ticketing section.  They forced the normal devotees to wear the mask provided by the temple.  In brief, the situation was topsy-turvy to the core!
Another bizarre event was nauseating, indeed! A Godman called Swami Chakrapani, the chief of the Akhil Bharat Hindu Mahasabha, claimed that cow-urine is the only cure for Corona virus infection.  Adhering to the remedy advised by him "Gau-Mutra Party" ("cow-urine party") was held in New Delhi on March 14, 2020.  Members of Hindu Mahasabha attended the party and drank cow-urine.
And the omnipotent Gods and Goddesses have been watching all these – wearing the masks provided by human beings! The Pandemic Corona-19 has frightened them, it seems.  The Balaji Temple in Tirupathi usually thronged by thousands of pilgrims every day became inaccessible for many States.  The 'Brihadeeswarar Temple' known widely as the 'Big Temple' in Tamil Nadu was closed for an indefinite period.  The temple for the God of Saturn in Karaikal (Puducherry) too prohibited entry of devotees.  All the other lesser known temples have been allowing people only after thermal screening.  The need of the hour is a stronger scientific spirit to combat the disaster caused by the fury of Nature.