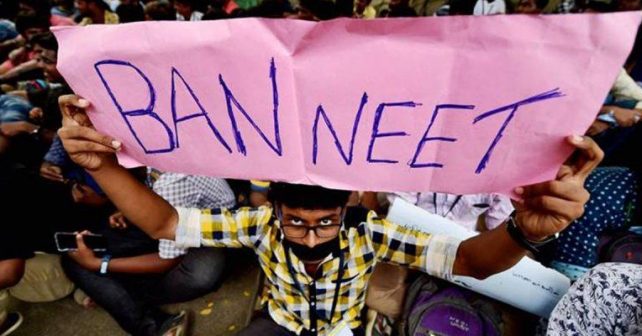 Dr. K. Veeramani
Widespread Protest against National Eligibility – cum – Entrance Test (NEET) has begun to brew like storm. It is crystal clear that during the past four years. NEET was not held even once in an orderly manner without controversies and contradictions. The voice of protest from the people is now heard not only in Tamil Nadu but also in all other states. The Union government should reconsider at the earliest.
As per the news reports pouring in everyday, people in Maharashtra, Karnataka and West Bengal have also started voicing their protest against NEET. Through collective efforts, this social injustice must be curbed without fail. It is a pity that some pseudo – intellectuals moving around as erudite scholars and academicians have been voicing in favour of this "Killer-Test". Their ploy to grab posts and positions make them extend support to this death-trap test, which has already caused suicidal death of some students in Tamil Nadu. The faith of the medical aspirants has been shaken terribly by NEET irregularities.
The NEET tests held in the past four years were all shrouded in utter disorderliness. Every year NEET revealed malpractices, impersonations, confusions and corruption. Besides these, questions paper blunders were also heard of from reliable sources. There were unabashed bargain and lobbying too to mint money by foul means. The supporters of NEET have turned a blind eye to all the nefarious occurrences which were backed by solid evidences. Many had moved the courts pointing out the scandalous conduct of NEET at various exam centres. Some of the affected parents and students filed suits in high courts. The rotten way in which tests were held was widely discussed and debated in print media as well as electronic media but they were all stifled by the vested interest of corrupt elements around us. Promoters of social justice must not ignore "the writing on the wall". It is high time the Union government reconsidered its stand, before it is too late.
During the conduct of NEET in the past four years, the questions were all set based totally on Central Board of Secondary Education (CBSE) syllabus which abetted suicide of many frustrated students who had adapted themselves only to the State Board syllabi. Dejection caused by failure in NEET resulted in suicidal death of many students. How could the supporters of NEET forget the gruesome tragedy?
Very few students got through NEET in their first attempt. Most of the students who have got through so far are only those who had spent whopping amounts on coaching centers. Deespite the expensive coaching, they could pass NEET only after three or four attempts. Can the supporters of NEET deny this unpalatable truth?
The founding fathers of Indian Constitution had placed the subject 'Education' in the State List. Why was it shifted to the Concurrent List during the period of emergency, without consultations with States and also without their consensus?
An increased awareness everywhere about the Concurrent List hurdle is being noticed now. There is a growing demand to bring education back to the State List. A case has also been filed at Madras High Court stressing this demand. We await its outcome.
Our country is multifaceted with several religions, languages and cultures. It is a land of diversity at all levels. Imposing one single cultural yardstick of dominance is betrayal of 130 crore people of this country. Is it not a seizure of their cultural rights? Is it not social injustice?
It is noteworthy that education finds place still on the Concurrent List and has not been shifted to the Union List! Education is brought under the powers and control of the Union government.
As per our Constitution, the conduct of exams and the award of degrees are the rights of Universities alone. But we find an obvious violation. The rights of the states are being seized. Social justice is being concealed in a nailed coffin. Thousands of students hailing from poor families in rural belts and remote villages have been dreaming of becoming medical practitioners as doctors. But this obstacle NEET prevents their dreams coming true. It is high time we remove this obstacle for the welfare of our student community. This social injustice in the form of NEET should not be allowed to prolong, since the very purpose for which it was said to be introduced has been totally defeated.
Our President, Vice President and the Prime Minister are not NEET qualified administrators. They are in high positions. Neither the Supreme Court judges nor renowned doctors in the world of medicine had appeared for NEET and obtained degrees to reach glorious heights and to become experts in their respective fields. We are accountable for every drop of tears shed by affected common people, students and parents. Their grievance would soon be mitigated.
"Sovereignty rests in our People" says our Constitution, "not in anybody else". Our Union government seems to have, conveniently forgotten this primary lesson. Why should it cling to NEET adamantly and remain audaciously at a cul-de-sac?
Since the protest against NEET has become widespread, enveloping several other states besides Tamil Nadu, we reiterate that the Union government should watch the clear "Writing on the Wall" and reconsider the undesirable imposition of NEET.