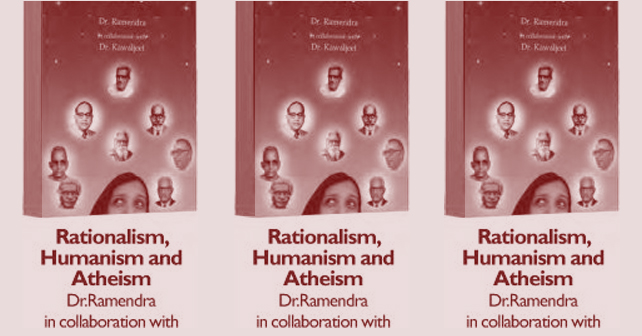 In analysing the ancientry of India, one can find that anybody who championed the cause of rationalism and atheism was branded a heretic and his opinions were set aside as heterodoxical. In other words, those were the dark days of dogmatic Vedantins of Hindu philosophy. But unmindful of these intolerant elements, a few revolutionary thinkers asserted themselves very boldly and firmly established the rationale of objectivity and humanism. It is about eight of these reputed and chosen thinkers, the book,
Rationalism, Humanism and Atheism by Dr. Ramendra with Dr.Kawaljeet under review speaks.
Very difficult it is to capsule the fifty years of the public service of Thanthai Periyar in about sixty pages. But still the author has outlined in this brief sketch what all Periyar stood for. His views on god and religion, his opposition to Brahminism and idol worship are highlighted. Inane belief on a non-existing soul has been exposed with an apt illustration, as shown by Periyar.
M.N.Roy was of course a philosopher and a great thinker who preached for the avoidance of orthodoxy and unmeaning dogmas. He preferred calling his philosophy a new humanism or radicalism. In preaching humanism, M.N.Roy can very well be compared to Erasmus, the European humanist and even with Sir Thomas More, who envisaged a new world known as Utopia. The adventurous life of M.N.Roy under aliases in alien countries proved to be a Era of heroism. Once a communist but gave it up for Humanism of a broader kind, he became one of the founder-members of the International Humanist and Ethical Union in 1952. Roy's emphasis on Ethics and New Humanism are explained in detail in this volume.
Not known whether everybody will concur with the opinion that Ambedkar cannot be categorised as a rationalist and a humanist. True it is that he was one of the founding fathers of Indian Constitution and mainly responsible for framing Hindu Code Bill. Simply because he embraced Buddhism, can he be branded as a person of religiosity? Buddhism itself is rationalistic and that is why Brahminism annihilated it by a devious method of absorption. The author could have added a note that in a meeting with Ambedkar, Thanthai Periyar was requested by him to adopt Buddhism. but Periayar expressed his willingness to remain in Hinduism to see that it is exposed of its prejudices and inequalities.
One who asserted in favour of atheism, as much as Periyar did in Tamil Nadu was Gora, the founder of Atheist Centre in Andhra. Though born in an orthodox Brahmin family, Gora studied scriptures of various religions and came to a conclusion that god is used for aiding exploitation of the gullible masses. It may be interesting to the readers in Tamil Nadu that Gora in the prime of his youth spent about half-a-dozen years in Madurai and Coimbatore Colleges. When he declared himself as an atheist and refused to wear sacred thread, his parents expelled him from their house.
Gora stuck to his gun and went ahead to form an Atheist Centre in 1940. Started an English monthly The Atheist in 1969 and edited it until his death in 1975. He was also a champion of partyless democracy and continued to promote atheism all through his life. The concept of Satyagraha, he supported and also mixed marriages to promote one-ness in humanity.
Unlike philosphers, great thinkers and rationalists whom we have so far met, Abraham Kovoor belongs to a different category of being a die-hard atheist. In a way, he was inimical to god-men and their rituals. He was dead against superstitions. A few of his books such as Begone Godmen and God, Demons and Spirits are sold in large numbers. Kovoor was firmly of opinion that there is no evidence to establish that Gods exist. Neither can it be said that there is life after death. Kovoor with his opinion that Bible is a dangerous moral guide is alike Bernard Shaw who had said that Bible is a bundle of lies. Dr.Ramendra is perfect in covering all the other opinions of Kovoor on issues such as mixed marriages, family planning and euthanasia.
One who advocated secular human values in Indian Society is A.B.Shah, an atheist in Gujarat. He was bold enough to burn Manusmriti and persuaded Muslims to put Shariat into fire. Both these scriptures are antagonistic to women and notorious for dividing society into groups. Comparative by speaking Shah is not that much known among the public and it is sure that Dr.Ramendra's account of Shah will be a guideline for others to disseminate a lot more on Shah in Indian languages.
Equally unknown in various other regions of India are Narsingh Narian and Ramswaroop Verma. The former is a typical humanist with the impact of M.N.Roy and the latter is a votary of equality much against Brahminism that preached and believed in inequality. Both the scholars dealt with the role of religion in society and pleaded for equality among human beings.
Appreciable it is that every sketch of the eight great men is prefaced with a brief life – history of each one of them. The end-notes and the bibliography bear ample testimony that the author Dr.Ramendra and the collaborator who is none other than his wife Dr. Kawaljeet have perused a lot of exhaustive materials such as books and articles. This ideal intellectual pair may think in terms of bringing out this valuable book in other Indian languages also. The book is moderately priced and our appreciations are due to the Buddhiwadi Foundation for having brought it out in better format and in handy size.
The laminated cover page needs a special mention in this context. Thumb-nail figures of all the eight great men are there and amidst therein a half-cut face is partially visible. May be that it is of Madam Kawaljeet. If that is so, nothing wrong in imposing the full portrait in the editions in future – either alone or with her life-partner.
Reviewed by –
Dr. P.Arangasamy