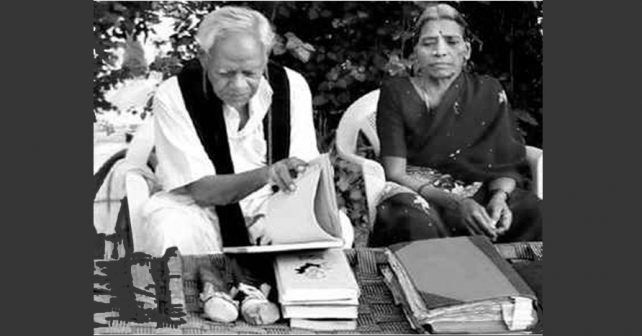 Arjunan and Thaniarasu who were the first self-respect marriage couple of Chikkedikuppam village, looking at the register book that records such marriages
Shanmugasundaram J
In a state that for long took pride in wearing the Dravidian ideology on its sleeve, the 4,000 families of Chikkedikuppam and other villages – located 60 km from Villupuram, Tamil Nadu – revere Dravidar Kazhagam founder and rationalist Periyar E.V. Ramasamy in more ways than one.
For close to half a century, the villagers have shunned caste, dowry and all forms of superstitions. The married women of Chikkedikuppam and its surrounding villages in the panchayats of Kottapundi, Kottugankuppam, Athianthal and Kovilpuraiyur, do not wear mangalsutras (thali), reflecting the Dravidian concept of self-respect marriages.
"More than a 1,000 couples in and around Chikkedikuppam got married by signing an agreement.  No bride-groom demands or takes dowry from the bride and her family.  In fact, dowry is something unheard of in the village in the last 50 years," said 85-year-old Arjunan of the village.  Arjunan and his wife Thaniarasu was the first couple to have gone through such a self respect marriage.  They entered into wedlock on January 7, 1968, particularly choosing the day as it was considered inauspicious.
"The couples are leading a happy life, with children and grandchildren.  Women are given more importance in our families," said Arjunan's son Periyar, who runs a school named E.V. Ramasamy.
They have also been naming their children with typical Tamil names – Thendral, 'Viduthalai' Virumpi, Mathiazhagan, Thamilthendral, Senthamil Kanini and Thenarasu.  Many of the women, men and youngsters in the village have mastered the martial art of Silambam, turning to it to lead a disciplined way of life.
It all started during the 1960s.  Then, Chikkedikuppam had a dark side to it.  Brewing and selling of arrack was rampant, and many women had lost their husbands to it, recall villagers.
"We desperately looked for ways to wean our men from it.  It was then that we attended a meeting addressed by Periyar at Malaiyanur.  We were moved by his speech, and decided to follow and spread his ideas for self-discipline, gender equality and to do away with caste discrimination," said N Kathavarayan, who is in his 70s.  He was known as rationalist singer (pagutharivu padakar) during the time and along with other followers of Periyar, propagated his ideologies through dramas.
Source: 'The Times of India'