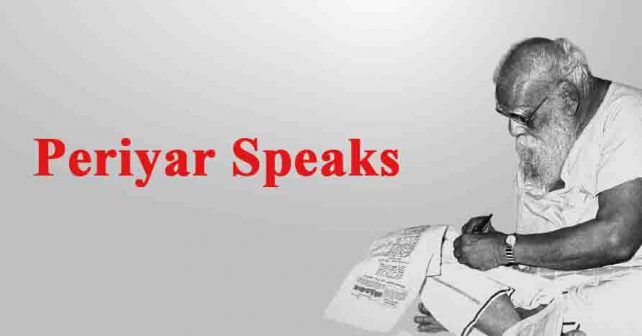 Thanthai Periyar's address in Dharmapuri, Tamil Nadu during his statue unveiling function held on 24th May 1969.
My dear Comrades, my joy knows no bounds when I am today in Dharmapuri upon your invitation to witness my own statue being unveiled by you. You have conducted this event in a grand manner like never before in the past. I convey my sincere thanks to all of you for honouring me here. Cadres who spoke before me showered overwhelming praise on me which actually embarrassed. I can tolerate even if I am abhorred but I feel quite odd when I am eulogised, as I modestly feel that I do not deserve it. Well, I shall make myself worthy of your praise by serving the public in the best possible manner atleast in the days to come.
We are Destructive
At the outset, a few words about our movement. Ours is a destructive movement, not a constructive movement. Don't be bewildered. Our objective is to destroy superstitions, irrationalism, graded inequality and all sorts of social injustice. We are not here to construct anything harmful to humankind. We are here to destroy everything that is harmful to society.
We have now entrusted the government to destructive rulers who are all rationalists, intellectuals and true scholars. They follow their hearts and obey their conscience. They are the right people to destroy everything that is bad and harmful. Our ancient mythologies and outdated religious works made our people superstitious. Poets and writers of the olden eras dumped us in the darkness of ignorance. The time has come now for us to come out of that darkness.
New Era of Good Rulers
Good rulers have started taking charge of governance. They assume office not by foul means but by mandate of the people. A country with a large slice of superstitious people, now has rationalist rulers who have tirelessly explained to the people that god, religion, castes, customs and codes of conduct are all meaningless and baseless myths. The rulers of the new era have come to power by earning the trust of the people. They have been democratically elected by the public.
The former chief minister Anna (endearing form of C.N. Annadurai) once burnt the copies of fictitious Ramayana. He has authored many books condemning ancient mythologies, historical volumes and religious works. Leading newspapers who are our opponents naturally avoid publicising our policies and our activities. What they publish is sheer froth. Their news reports are all against us. They ignored Anna's agitations and voice of protests. Inspite of it, more than three million people attended his funeral and paid tearful homage. The report of this news could not be avoided by those media barons. They had to publish it. Did those three million mourners rush for his funeral unaware of his greatness? They also knew very well that he was an atheist, didn't they?
A Law and an Order
Anna enacted Self respect-marriage law because he believed that god, religion, caste and antique rituals are not required for marriage. According to him it is enough if a man and a woman declare their willingness to live together. This proved that this government did not believe in god, religion, caste and meaningless traditional conventions. Should we not feel proud of Anna? Who else can claim the credit for such reformative thoughts and implementation? Anna had also ordered the removal of the portraits of gods and goddesses from the walls of all government offices. Could it have been possible during the rule of anyone else? Would any ruler in future issue such an order and get it executed?
My Statue and its motive
If my followers have erected my statue in this city, it is not for worship or a bell-toll. It is the statue of one, who does not believe in the existence of god. It is not the statue of an individual called Ramasamy. It is the statue of an atheist who says that one who invented god is a fool one who propagates god is an idiot and one who worships god is a barbarian. My statue has been erected here to make people suspend their belief in god, through my denial of god's existence. People who hitherto had blind belief in god would themselves demolish all the temples, if the present government of our State continues to rule.
Unended Untouchability
Besides denial of god's existence, we have succeeded in several social reforms. For many decades, our State has been under the rule of superstitious brahmin leaders. Our people have been obeying brahmin ministers expressing loyalty to their rule. Only now brahmins are kept away from governance, by our vigorous efforts. Our tireless propaganda and protests have brought about this change and driven away brahmins from the political arena.
A brahmin is in no way superior to you. Why should brahmins be considered so? Why are you people degraded and belittled as untouchables? When would the graded inequality be eradicated? Such questions raised by us in our propaganda resulted in relief to some extent. Today we have elevated many downtrodden people of low castes as ministers. We still have a long way to go and end untouchability. But by our efforts many of our people are well placed today in higher posts. Nobody in this country struggled like us to abolish untouchability. None served like us. None fought like us.
Blind Faith – Root Cause
Congress leaders and Gandhi too did nothing positively to eradicate untouchability. Infact they surreptitiously kept it in prevalance with ulterior motives. Therefore this evil continues to exist. How can it vanish if you still keep clinging to god, religion and temples? Following religion, believing in god and worshipping outside the temples makes a man remain untouchable forever. He must have the courage to give up all these and avoid entering temples which degrade him as an untouchable. Until this happens, the evil called untouchability would never ever depart from us.
Revolts and Riots
The untouchables got temple entry rights by our fights in Travancore. The credit should not go to any of the Congressmen who did nothing to abolish this evil. We held a conference and tried to convert people to Islam. During that conference itself many Hindus got themselves converted as Muslims. They started moving around places which were prohibited for the Ezhavas and other low caste people. The upper caste people prevented the violation of their prohibition, which led to violent riots. One of the converted Muslim youth was killed in the riots. It aggravated the revolt. There was widespread rebellion everywhere between riotous Hindus and Muslims.
Proximity Denial
C.P. Ramasamy Iyer, the Diwan of the princely State of Travancore was taken aback by the riots and granted free entry for all people to all the places, without any restriction. The untouchables were permitted to enter temples but stay away from the spot meant for Brahmins. I discussed the issue with Gandhi but he deflected. Even today brahmins enjoy exclusive privilege in temples. You are not allowed proximity to brahmins. You still stand far away from them and worship, don't you? There is not even an iota of change in brahmin worshippers. Today every department, government offices political field and religious boards have been pervaded by brahminist dominance.
Better Governance
The present government of our State has helped increase the number of Tamil judges in the High Court. It has ten of them at present. The dominance of brahmins is gradually getting curbed. There is progress even in the sphere of education. Free education was being offered only upto SSLC. It has been extended to pre-university courses in colleges. Grievances of public have now been redressed to a great extent by the present rulers. The party which heads the rule today in our State is truly dedicated to social service, social justice and public welfare. All other parties are sycophants, flattering brahmins.
Media Hypocrisy
There is unbearable hypocrisy in leading newspapers. They publish photographs of our events and reports related to our movement. When our policies and principles get spread among people, the papers suddenly change their trend and start serving and supporting brahmins, propagating for them and functioning as their mouth-piece.
Gratitude and Solidarity
Our children are all deeply interested in acquiring literacy. They would never ever be caretakers of cattle. They would seek lucrative jobs and coveted placements. Our duty is to safeguard racial affinity and give top priority to the progress of our people. Compared to the governments of other States, ours is clean in administration, without any sign of maladministration and misuse of powers. It is our duty to extend our support to it. We owe it gratitude for all its welfare measures by which we have progressed. We must feel that it is our government, striving for us. We must exhibit the kind of unity and solidarity which is found among brahmins. We must be grateful to our government for all our achievements.
We must also be alert, since our happy living today may not be so forever. Unless we hold the wall cautiously, it may crumble any moment. One day or the other the wall of our life would certainly exist firmly without our support. Till that day, this government is to be solidly supported by us.
Motive Behind Statues
A few words now about erection of our statues. The motive behind it is propaganda of our ideology and principles – not pride or vain glory. When inquisitive people look at my statue and ask – "Who is Periyar?" – someone would reply – "He was the one who denied the existence of God". Gradually my principles and my thoughts would spread widely. My well wishers want me to have a long life. Little do they know how painful it would be for me. On this occasion I urge upon you all to do your best, inorder to make our policies reach people everywhere. It is with this mission and objective that such events are being held.
Source: 'Viduthalai' – 9th June 1969 ,
Translated by M.R. Manohar