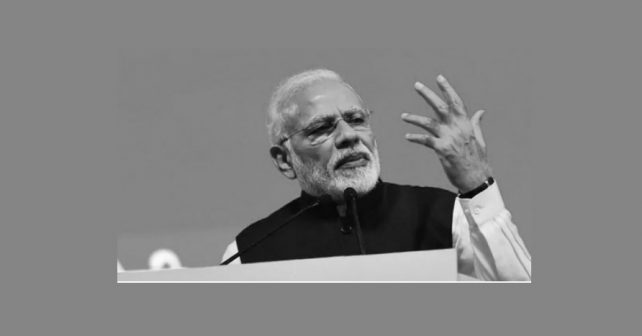 Dear Hon'ble Prime Minister Ji,
We, the under mentioned, would like to ask you about your latest announcement about some welfare measures or facilities to be given to the weaker sections  such as SC/ST-people on the eve of the parliament election to be held before 26.05.2019 as the present regime's period of power ends on 26.05.2019. You have not given or taken any favourable measures towards such people so far under your rule during the past 4 ½ years.  But now in order to fetch their franchise you have taken these measures.  It is nothing but truth, you cannot deny it.  Secondly, you have undertaken another controversial measure to provide 10% reservation in general category in order to get the upper castes votes which is grossly against the Constitution. Traffic Ramasamy has filed a case  in the supreme court which will be taken for hearing shortly. you cannot fool the innocent and the gullible forever.
During the 2014 parliamentary election you promised the people that you would bring the black money clandestinely stashed in foreign banks within 100 days after coming to power and distribute Rs.15 lakhs to every house-hold in the country.  But, Alas! You have not kept your promise even now.  That means your promise to the people has become an utter lie.  When you have friendship with big corporate like "Reliance Industries" owned by Messrs.  Mukesh Ambani and Anil Ambani, how can you take drastic action against the black-money holders in foreign banks.  But, on the contrary, you want to capture power by hook or crook by cheating the masses especially in northern states by uttering Rama's name.  In Rajastan, the first citizen, the President of India, was refused entry to the temple by castetist elements because he belongs to S.C.  From this obnoxious incident you can infer how casteism prevails in this land even in the 21st century.  Have you taken any action against them as prime minister?  But in Tamil Nadu the followers of Periyar E.V.Ramasamy took out a procession condemning them.  The media were forced not to publish the ugly incident. Who created caste system in this land? Who is Mohan Bhagawat, the head of the RSS-Organisation head quarted at Nagpur?  Who is Savarkar the author of Hindutva? Both of them are hard-core Brahmins. Now you want to give 10% reservation in the general category in educational & employment field on the basis of economics status which is against our Constitution and will not stand in the Supreme Court. Already, Traffic Ramasamy, social activist and "youth for equality" organization have filed cases in the Supreme Court against 10% reservation in general category on the basis of economic condition.  Besides, your faithful ally Mr. Edappadi Palanisamy, Chief Minister of Tamil Nadu, has given Rs.1000/- to every ration card holder irrespective of the economic status to woo the voters on the eve of the parliament election.
You are equalizing yourself to Shri Atal Bihari Vajpayee.  We are verymuch surprised to hear the same in your election speech. M. Karunanidhi, the former Chief Minister of Tamil Nadu, once said that he was a good man in a bad party. We respect only Autulji in the BJP, even though he is from RSS organization. He was respected by one and all in the country irrespective of party affiliation. L.K. Advani is a refugee from East Pakistan (Now Bangaladesh).  He once undertook Rath yathra in the name of Lord Rama but Lalu prasad the C.M. of Bihar did not allow him to enter Bihar.  Even now at the age of 91, hale & healthy, he is a communal fanatic especially against Muslims. Tamil Isai Soundrarajan, daughter of Congress veteran Kumari Ananthan, she being a doctor by profession, has become a member of a communal non-secular party.  She cannot convert the followers of E.V. Ramasamy (Periyar), C.N. Annadurai (Anna) & M. Karunanidhi (Kalaignar) in a fortnight.  In a debate & discussion programme "under Sun News" your party's staunch supporter Mr. Arasakumar passed a slanderous remark calling the 'Dravida Munnetra Kazhagam'-party as "Nasthick" (Non-believer)  we want to ask you who made them "Nasthick". The so called Manu who created "Manu Dharma Sasthra to divide the people on the basis of 4 varnas, namely Brahmins, Vaisyas, Chathiriyas and Sudras, the lowest group among the four.  So, our Anna has written two Books namely Aryamaya and "varnashramam" in Tamil.  Then onwards we hate Hindu religion which hates other religions, Religions should not be linked with politics.  We must respect and adhere to our Constitution in letter and spirit, which was prepared by eminent lawyers under the chairmanship of B.R. Ambedkar and approved by the competent authority.  Marathas in Maharashtra and Patels in  Gujarat have been given reservations on political pressure ruled by your party in these States.  Do they deserve reservation according to their status?
yours faithfully
"VOX-POPULI"
(Voice of the people)
19.01.2019
Tiruchirappalli City
N.B.: Endorsed to Dr. K. Veeramani, President, Dravidar Kazhagam, Periyar Thidal for information and perusal.