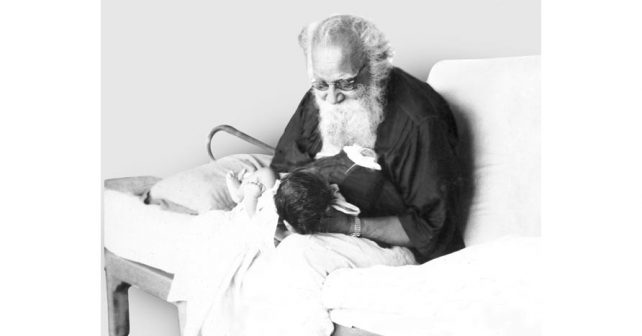 In 1931, Thanthai Periyar delivered a speech at Grey Nagar near Perundurai (Erode Taluk) during the Annual day celebration of the Scheduled Caste people's Forum. The central idea of his speech was that equality and Path of Virtue continue to be elusive to human life all over the world. The content of his speech was published in nutshell in 'Kudi Arasu', issue of 08.02.1931.
Great thinkers and erudite scholars have been emphasising a religious doctrine, advocating love of fellow beings and equality, which could be attained only through the path of virtue. My beloved brothers and sisters assembled here, please note that this is easier said than done, because human life, not only in our country, but almost all over the world, is quite contrary to what we really mean by this doctrine.
Untrodden Path
The difference in our country is much more striking, compared to other countries. The doctrine of equality and path of virtue is infact defied by our concepts such as god, religion, fate, caste, wealth and industries. Our ambience is inappropriate to this doctrine. Noblemen and intellectuals would also hesitate to advocate this doctrine because its need itself is not felt by our society. Love for fellow human beings, equality and universal brotherhood are not being cared for. Hence, the path of virtue itself is deserted.
In my opinion, identifying the obstacles and removing them itself is the path of virtue and equality. This may be irksome to most of you, but all those who attained it in the past achieved it only by removing the obstacles. People who remained inactive, ultimately failed in their search.
Surge in Russia
For instance, Russians attained the path of virtue and equality only by annihilating churches and the dominating bourgeois class. They believed them to be obstacles in laying the path of virtue and equality. Pastors and parish priests were all shortlisted by Russian revolutionists. Except those who resisted equality, people were all enlisted in army, employed in agriculture, medical services etc. Substandard people were used as security guards. Churches were converted into factories and schools. Buildings which were unfit for conversion were all demolished.
Property were seized from rich landlords and distributed among the landless poor. The wealth of the capitalists became public property. It was used to educate the illiterate and establish industries for the unemployed. The institution called marriage was abolished and enslavement of women got eradicated. Population growth was curbed by implementing family planning. It helped men and women lead a comfortable life. There were various other great reforms all over Russia.
Only rich people and arrogant upper caste fanatics would ask us if such reforms are feasible in our country. But they would be only five or six out of a hundred. The rest are more than ninety out of one hundred citizens. Therefore the demand for control, restriction and relaxation by the minority must be ignored, since they are soaked in sheer selfishness. My dear comrades, think over it deeply and tell me, would you pay heed to these selfish people?
We do not expect overnight reforms. We are prepared to wait. Our turn would also come at some point of time. Hence, all hope is not lost. The spark ignited by Russia would one day become wild fire all over the world. Perseverance is the need of the hour.
Make Life Meaningful
Our country is chock-a-block with numerous castes and classes. This is where we differ from other countries. Castes are to be abolished. But remaining idle with our hands tied and relying on blind faith, god, religion, ancient myths and outdated doctrines would not help. Think out of the box and fight. Eating and sleeping alone is not life. Man is a rational animal. The ability to reason makes him different from beasts.
Make life meaningful by determining a purpose. Banish from your life people who pull wool over your eyes by thrusting senseless concepts in you. For ages we have all been bound by their shackles. We were born free but we are in chains everywhere. It is a shameful existence. Delink yourself and storm the wicked world. I would dare say that it is time to die when it is a shame to live. Don't you agree with me?
Ignore the fanatics who babble about heaven and hell, salvation and redemption. Do not believe stupidly in reincarnation and rebirth. You remember nothing of your former life because there wasn't any. Stop grumbling over your sufferings in this life. Be optimistic and overcome all the hurdles. Never waste your life in lethargy and make you heirs suffer after your death. Allow your mind to operate on a higher level of intellect.
Always Introspect
Indulge in introspection and start mulling over your past mistakes which have led to your downfall. Give a twist and a new turn to your life and watch the results. No more building temples, worshipping non-existent god and goddesses, squandering money on festivals and rituals. Trust your own wisdom and knowledge. You will never regret it. Stop lamenting over miseries. Never look back at your painful past. The moment you become self-reliant, your search for the path of virtue ends. The power to create an egalitarian society is in you. Hence do it yourself without depending on anybody. Fix a goal and strive to succeed in your mission. Your meaningful existence would make it possible.
Dehumanisation
I would now deviate a little and discuss the ill-treatment meted out to women by merciless men. It is worse than the atrocities of the rich crushing the have-nots and worse than the torture inflicted on the low-caste people by the upper caste fanatics. It is also worse than the way a master treats his servant. Atleast these people torture only when they have an occasional encounter, but women suffer from their birth to death. The living condition of women is pitiable to a great extent, especially in our country. Our country is still in a brutal stage, probably because of our men's brutality towards women. Since women have been enslaved by men for centuries, we were also conceived by slaves and raised by slaves in a sense. Would you disagree my dear friends?
We have an unwritten law here that a man is free to have any number of wives, at any stage or age in life, but a woman should marry only once in her life and avoid marital obligations for ever, if he dies. She is forced to exist with the stigma of widow and our people blame it on her destiny or sins committed in her former birth. This double-standard code is inhuman, injustice and absolutely unpardonable.
The path of virtue is not meant only for women. It is to be trodden by men too. I would advise women to liberate themselves from brutal men and lead a life freely as they like it. Hypocrites may scream that it would be an erosion of culture. But I do not care a hoot! If there is incompatibility in married life, women should also have the right to divorce and remarry.
Advising erring men is of no use. We have been trying to correct them for centuries but they have not mended their ways. Hence, women should establish equality by revolting against brutal men and this unjust society.
Ignore Small People
Women should insist on a small family by planning wisely. Child birth is not a gift of any god. It is a course of nature. Women should ignore stupid people's babble and avoid frequent pregnancy. It is ideal for their health too. Besides, a small family means a peaceful, comfortable family. Women are more than flesh and blood. They must not exist as machines. Beasts and birds need not plan their families. But we human beings must plan ours. Growth of a country does not depend on the growth of population. Infact it is detrimental. I advise you all to think deeply and arrive at decisions on your own. Never ever listen to the rubbish talk of small people.
'Kudi Arasu' 08th February 1931
Translated by : M.R. Manohar