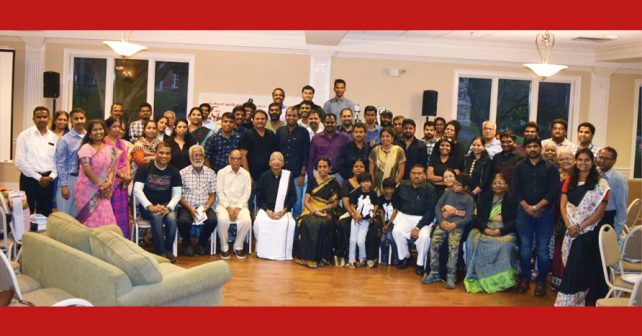 The Self Respecter – Humanist fraternity at Periyar 141 along with Asiriyar Dr.K.Veeramani
On September 28, 2019 Thanthai Periyar 141st Birth Anniversary celebrations was held at Boston's St. Mark's Episcopal Church, 27 Main Street, South Borough, MA 01772.
It was a memorable event as it was presided over by Asiriyar Dr. K. Veeramani ( President, Dravidar Kazhagam). The celebrations started with Pattimandram. (பெரியாரின் தொண்டறத்தில் விஞ்சி நிற்பது ஜாதி ஒழிப்பே! பகுத்தறிவே!) The participants were Dr. Saroja Ilangovan, Ms. Bamila Venkat, Mr. Parthiban Sundaram, Advocate Veeramarthini, Mr. Thirumalai Ghanam, Ms. Shobana. The Pattimandram was presided by Mr. Karthikeyan Deivigarajan.
It was a feast to ears to hear the Caste Annhilation and Rationalist thoughts of Thanthai Periyar. Dr. Soma Ilangovan and Dr. Kannabiran Ravishankar released the book Ten Blooms of Humanism  that was previously released in Humanist Conference at Maryland. It contained the scholarly articles of Humanists who participated in the conference.
The event followed was an entertaining and informative jeopardy (Quiz show). Mr. Ajoy from Connecticut conducted this Quiz for the audience. Around 65 questions were asked to the audience on American History, Indian History, Life events from Periyar and Ambedkar et.al;
The significant part of event was award presentations on behalf of PeriyarAmbedkar Study Circle to Amma Mohana – (சுயமரியாதை இயக்க வீராங்கனை). Asiriyar Dr. K. Veeramani was  honoured with award as The Stalwart of Dravidian ideology.
The most cherished and memorable part of the event  was speech by Asiriyar Dr. K. Veeramani. He mentioned that event was informative and had captured the audience for nearly 4 hours. He appereciated the enthusiasm of the speakers and audience who participated. He spoke on how women were denied property rights as per Hindu Personal law and efforts took by Babasaheb Dr. B. R. Ambedkar as law minister which was not fruitful and he was forced to resign his ministerial position.
He also mentioned that even before this effort how Periyar in First Self-Respect Provincial Conference had passed a resolution that women must have Property Rights. He also stressed that Periyar was a humanist and that's the reason he denied God and Religion  that protected the Caste as it was against treating Humans equal. He also mentioned that his first critique is his life partner and to be successful in personal and public life one most listen to the words of his spouse.
After his speech Asiriyar received standing ovation from the crowd for Humanist Lifetime Achievement Award 2019 by the American Humanist Association. Asiriyar is the First Indian to be honoured with the prestigious award. Vote of thanks was delivered by Mr. Sabareesh from Connecticut. Dinner was arranged after the event.
The event was successful due to tireless efforts of members of Periyar Ambedkar Study Circle. Comrades Mohana , Mahesh, Parthiban, Pandy were instrumental behind the success.
– Kanimozhi MV