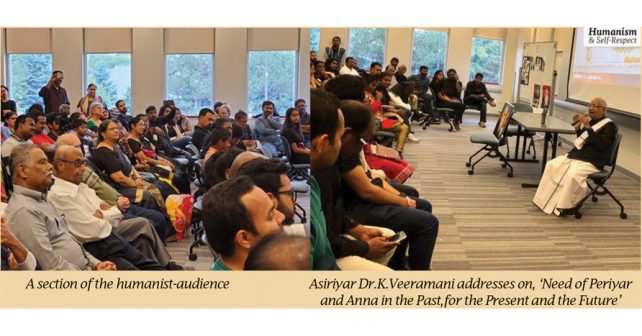 On 6th October 2019, Chicago recorded a successful event to raise the torch of rationalism and equality on the occasion of Periyar and Anna's birth anniversary celebrations. The event was organized by Periyar International and Periyar Ambedkar Study Circle(PASC) and was attended by hundreds of rationalists to raise their voice against any form of discrimination – Religion, Race, Color, Caste, Creed, Sex or Ethnicity. People of all age groups joined hands for one common vision – "Equality and Self-Respect".
"Wisdom lies in thinking. The spearhead of thinking is rationalism. Only education, self-respect and rational qualities will uplift the down-trodden", said Periyar E.V. Ramasamy. He worked all his life to sow radical thinking in the minds of people, who were suppressed in the name of caste and other related forms of discriminations. C.N. Annadurai, popularly called "Anna," a proud descendant of Periyar, also implemented social reforms of Periyar by law. Both these great leaders' birth anniversaries are being celebrated all over the world by rationalists. The Chicago event was honored by the presence of Dr. K. Veeramani, President of the Dravidar Kazhagam, who has taken up Periyar's social reforms as the mission of his life.
The event began with "Tamilthai Vaazthu", followed by the welcome Address by Mr. Arasar Arulalar. He quoted Periyar's favourite Thirukural couplet No.1028, "குடி செய்வார்க்கு இல்லை பருவம்…  " meaning, "As a family suffers by (one's) indolence and false dignity, there is to be no season (good or bad) to those who strive to raise their family". Likewise, we should not be waiting for a season to do our duties to uplift our society, following in the footsteps of Periyar and Anna.
Wonder-Kids : Any celebration is incomplete without kids.Any ideology is obsolete if not embraced by kids. Periyar and Anna would have been proud to see how the small kids showcased their talents in the form of drama, poem recital and speech on current social issues and rationalism. Sreya Senthilnathan and Ajay Veeramuthu staged a short play on "Hindi Imposition". They portrayed how a language is being imposed on us against our will by depicting someone forced to eat food which they do not like. Their humorous play amused the audience and left a food for thought in their minds. Krish Karthi recited a poem by Bharathidasan. Athisuthan minor Vellaipandi recited a poem on Periyar and Yazhini Ravikumar recited a poem on Anna. This was followed by a great speech by Thendral Veerasekhar on "Why Periyar is still relevant". Kids' fabulous performances received great appreciation from the audience.
An American's Love for Tamil : "To us all towns are one, all men our kin". Ms. Samantha Kannan, an American married to a Tamil gentleman shared her experience with Tamil people and described the beauty of embracing harmony beyond geographical boundaries.
Social Justice – One Act play : Rationalists Ravikumar Vaithilingam and Sudhakar Sivasamy staged an enlightening One-Act play on Social Justice. The play was a scene in clinic where a patient meets the doctor and discusses his medical conditions caused by social issues. The flow of the play was comical, yet the plot of the play spoke volumes as it touched injustice in exams like NEET, untouchability, women's inequality and misconception of Dravidian ideologies and false political propaganda. The play was well received and appreciated by all.
Dr. K.Veeramani was honored with a duo statue of Periyar-Anna by PASC, a book : "The People vs Democracy" by Yascha Mounk, and an album of memorable pictures from 2nd International Humanist conference, where the American Humanist Association conferred the prestigious Lifetime Achievement Award for the year 2019 on Dr. K. Veeramani in recognition of his humanist services.
Do you have answers? : No one is beyond question, says Periyar. Anna's questions shook Indian parliament and Tamil Nadu assembly, which helped achieve social reforms for the downtrodden people. But how about questions of malevolent nature? Rationalists Tamilmani Velayutham, Akila Selvaraj, Vinopriya Ravikumar, Sudhakar Sivasamy, Suthamalli Ganga, Paridass and Velayutham took the responsibility to clarify with factual data, some of the false propaganda that are spread against Periyar, Anna and Dravidian principles.
Fund for Rationalism: Dr. K.Veeramani has been serving as the editor of Viduthalai (The only Rationalist daily newspaper), The Modern Rationalist, and Periyar Pinju (Magazine for kids) for 57 years. As a token of appreciation and gratitude, the Chicago rationalist team collected money for 57 subscriptions to the aforesaid magazines. The fund was handed over to Dr. K. Veeramani by Mr. V.J. Babu.
'Periyar and Anna for the Past, Present and Future' – Keynote Address by
Dr. K. Veeramani
Dr. K.Veeramani delivered his enlightening Keynote Address on the Need of Periyar and Anna in the past, for the present and for the future. He conveyed his appreciation to all the performers for portraying Periyar and Anna's teachings and his gratitude to all who attended. He said that the ideologies of social justice and equality are in the right hands as the young crusaders are ready to fight it out. He further said, "Periyar and Anna's ideologies are not confined to the borders of Tamil Nadu or India. The need is universal as long as there is gender inequality, social injustice, caste discrimination etc. It was Periyar and Anna who made the impossible possible with their social justice reforms. Ironically women named after 'God for Education', Saraswathi, were illiterates. Periyar and Anna inspired many of the 'Saraswathis', to become Doctors and Engineers." He explained the evil teachings of Manusmirithi and the need to fight against discrimination by birth. He also explained the initial struggle for self-respect marriages and later their success. He shared his social justice journey with Periyar and Anna and their devoted hard work for the social upliftment. He emphasized, "The principle of Dravidian movement is to spread love not hate". His speech was followed by a question and answer session. Dr. K. Veeramani answered patiently and clearly to all the questions raised by the audience.
The event concluded with a thanking note from Dr. Soma Ilangovan of Periyar International. He highlighted, "Periyar was one of those few leaders who have seen their visions turned into reality in their lifetime".
There is no use of simply acquiring titles or amassing wealth if one has no self-respect and scientific knowledge.