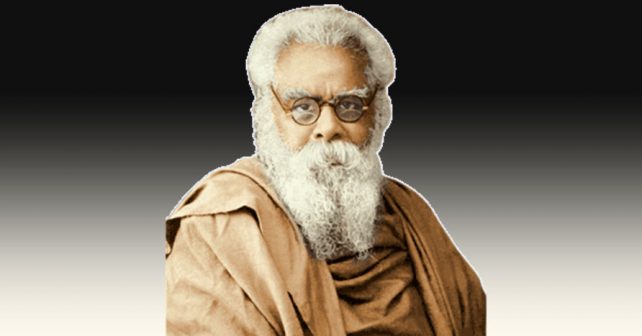 Selva Puviarasan
It is generally believed that Periyar played an active role in politics by the influence of Rajaji and that even before him, Salem Varadarajulu had inspired him. The names of P.V. Manicka Naicker, Marudaiya Pillai and Kaivalya Swamy are also cited as those who refined the thoughts of Periyar in his youth and moulded him as an exceptional thinker and reformist. But the truth that before entering the national movement, Periyar had involved himself in public services, is usually ignored. Like the pandemic COVID-19 of this day, a contagion called Plague had spread during the early part of the 20th century. The invasion of this pestilence and the panic of people brought Periyar into the sphere of social services.
Erode was then an integrated part of Coimbatore district. When the contagion Plague spread all over this district, people panicked terribly and their life turned topsy-turvy. Most people evacuated cites and sought shelter in other places far away. The poor people who stood helpless, looked for a saviour. At that juncture, Periyar who was then a member of Erode Municipality, voluntarily rushed to help the suffering poor.
Adequate municipality works were not available even to remove the dead bodies. Periyar entered the field work with the assistance of some of his friends. He carried several dead bodies on his shoulder and cremated them. He initiated steps to prevent further spread of the deadly Plague. His services were highly commended by the people. That was the beginning of his public service.
Laudation of Rajaji
Periyar assumed office as the secretary of Plague committee. This was followed by his appointment as the Chairman of Erode Municipality. He realised that contagions spread fast because of non-hygienic conditions and lack of sanitary facilities. He strove for those facilities. We learn from Periyar's personal notes that Rajaji lauded Periyar's services for public health and welfare whenever he visited Erode as the Chairman of Salem Municipality. Periyar was encouraged by the laudation of Rajaji. Though he was pleased by Rajaji's praise, he modestly refused credit and explained that Erode naturally had good drainage and sewerage facilities, besides short distance roads and sufficient revenue from the Municipality for perfect maintenance. Periyar added that the credit should actually go to the natural resources in Erode.
It was Periyar who had removed public site encroachments in Erode and implemented health and welfare schemes. By his efforts, pipes were laid for the supply of drinking water from the river Kaveri. A superb city structure was created by Periyar's restless efforts. On the foundation stones pertaining to water supply schemes, Periyar's name could be found inscribed even today. They would help posterity remember his name for ever. The younger generation of tomorrow would understand the greatness of Periyar.
Periyar's propaganda of rationalism is not confined to the denial of God's existence.  It includes the need of awareness pertaining to general hygiene in human habitations. In 1930, during his address in a public meeting Periyar strongly condemned the people who were indifferent towards hygiene and had ignored it completely. He criticized the sluggishness of people in all the aspects related to hygiene.
He ridiculed that people of our country dump out garbage in the neighbourhood. We spoil the frontyard of our neighbours with our trash, instead of properly disposing it at the right place meant for it. Periyar's comments on the behaviour of people were indeed harsh but were useful to correct them. Periyar also pointed out that during large gathering of people at religious events and festivals, hygiene is affected leading to the spread of epidemic. In his speeches and writings, he used to stress that crowded places are the origin point of infectious diseases.
Hygiene – the only Solution
In 1944, Periyar attended in Kanpur, a conference of backward Hindu classes. He stressed in his speech that blind faith in god and religious beliefs should be given up in order to abolish racial degradation in society. He emphasized the need for general hygiene.
Periyar explained that consuming drugs sold by quacks would only make the drug peddlers flourish. The number of people gulping useless drugs would rise but the spread of deadly diseases would not diminish for generations. Contagions can be prevented only by preventing pollution, toxic air, mosquitoes etc. Every sort of filth and garbage must be destroyed by fire. Stagnation of water is to be prevented. Unless the roots of diseases are weeded out, their spread can never be curbed. Periyar explained all these healthcare details through his speech.
For epidemic like Malaria people used to consume a drug called 'Koina' which was popular long ago. Periyar made it clear that prevention of disease is better than measures for cure. Periyar's speech created an awareness in the gullible public.
The measures taken by various departments and individuals at present to annihilate COVID-19 are really noteworthy. The present condition is comparable with the period of Plague when Periyar strove to educate people by explaining the dire need of hygiene. Similarly many good samaritans have rendered commendable services to curb COVID-19. Frequent spray of sanitisers was extremely useful. Isolation methods and other preventive measures adopted today are commendable. But they could have been done precautious at the early stage itself.
We have been waging a war against COVID-19 for a long period. Numerous humanists have been rendering commendable services. The preventive measures would at least help us in future to protect ourselves.
According to Periyar, the root cause of the spread of any contagion is the indifference on the part of people and their lack of awareness in all respects. In his view, caste system, religious fanaticism and communal segregations are also dreadful diseases in our human society.
Blind belief and superstition leading to dehumanisation are also deadly diseases according to Periyar. Before fighting against the diseases inflicting our society, he had fought against the pestilence called Plague.
Periyar's life imparts a lesson that voluntary services of humanists are more important than the services of Government departments. Depending totally on the Government could be avoided. We have to help one another in such periods of crisis. We must voluntarily come forward to extend our helping hands instead of extensive propaganda and tiring speeches. Periyar's noble services during the days of Plague must motivate us all to help one another, since actions speak louder than words. Social justice rests on real humanists. During periods of crisis such as the present chaos caused by COVID-19, it is better to talk less and work more.
Courtesy: The Hindu -Tamil Thisai- 17th September 2020
Translated by Prof. M.R Manohar