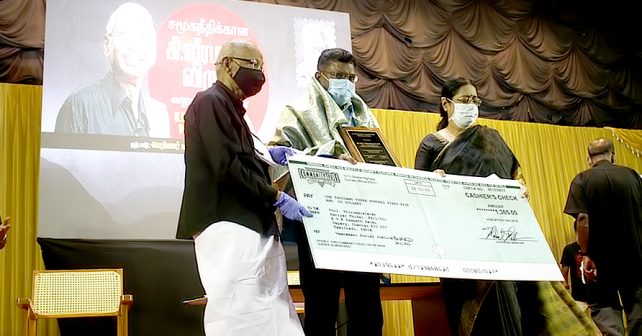 Dr.Thol. Thirumavalavan was honoured with the Award in the presence of Dr.K.Veeramani
Periyar International, USA has instituted an international award, 'K.Veeramani Award for Social Justice'. The Award has been conferred every year since 1996. Commencing from the former prime minister of India, V.P.Singh, so far 21 stalwarts of social justice have been honoured with the Award. For the year 2020, 'K.Veeramani Award for Social Justice' was conferred on Dr.Thol.Thirumavalavan, Member of Parliament and President of Vidithalai Chiruthaikal Katchi.
The Award honouring function was organised at Periyar Thidal, Chennai on 24th December 2020, the Memorial Day of social revolutionary Thanthai Periyar. Dr.Soma. Ilangovan, President, Periyar International, USA welcomed the dignitaries and the gathering virtually from Pennsylvania. The Award conferring address was delivered by Dr.Lakshman Tamil from Texas. The award citation and cash of Rs.One lakh was handed over to Dr. Thol. Thirumavalavan by Dr.Meenambal. Asiriyar Dr.K.Veeramani felicitated the Awardee. Dr.Thol. Thirumavalavan delivered the acceptance speech. Due to Corona pandemic only limited number of committed cadres of Dravidar Kazhagam (DK) and Viduthalai  Chiruthaikal Katchi (VCK) were allowed to attend the function. The excerpts from the speeches:
Dr.Soma Ilangovan: This award is being conferred for the year 2020 to the young and dynamic activist of the ideology of Periyar and Ambedkar.
Dr.Lakshman Tamil: Dr.Thol. Thirumavalavan has been echoing the calls of social justice from the streets of Tamil Nadu to the Parliament of India.
Asiriyar Dr.K.Veeramani: Thol.Thirumavalavan was groomed ideologically at Periyar Thidal, the headquarters of DK. In order to wipe out social discrimination his opposition to Sanadhana is sustained. He is forceful in destabilizing the tactics of the social oppressors. The conferred Award by Periyar International is treasure to him from his parental home.
Dr.Thol. Thirumavalavan: Asiriyar has commanded me to commence my journey of social justice throughout India. Definitely the Award will motivate me with further vigour and strength in the Mission. Our party, VCK will continue to toil for the attainment of Social Justice.