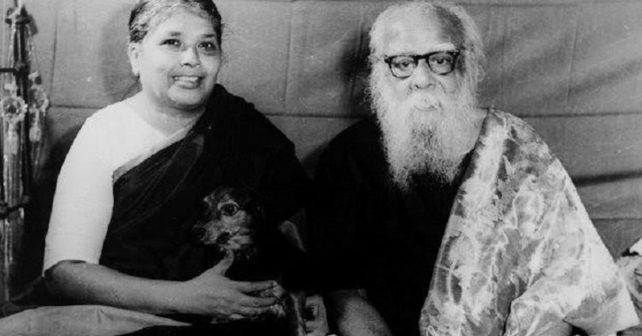 Aazhi
This photo is reflective of Maniammai and Periyar's marriage- two equals, two consenting adults who have gotten into the contract of marriage. Who is anyone to say anything about it?
On 24 December 2020, one could spot a lot of articles and tributes featured in social media, newspapers and digital magazines remembering Periyar for the person he was and his formidable ideas to commemorate his 47th death anniversary. His rebellious nature, significant social reforms, modern thoughts along with the relevance of his ideologies in today's society were reiterated. Periyar's principles on rationalism, self-respect, social justice, atheism, anti-Brahminism, (if uncomfortable, read anti-sanatana dharma) and feminism hold great potential of generating useful conversations and I for one hoped to witness such a conversation, but disappointment was all that I got.
Besides his ideologies and his life, particularly one instance of his life is pushed to take the centre-stage in order to divert attention from the crucial aspects. Diversion tactics was yet another thing that the year 2020 made us familiar with. If you're one of those people who feels it is incomplete if the comment section is not glimpsed through, referring to Periyar's marriage with Maniammai, while reading articles on Periyar, you would have definitely come across comments like "He married his adopted daughter… is this feminism?", "who married his daughter", "a womaniser" and "is it true he married his own daughter (adopted)?". These blatantly ignorant comments intended to tarnish Periyar appears not-so-harmful are quite dangerous in fact.
So let's talk about it: Periyar and Maniammai's marriage: though irrelevant, this is something that has been "troubling" people since 1949. On 9 July, 1949, a 70-year-old Periyar, E V Ramasamy, married the 32-year-old Maniammai. This marriage caused outrage and was said to have caused a split in the organisation and paved way for leaders like Arignar Annadurai and Kalaignar Karunanidhi to form their own party and fulfil their political ambitions.
Maniammai was the daughter of Kanagasabai, a member of the Justice party. Being a staunch believer of the principles of self-respect movement, Maniammai joined Dravidar Kazhagam (founded by Periyar) after her father's demise in her early 20s. She was not interested in marriage and refused to lead a life that the society prescribed for women. She was committed to the organisation and became Periyar's most trusted follower.
She was the caretaker for Periyar in his old-age and became his political successor as Periyar did not have any biological heir. Periyar considered her to be the best person to take forward the work of the trust set up for his personal property and continue the welfare measures without being led astray by politics and chose her over others. Their marriage in 1949 made her the legal heir and after Periyar's death in 1973, she took over and remained the leader of the Dravidar Kazhagam until she died. This marriage was/is controversial even though Periyar himself explained that the marriage was "purely an arrangement to secure his property and the movement".
Maniammai was a social activist and leader in her own right. After becoming the president of Dravidar Kazhagam, she held together the organisation that was falling apart after Periyar's death. She was committed to women's welfare and looked after the homes of destitute women and orphanages for girls. Protests against censorship during the period of emergency and Ravana Leela protest in 1974 as a response to Ram Leela celebrations were organised by her for which she got arrested.
To know about Maniammai's life and thoughts, one could always refer to N. K. Mangalamurugesan's biography of Maniammai, Thondil Uyrandha Thuyavar Annai E.V.R Maniammaiyar and Asiriyar K. Veeramani's Annai Maniammaiyarin Sindhanai Muthukkal.
Marriage, as insisted by Periyar, was a contract between two individuals: two equals (opposed to the traditionally religious idea which viewed women as subservient to men). So to talk about Periyar's marriage without mentioning Maniammai's name and her social position is to disregard her as a person. To marry Periyar was a decision taken by Maniammai, and to talk as if Periyar was the only person involved in the marriage is to rob Maniammai of her agency. And let's not forget Maniammai's age when she got married – 32! She was a mature adult who had the right to decide for herself. No one can assume the right to speak for her especially when there's no evidence that she conveyed any sort of displeasure over the marriage.
Moreover, Maniammai was not Periyar's adopted daughter. The legal system back then did not allow women to either adopt or be adopted. Someone marrying a person who could be of their daughter's age is completely different from someone marrying their own daughter. I wish people note the difference! Also constant misuse of "daughter" to refer to Maniammai conjures up an image of a little girl and not a thirty two year old woman and this is a grave error.
Talking about Periyar's marriage to Maniammai doesn't make one a "saviour" of Maniammai or a warrior of women's rights. Along with vandalising and desecrating his statues, most of these snide remarks and vile comments about their marriage are politically motivated to tarnish the image of Periyar. And talking about Periyar's marriage is not an attack on Periyar's ideals of feminism. Periyar, as feminist, fought for women's property rights, debunked myths of chastity and motherhood, and advocated for 50 per cent reservation for women. This will remain historic and his legacy will stay unparalleled.
Maniammai and Periyar's marriage still remains a debatable subject and Periyar's followers are quick to jump to his defence saying "the marriage was platonic", "just a legal arrangement" and "not a marriage in the conventional sense". These reasons have been given for over 70 years now. Not only is this template clichéd but this is also a regressive approach. Periyar's marriage needs no justification whatsoever and if at all a justification is needed, this is not it. Not in the 21st century.
Courtesy : 'Feminism in India'