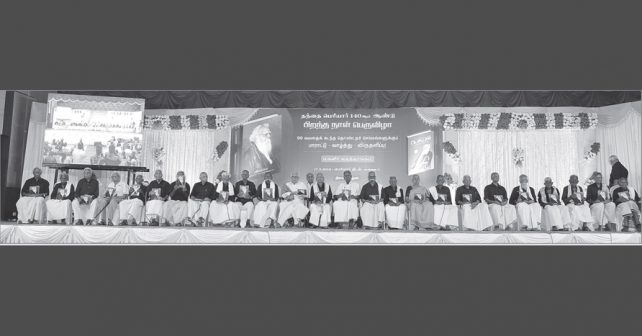 The Galaxy of Periyar – Rationalists honoured at 'Periyar 140'
Twenty-four veterans of Periyar rationalist army of above 90 years were felicitated on Periyar's 140th birthday, 17th September 2018, in a grand function which moved every one seated in the audience to tears.  The function, conceived by Asiriyar K.Veeramani, was unique because no political party or organization had even thought of the functionaries of yesteryears, remarked R Nallakannu of CPI, who himself was a nonagenarians who had been invited as a chief guest. The other distinguished Chief Guest was Perasiriyar K. Anbalagan, General Secretary, Dravida Munnetra Kazhagam. Those who could attend the function on that day were only a fraction of the elders of the organization.  There were many who were too frail to undertake a journey and those who were suddenly indisposed.
They had all been swimming against current in their youth, when they decided to join Periyar's movement, knowing fully well that they were subjecting themselves to a life of hardship, prepared to traverse a bumpy road, facing the wrath of everyone around them including their immediate family.
If even now there are people who want to throw footwear at Periyar's statue, we can easily imagine what it would have been like sixty or seventy years ago. Throwing stones and footwear at Periyar was a common occurrence then.  Even faeces have been the thrown on him.  Yet, Periyar bore everything with indomitable courage and marched on.  And along with him marched an army of black shirt cadre, infused with his courage and conviction.
What they sought to accomplish was unthinkable, sacrilegious, and capable of incurring the wrath of celestial powers.  'He is a suna mana (an abbreviated from of the Tamil phrase Suya Mariyathai, freely used in those days in a derogatory sense', one who derided god, one who denied religion, one who cared two hoots for his caste, one who had said good bye to tradition; and so on and so on.
These veterans behaved with extreme patience and extraordinary forbearance, yet undeterred from their path, remaining symbols of sacrifice.  Usually those who renounce worldly life hoped to reach heavenly abode at the end, Periyar used to remark, but these people were not assured of any reward for their sacrifice.
They were jailed again and again.  They had been instructed by Periyar to subject themselves to the sentence of the court and not to oppose it.  They knew that they would get nothing in return. These people had been strictly told by Periyar to subject themselves to any brutality and indignity so that their fellow citizens and posterity would live in dignity.  Their love for truth, rationalist approach, and desire to seek public good enabled them to march in the thorny path chosen by them and take up the thankless job. Their only reward was their own mental satisfaction of having done a good job, and having traveled along with Periyar in whom they found a savior of the downtrodden, and the exploited lot of the society.
Under these circumstances, can you expect people in dozens to come forward to take up this service?  Only one or two per village would come out in those days. And they were considered black sheep of the village and got ostracised.  Many of them, forsaken by their own kith and kin, found kinship in each other.
It was these symbols of sacrifice, who won over others through their sacrifice and patient dissemination of their philosophy and brought about a visible change in the society, until this part of India came to be known as 'Periyar Munn' the Land of Periyar.
And as a fitting finale to the grand function, the entire audience honoured them with a resounding standing ovation.
The felicitated Periyar – Rationalists – Above 90
      Self Respectful
Prof. K. Anbalagan (1922) 96 Years
Com. N. Sankaraiah (1922)      96 Years
Com. R. Nallakannu (1925)      93 Years
Gnana. Sebastian (1919)    101 Years
V.M. Velu (1920)      98 Years
M. Gandhiammal (1920)      98 Years
K. Ramasamy (1920)      98 Years
Ney Kannan (1920)      98 Years
Pothanur K. Shanmugam(1923) 95 Years
Kudanthai AR. Ranganathan(1922) 96 Years
P. Chinnappa (1922) 96 Years
A.V. Thangavel (1923) 95 Years
A. Govindan (1923) 95 Years
C. Thavamani (1923) 95 Years
Rajagiri G. Thangarasu (1925) 94 Years
D. Periyasamy (1924) 94 Years
S. Samiyappan (1925) 94 Years
S.D. Kuppusamy (1924) 94 Years
Savithiri (1924) 94 Years
R. Govindasamy (1926) 93 Years
Vasantham K. Ramachandran (1925) 93 Years
M. Kunjubabu (1925) 93 Years
V. Viswanathan (1924) 93 Years
G. Arangasamy (1925) 93 Years
V. Kanagaraj (1927) 92 Years
M. Murugaiyan (1927) 92 Years
M. Raja (1926) 92 Years
R. Krishnasamy (1929) 91 Years
A. Mavadiyan (1929) 91 Years
Dhana. Thirumalai (1928) 91 Years
Renganayaki (1927) 91 Years
K. Kannusamy (1928) 91 Years
S. Rajaratnam (1928) 91 Years
P. Kaliappan (1928) 91 Years
A. Thangasamy (1928) 91 Years
P.S. Ahmed Bai (1928) 90 Years
R. Nagarajan (1928) 90 Years
M. Vasudevan (1928) 90 Years
C.P. Kannu (1928) 90 Years
T.R.M. Krishnan (1928) 90 Years
M.S. Jagadeesan (1928) 90 Years
P. Sivagnanam (1928) 90 Years
G. Arangasamy (1928) 90 Years