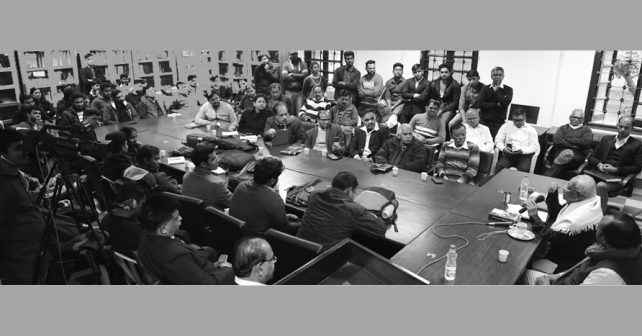 Asiriyar K.Veeramani addresses the audience of students and faculties – New Delhi, 4th Feb. 2019
Asiriyar K.Veeramani addressed the special meeting organized by the Department of Philosophy, Delhi Central University, and made profound observations on 'Thanthai Periyar's Self-Respect Ideology.
As early as 23 November 1946 Periyar had addressed Salem Municipal Arts college on 'The Exposition of Philosophy'.  Now, on 4 February 2019, his ideological heir, Asiriyar Veeramani has made on equally far reaching speech.
The meeting, held in the auditorium of the Department of Philosophy, was presided over by Prof. B. Kesav Kumar Head of the Department. Dr. Ayisha Gautam made the welcome speech.
Addressing the enlightened audience Veeramani observed Thanthai Periyar who had not even completed primary education, was a self inspired free thinker, whose thoughts have become subject matter for research in universities and in the gatherings of erudite scholars.  Though born in an orthodox family with staunch faith in god, which sincerely followed all rituals and traditions, Periyar had always remained aloof without in anyway affected by it.
From very young age, he thought of a society without any discrimination, where everyone will have been assured of all needs.  He was affected by people around him being divided in the name of castes and being degraded.  His experience in boyhood days later generated his famous Self Respect Philosophy, engendered in him a thirst for questioning everything before arriving at the truth.  He gave his philosophy in the simple but far reaching phrase.  It is self respect and rationality that makes a real man. It was only when people lost sight of this maxim that there came a stage when one section subjugated and exploited the rest of mankind.
Since he wanted his mission to continue even after his times, he founded an organization which would continue to propagate and agitate for realizing its objective without resorting the violence.
Justice Party came into being as a non Brahmin movement for the purpose of establishing social justice, came to power in 1920, and issued a G.O in 1928 for safeguarding the rights of various communities.
This was in every respect the result of Periyar's campaign, who never sought power.  Instead he believed in crystallizing public opinion for his policies and get them implemented by bringing pressure on the government.  His Self Respect Movement joined hands with Justice Party and later evolved (in 1944) into Dravidar Kazhagam.
After Independence, the High Court and the Supreme Court struck down the Communal G.O. on the grounds that it was against the provisions of the Constitution.  Following it Periyar mobilised the people of the Madras Province Comprising of Tamil Nadu and parts of Kerala, Karnataka and Andhra and launched an agitation which was instrumental in bringing about the first amendment to the constitution, paving the way for today's Reservation Policy.
After Periyars's demise, his Movement ensured countrywide reservation for the backward classes, in keeping with the recommendation of Mandal Commission, ten years after it was made, when V.P. Singh became the Prime Minister.
As part of the caste discrimination, only Brahmins were enjoying the right to become temple priests. Thanthai Periyar launched an agitation for the people of all communities becoming temple priests, and finally got a government order issued for the purpose.  After crossing many impediments, priests of other communities are being appointed in Tamil Nadu and Kerala.
Periyar could witness in his own lifetime the first legal victory which saw the end of social discrimination.
Pavendar Bharatidasan proclaimed that what emanated from Periyar's brain would be venerated by the entire mankind.  It is becoming a reality today when his Self Respect ideology is spreading across the continents.
Prof. Ravivarmakumar, former Advocate General, Karnataka and many Supreme Court advocates had turned up to listen to the 70 minute oration, which was followed by questions from the audience for 20 minutes. The function came to a close with a vote of thanks by Sandip Yadav.
"Religion Claimed More Lives Than Wars"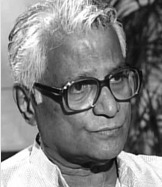 Expressing serious concern over the growing violence in the name of religion, Mr. George Fernandes, Minister for Defence, Government of India, said that religion has claimed more lives than any war across the globe.
Participating as the Chief Guest of the second day of the two-day National Conference held in connection with the Birth Centenary of Gora at Vijayawada on November, 15 2002, he said religion was being used for selfish motives by some forces.  "Don't let religion in the society to be a cause of bloodshed," he observed.
He said that more people died in wars triggered by religion than any other cause in the history of mankind not only in India but all over the world.    Though Iran and Iraq practised the same religion, the sect differences triggered a war that lasted ten years leading to a holocaust.   "I saw the graves of children killed in war along the road running over several kilometers". If religion divided people and beckoned blood, there was no use of such religion, he felt.
He said that any religion should inculcate moral and ethical values among the people so that they can live happily in society.  "If people pray for a few minutes in the morning and indulge in cheating the society and looting the treasury for the rest of the day, what is the use of religion," he asked.
When many violent activities are taking place in the name of God, theists should think of it.  If religion is the cause of bloodshed, the doctrine of atheism might be the only answer, he felt.
Defence Minister George Fernandes has appealed to political parties not to use religion to divide people and cause violence.  He felt that corruption was doing great injustice to country and he called upon people to fight against it.
Mr. Fernandes expressed anguish that corruption seemed to have taken charge of everything in the country.  Quoting Ram Manohar Lohia, he said that the State Power would go astray unless people's power prevailed on it constantly.
Courtesy: ATHEIST, February 2019