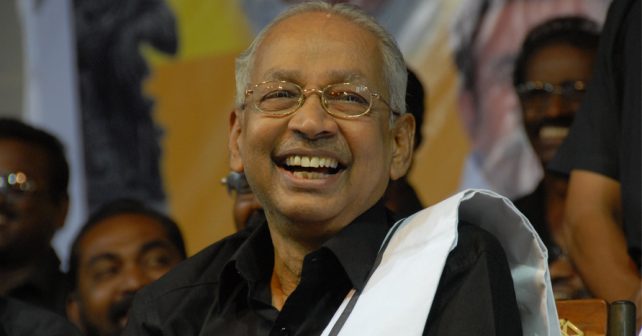 Dr. K. Veeramani
President, Dravidar Kazhagam
The BJP led government at the Centre has constituted an Expert-committee to analyse and conduct a research on Indian culture which is nearly 12000 years old. This ulterior motive is to conceal Dravidian civilisation and prove that it is Aryan Vedic Age civilisation. This scheme should be nipped in the bud. The president of Dravidar Kazhagam Dr. K. Veeramani has released a significant statement. The content of the statement published in 'Viduthalai' daily dated 16.09.2020 is as follows:
After thrusting the new education policy based on the Manudharma, the BJP led government at the Centre, backed by the RSS, have moved to the next stage with another ulterior motive.
An All-brahmin Committee to dig out and examine 12000 year old culture
To conduct a research and analyse the antiquity of Indian culture in the remote past before 12000 years and to trace its historical growth, the Central government has constituted a new committee comprising 16 members. The State Minister of Culture and Tourism, Prahlad Singh Patel announced about this formation during the recent parliament session.
Who are the Members of this Committee?
This committee is dominated by brahmin members. The particulars of all the 16 members are as follows:
Shri K.N. Dikshit, Chairman, Indian Archaeological Society, New Delhi and former Joint Director General, Archaeological Survey of India;
Dr. R.S. Bisht, former Joint Director General, Archaeological Survey of India;
Dr B.R. Mani, former Director General, National Museum, New Delhi and former Additional Director General, Archaeological Survey of India;
Prof. Santosh Shukla, Jawaharlal Nehru University, New Delhi;
Dr. Ramesh Kumar Pandey, Vice Chancellor, Shri Lal Bahadur Shastri Rashtriya Sanskrit Vidyapeeth, New Delhi;
Prof. Makkhan Lal, Director, Delhi Institute of Heritage Management, Vivekananda International Foundation, New Delhi;
Dr. G.N. Srivastava, former Additional Director General, Geographical Survey of India;
Justice Dr. Mukundkam Sharma, Chancellor, Lal Bahadur Shastri Sanskrit Vidyapeeth, Delhi and former Judge of Supreme Court of India;
Prof. P.N. Shastri, Vice Chancellor, Rashtriya Sanskrit Sansthan, New Delhi;
Prof. R.C. Sharma, Head, Department of Linguistics, University of Delhi;
Prof. K.K. Mishra, Dean, Anthropology, University of Hyderabad and former Director, Anthropological Survey of India;
Dr. Balram Shukla, Department of Sanskrit, University of Delhi;
Prof. Azad Kaushik, Scientist and International Thinker, Canada;
Pt. M.R. Sharma, Chairman, "Sangmarg" World Brahmins' Federation, India, New Delhi;
Representative from Ministry of Culture; and
Representative from Archaeological Survey of India.
Among the so called experts as per the list depicted above, except one or two members, all others are brahmins. Besides, they are all of the north Indian Sanskrit coterie, who are in favour of prominence to Sanskrit language.
B.R. Mani who finds a place in the list was the president of Archaeological Survey of India. In 2003 when the Ram Janma Bhoomi – Babri Masjid was excavated, the Allahabad High Court terminated his service and ordered appointment of another executive as an alternative. By this one can infer why he has been included in the committee.
The President of the World Brahmins' Association
It is reported only now that the President of the World Brahmins' Association, the Chief of the Federation, is also there in this committee of culture-study experts. He is one of the members.
In South India, West Bengal and Eastern parts of our country, we have numerous representatives of varied culture who are erudite scholars and true experts soaked in the study of multifaceted world culture. We also have a number of classical language experts and eminent linguists in several States. None of these scholars have been included in this committee.
'Vedic culture and Indian culture are Synonymous'!
They have explicitly determined to establish that Vedic culture – the Aryan culture alone exists as Indian Culture. This is what they imply by this scheme. Like the fable related to the Rama's temple in Ayodhya, these people who behave like Gods on the earth, have decided to impose this concept on us. They have planned to turn all the data upside-down. This research of culture is obviously a scheme to lay the foundation for their malice. Their hidden agenda of over shadowing Dravidian civilisation is in fact the basis of the committee constituted by them.
A Perilous attempt to weed out
the very root!
This coterie of Brahmins is like the 'Pinjrapole', which is the last resort for old useless cows. This committee is like an 'Agraharam', which is an exclusive place of dwelling for brahmins. These elements adamantly refuse to admit that Indian culture is a multifaceted and largely varied culture. The BJP led Government at the Centre, backed by the RSS surreptitiously, has formed this committee, only to mean that all the citizens of India should accept anything dumped and thrust on them by the vested interests.
This is a perilous move which could weed out the root of democracy and secularism. People belonging to other culture must realise this unpalatable truth and raise their voice of protest.
It is amazing that none of our eminent historians, research scholars or celebrities from other general spheres have not found a place in this committee. What are we to infer from this?
It is high time the Scheme is defeated at the earliest!
They have planned to lay the foundation for their concept that Indian culture is actually the Vedic culture – Sanskrit culture – brahminical Aryan culture. Their purpose ought to be defeated by giving it top priority. It is an urgent task and we should not ignore it and hesitate to accomplish.
Aryans were alien migrants
The migratory pattern of the Aryans prove that they are outsiders who infiltrated and encroached our country. This has been established by the genes-research successfully conducted by scholars such as Tony Joseph. These research scholars have conveyed their finding that the Mohenjo daro and Harappan civilisations were of the remote past.
Protest during the Current Session of the Parliament itself
The articles discovered by excavations in Adichanallur and Keeladi in Tamil Nadu, by the Department of Archaeology prove and confirm the antiquity of Dravidian civilisation. But the Government at the Centre is bent on concealing the evidence and pull wool over the eyes of Indians. It is trying to deflect and divert with its ulterior motive.
These people have already been spreading a falsehood that Sanskrit is the fountain head of all other languages and that it is the mother of all the languages. They have been intentionally propagating that all languages originated from Sanskrit. Similarly, they have now planned to hood-wink us through this new committee.
All of us should collectively oppose their move and make their attempt a fultile one. The members of the DMK and members of the parliament from the Southern States must shoulder the responsibility and raise their voice of protest before it is too late. The ongoing monsoon session should be taken advantage of, to defeat the malicious purpose of the vested interests at the Centre. Our protest must be placed on record without missing this good opportunity. This is my sincere appeal to all our well-wishers.